Acer America Corp., the number one provider of 3D displays worldwide, today debuts its new Acer 3D Series Displays for customers in North America. The new 27-inch (HN274H) and 23.6-inch (HS244HQ) widescreen 3D LCD displays are the ultimate visual medium for enjoying the vivid realism and depth of three dimensional entertainment and learning.
The new 3D LCDs provide thrilling full HD 3D visuals via HDMI or DVI-DL to PCs, Blu-ray Disc Players, game consoles, cameras and 3D TV programming via a set-top box. Supporting the HDMI 3D solution, the displays deliver immersive 3D broadcasting, Blu-ray movies, gaming and photography. The solution is also ideal for schools, as education content providers create new 3D curriculum that makes learning more engaging.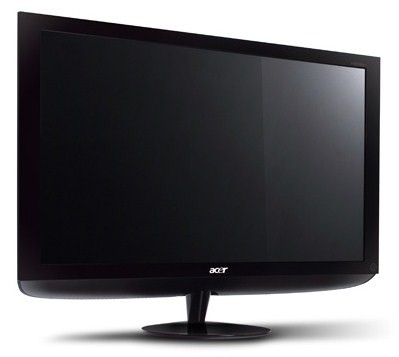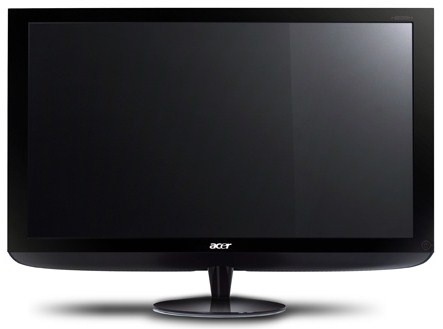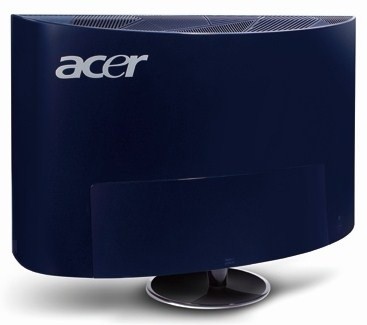 "Acer's newest 3D displays are a powerful tool for providing fun and visual excitement for years to come. Their compelling benefits include an ultra high level of clarity and 50 percent more power savings than other 3D solutions," said Dan Oka, senior product marketing manager for peripherals, Acer America. "Setting the standard for premium 3D multimedia, the new Acer 3D displays give the sensation of full immersion in a virtual world, while the contemporary design sports stylish features, convenient touch-sensitive controls and earth-friendly materials."
Acer 27-Inch Widescreen 3D LCD (HN274H)
The Acer HN274H is the first 27-inch LED monitor to support both HDMI 3D and NVIDIA 3D Vision solutions. It delivers full HD 3D imagery via HDMI when connected to CE devices. Its DVI-DL connection provides twice the bandwidth of DVI for supporting very high resolution images when attached to a PC.
This display offers an astonishing ultra-high 100 million: 1 contrast ratio, which delivers the highest level of clarity and detail available today. This breakthrough is made possible by Acer Adaptive Contrast Management, which optimizes contrast by analyzing every scene, adjusting images frame by frame, and enhancing detail and gradation even in very bright or dim scenes.
Providing a complete 3D package, the monitors include NVIDIA® 3D glasses with active 3D shutter technology. The monitor itself has a built-in IR emitter, so no external IR emitter is needed to connect to a PC. With a set-top box, users can view the latest in satellite 3D TV programming or host a 3D movie party with additional 3D glasses and simple connection to a Blu-Ray Disc player.
A large display with sleek dimensions of 25.5-inches (W) x 18.4-inches (H) x 7.6-inches (D), it's a great size for enjoying today's fastest high-def 3D games and the depth that stereoscopic imaging lends to digital photographs. It offers a variety of input options including 1xVGA, 1xDVI and 3xHDMI with HDCP support and provides cables for all three.
Acer 23.6-Inch Widescreen 3D LCD (HS244HQ)
Measuring 22.6-inches (W) x 16.6-inches (H) x 6.8 -inches (D), the HS244HQ is a practical size for more space constrained areas. It supports HDMI 3D and boasts a very high 12,000,000:1 contrast ratio, which showcases the crispest whites and deepest blacks for exceptional viewing definition of all content. A quick 2ms response time enables immersive graphics and enhanced video display for incredible visuals that literally pop from movies, games and photographs.
For added convenience, this 23.6-inch display has a built-in IR emitter and comes with Acer 3D glasses featuring advanced active shutter 3D technology. It has both 1xVGA and 2xHDMI with HDCP support for input. Cables for both options are included.
Both Displays: Phenomenal Resolution; Appealing Eco-Conscious Design
The 1920 x 1080 resolution delivers excellent detail, making these displays perfect for advanced 1080p full HD gaming and widescreen cinematic playback. The LCD active matrix TFTs have a 16:9 aspect ratio and support full HD resolution with a refresh rate of up to 120Hz - far exceeding the mandatory requirements for full HD 3D movies, games and TV. The fast 2 ms response time yields incredibly realistic graphics and video.
Both displays sport an attractive look and feel with a smooth, curved base rimmed in silver and an intricate vent design for 360 degrees of flair. Adding more style are sleek, touch-sensitive controls and a tear dropped power key. An eColor Management button allows users to tailor the performance, such as brightness, saturation and contrast. In terms of mounting options, the displays come with an adjustable stand and are VESA-compliant (100 x 100mm) for mounting to a wall. They provide viewing angles of 170 degrees left/right and 160 degrees up/down and include two 2W speakers.
The LED technology consumes up to 68 percent less power than standard LCD displays - saving energy and money. Environmentally-conscious, the displays are durable, RoHS compliant and constructed of mercury-free white LED backlight. They also come in recyclable packaging materials.
Pricing and Availability
The Acer 27-inch (HN274H) and 23.6-inch (HS244HQ) Widescreen 3D LCDs are available for U.S. customers at leading retailers with MSRPs of $689 and $449, respectively. Both come with a three-year parts and labor limited warranty.
Last updated: Apr 7, 2020 at 12:04 pm CDT