The USB Implementers Forum (USB-IF) today announced the first certified SuperSpeed USB (USB 3.0) chipsets. The A75 and A70M FCH chipsets from AMD represent a major milestone for broad SuperSpeed USB adoption among manufacturers, as built-in USB 3.0 support enables designers to seamlessly incorporate SuperSpeed USB into their systems. Certification of AMD A75 and A70M FCH chipsets provides assurance to manufacturers and consumers that the SuperSpeed USB chipsets are interoperable and comply with the USB 3.0 specification.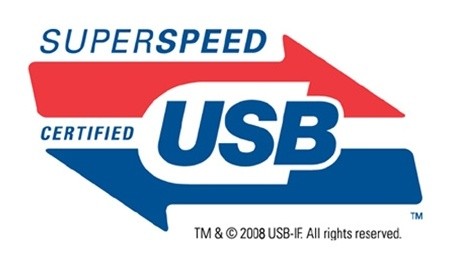 "The ramp of the SuperSpeed USB ecosystem has been unprecedented, and the first certified SuperSpeed USB chipsets from AMD are a momentous step in the industry," said Jeff Ravencraft, USB-IF President & COO. "SuperSpeed USB integration into the chipsets is a strong incentive for manufacturers to bring an even broader range of SuperSpeed USB solutions to the market."
"The integration of SuperSpeed USB into AMD's Fusion Controller Hubs demonstrates AMD's commitment to providing the industry's latest, most innovative connectivity technologies," said Chris Cloran, AMD Corporate Vice-President and General Manager, Client Group. "AMD Fusion Controller Hubs will provide competitive performance while consuming low power with active USB 3.0 traffic for high definition video and fast connectivity with the latest SuperSpeed USB devices."
Analyst firm In-Stat forecasts that SuperSpeed USB will see a shift in the marketplace as a result of the newly certified chipsets. "Chipset integration is essential in order to make the latest version of USB dominant in the marketplace, and the first SuperSpeed USB chipsets will greatly impact adoption," said Brian O'Rourke, Principal Analyst, In-Stat.
Last updated: Apr 7, 2020 at 12:04 pm CDT