MSI Also Announces FX420, FX620DX Performance Notebooks
MSI Also Announces FX420, FX620DX Performance Notebooks
If you're looking for superior performance and the ultimate multimedia experience-and who isn't?-look no further. The new MSI FX420 and FX620DX not only pack Intel second generation Core CPUs, both of these mean machines sport high-end discrete graphics cards to meet the needs of extreme gamers. The FX620DX, in particular, comes with the nVidia GeForce GT540M discrete graphics card and Intel Core i7 quad core processor for adrenaline-pumping speeds.
Eric Kuo, associate vice president for global sales, MSI Notebook, notes that the 14-inch FX420 and the 15.6-inch FX620DX not only pack power, they come with cinema-grade THX TruStudio Pro wrap around sound and Cinema Pro image enhancing technology to give you the definitive audiovisual experience. What's more, MSI's design team cast aside standardized, non-user-friendly designs that characterize the exteriors of traditional high tech products and sheathed these high-performance laptops in its own raised totem seal coating and color film print, giving them class, while protecting them against scratching and wear.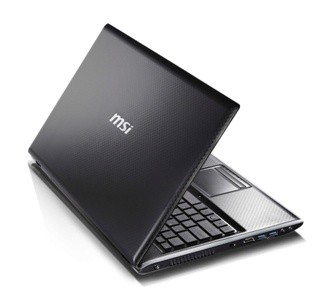 Screaming system performance
Intel second generation Core i processors: MSI's FX620DX and FX420 feature the Intel powerful Core i7-2630QM quad core processor (2.00GHz) and Core i5-2410M™ dual core processor (2.30GHz), respectively. Both support Intel's Turbo Boost 2.0 to analyze processor workload and automatically allocate processor resources to throttle up core clocks to enhance computing performance.
nVidia and AMD discrete graphics cards: The FX620DX and FX420 come equipped with the nVidia GeForce GT540M and AMD Radeon HD 6470M discrete graphics cards, respectively. Both have 1GB DDR3 of internal memory and support Direct11. Both support MSI GPU Boost which automatically kicks the system over to discrete graphics card mode when the CPU is processing high-load applications to give you superior graphics processing capabilities. When performing general word processing tasks or browsing the Internet, it cuts to the power-sipping integrated graphics chip mode, striking the ideal balance between performance and battery life.
Cinema-quality multimedia
True-to-life wrap around sound: To enhance sound performance, MSI incorporated its Premium Sound, technology characterized by masterful craftsmanship and uncompromising standards for sound quality, into the FX620DX and FX420 laptop computers to give them unprecedented sound fidelity. What's more, MSI worked closely with sound design specialists at Creative to incorporate cinema-grade THX TruStudio Pro wrap around sound which reproduces crystal-clear sound regardless of source.
True image and color reproduction: The FX620DX and FX420 incorporate Cinema Pro technology, so with just one click of the Cinema Pro hotkey, they instantly switch to film mode, optimizing your image experience, giving you higher resolution and richer colors to bring you the same great audio experience found in live performances, films, and recording studios.
Multimedia entertainment center: If you prefer to watch HD films on something larger that your computer display, the MSI FX620DX and FX420 come equipped with HDMI slots, so you can connect to LCD TVs with screens of any size to enjoy videos of any resolution level. The FX620DX also sports an HD720p webcam, so you can engage in clear, hiccup-free video conferences with friends and family anywhere in the world.
Classically stylish, low power consumption
Perfect fusion of style and technology: The jet black lids of the FX620DX and FX420 laptops are sheathed in non-peeling raised texture seal coating to prevent scratching and smudging. The centers are graced with MSI's glowing platinum logo and the palm rest areas with a soft raised checkered coating that not only pampers the hands, but adds a touch of class. In addition, the power button is encircled by chrome which does a beautiful job of setting off the cold, luminescent blue lights above the keyboard. The unassuming platinum trim around the speakers and body as well as the unmatched Chiclet keyboard and raised multipoint touchpad further underscore the tasteful class of these elegant machines.
Shortcuts: Located above the keyboards of the FX620DX and FX420 are six shortcut buttons. With just one click, you can eject a DVD, turn off the screen, or turn on the S-Bar, Turbo Battery+, or Cinema Pro, so when you're going to be away from your computer for a few minutes, you can quickly shut off the display, so as to not waste battery power.
Latest USB3.0 ports: The FX620DX and FX420 come with USB3.0 which boasts transfer speeds of 4.8Gbps-10 times faster than USB2.0, so a 25Gb HD film transfers in just 70 seconds. It also provides 80% more power for vastly faster charging speeds for external hard drives, flash drives, and other handheld electronic devices.
ECO Engine: ECO Engine power-saving green technology lets you select from among five power management levels-Video Game, Film, Presentation, Word Processing, and Turbo Battery, to automatically adjust display brightness and processor performance settings to reduce power use and maximize battery use per charge.
Enhance your digital life
MSI S-Bar: Just one click of the S-Bar hotkey on the FX620DX or FX420 calls up all functions onto the screen, so you can control everything from the webcam, projector, network, and Bluetooth to volume control, screen brightness, and standby mode with just one click.
MSI Easy Face biometric software: The FX620DX and FX420 feature MSI's own facial recognition software which works in concert with the high definition webcam to protect data biometrically. It employs your unique facial features to remember your passwords, so you don't have to.
MSI EasyViewer photo manager: The FX620DX and FX420 come with EasyViewer photo management software, so you can use your mouse to enlarge, reduce, or even rotate photos. Sharing photos with friends and family was never easier.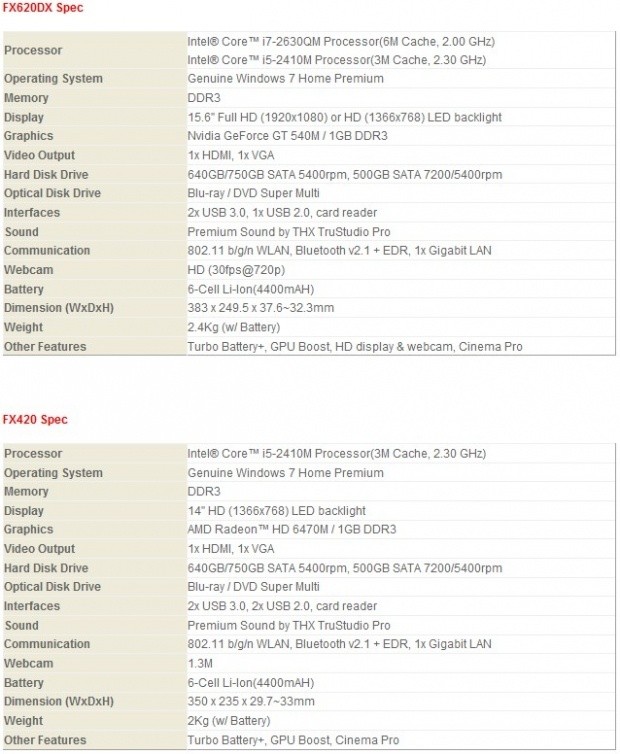 Last updated: Apr 7, 2020 at 12:04 pm CDT
PRICING: You can find products similar to this one for sale below.

United States: Find other tech and computer products like this over at Amazon.com

United Kingdom: Find other tech and computer products like this over at Amazon.co.uk

Australia: Find other tech and computer products like this over at Amazon.com.au

Canada: Find other tech and computer products like this over at Amazon.ca

Deutschland: Finde andere Technik- und Computerprodukte wie dieses auf Amazon.de
Related Tags