MSI Announces AMD Fusion Driven CR650 Notebook
Jan 25, 2011 5:00 AM CST
MSI Announces AMD Fusion Driven CR650 Notebook
MSI introduces the CR650 notebook computer with the newest generation AMD dual core E-350 processor as well as SRS PC Sound and Cinema Pro technologies for a superior multimedia experience. The CR650 packs MSI's Turbo Battery+ power-saving technology and shortcuts for shutting off the screen to extend standby time. MSI's all-new C Series CR650 notebook computer features AMD's latest generation dual core E-350 processor with AMD Radeon HD 6310 Discrete-Class graphics chip for powerful display performance on par with that of a discrete graphics card. The CR650 also comes with high quality, theater-class wrap around stereo courtesy of SRS PC Sound for unprecedented sound fidelity. What's more, Cinema Pro allows you to make adjustments to graphics like a professional to maximize your multimedia experience.
Eric Kuo, associate vice president for global sales, MSI Notebook, notes that the CR650 multimedia laptop comes sheathed in MSI's own color film print coating with color gradient design, making it even more pleasing to the eye. The independent Chiclet keyboard and seamless touchpad give you a stylish machine with powerful computing capabilities, and unparalleled multimedia performance.
[img]3[/img]
AMD latest processor platform
AMD's APU architecture: The CR650 laptop packs AMD newest generation 2011 dual core E-350 processor. In addition to having APU (Accelerated Processing Units) processors that feature the new x86 core, it comes with the AMD Radeon HD 6310 Discrete-Class graphics chip which supports DirectX 11 for powerful processing capabilities and display performance on par with discrete graphics cards. DirectX 11 for more detailed graphics: The MSI CR650 features the AMD Radeon HD 6310 Discrete-Class graphics chip which supports DirectX 11 for enhanced graphics. In addition, AMD's new generation E-350 processor supports ATI Stream which helps the graphics processor and the CPU work in concert, boosting computing performance.
CR650-Multimedia performance doesn't come any better
SRS PC Sound: The CR650 comes with the new generation SRS PC Sound for natural, wrap around, high fidelity sound whether you use the built-in speakers, external ones, or headsets. This laptop is designed to satisfy your need for crisp, clear sound quality.
New generation Cinema Pro: The CR650 packs powerful multimedia processing capabilities. You can use MSI's own professional Cinema Pro technology to maximize the CR650's graphics performance. Depress the Cinema Pro hot key to switch to video mode for higher resolution and richer colors, giving you a viewing experience so enjoyable that you'll find it hard to tear yourself away.
The latest hardware for high definition viewing: The CR650's cinema-class, 16:9 ratio LED display is ideal for viewing films. In addition to richer colors and distortion-free images, you don't have those annoying black strips at the top and bottom of the screen when viewing HD films. The CR650 laptop also comes equipped with an HD720p webcam to give you rich, smooth, clear pictures when conferencing with friends and family over the Internet. If you like watching HD films on something larger than a computer screen, the CR650's HDMI slot lets you connect to LCD TVs of any size.
A class act
Stylish cross-hatch color film print: The cover and the wrist-rest areas of the CR650 are sheathed in MSI's cross-hatch color film print coating with color gradient design for a distinctively elegant look. The lustrous coating protects against scratching and wear, while giving the laptop an extra touch of class. This NB also comes with 45-degree beveled edges, making it all that much more mobile. At 15.6 inches, the CR650 notebook computer with battery tips the scales at only 2.3kg, making it the ideal choice for the entertainment needs for the individual on the go.
Chiclet keyboard: The CR650 comes equipped with an independent Chiclet keyboard for a good, solid feel when typing. It also helps prevent typos caused by hitting more than one key at a time. This laptop also features MSI's unique seamless touchpad which not only offers a smoother, more comfortable experience, it blends like a dream with the wrist-rest areas on either side, making this notebook a classic among high tech products.
Latest power-saving technologies
Turbo Battery+: Turbo Battery+ technology lets you control power on an array of hardware, including Bluetooth and wireless devices as well as your webcam, with a single click of the mouse. Now, you can extend battery time by shutting off devices not in use.
Shortcuts to shut off power to idle hardware: Located above the CR650's keyboard are five shortcuts. With one click of the mouse, you can eject a DVD, turn off the screen, or turn on the S-Bar, Turbo Battery+, or Cinema Pro, so when you're away from your computer for a few minutes, you can instantly shut off the display, so as to not waste battery power.
i-Charger: MSI's CR650 laptop also comes with MSI's i-Charger technology which pumps more power through the USB slots, so you can recharge devices up to three times faster. Now, while others sit around waiting for their mobile devices to recharge, you can be using yours.
Exclusive applications
Easy Face facial recognition: The MSI CR650 laptop comes equipped with MSI's own facial recognition software which works in concert with the high definition webcam to protect your data biometrically. Easy Face remembers passwords for MSN accounts as well as login passwords for websites and systems and can integrate all passwords for your personal accounts under one lock and key-your unique facial features. It remembers your passwords, so you don't have to.
Easy Viewer photo manager: The CR650 comes with MSI's Easy Viewer photo management software. Simply touching or sliding a finger on the screen enlarges, reduces, or rotates pictures. Sharing photos with friends and family was never easier or more enjoyable.
S-Bar: The CR650 laptop not only offers the most powerful hardware available, both its hardware and software were designed with the user in mind. MSI's S-Bar toolbar, located at the top of the screen, consists of shortcuts for major OS programs and hardware as well as MSI's own applications. It allows you to control all system functions, auxiliary programs and applications as well as an array of programs, such as software to save power and boost performance as well as MSI's multimedia software, the webcam, the projector, the wireless, Bluetooth, volume control, screen brightness, and standby mode. Operating multimedia was never easier.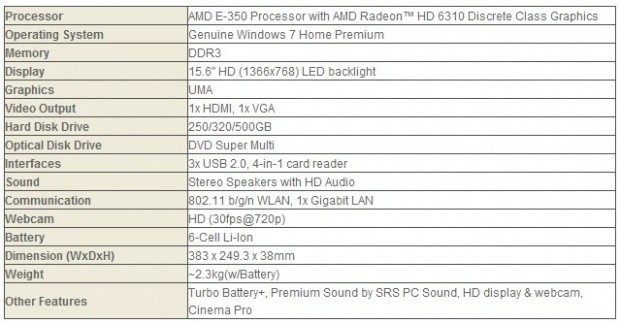 Last updated: Apr 7, 2020 at 12:03 pm CDT
PRICING: You can find products similar to this one for sale below.

United States: Find other tech and computer products like this over at Amazon.com

United Kingdom: Find other tech and computer products like this over at Amazon.co.uk

Australia: Find other tech and computer products like this over at Amazon.com.au

Canada: Find other tech and computer products like this over at Amazon.ca

Deutschland: Finde andere Technik- und Computerprodukte wie dieses auf Amazon.de
Related Tags