Silicon Power Announces Ultra Fast 2.5" SATA SSD, The E20
A New Prospect in Computer Storage
November 30, 2010, Taipei, Taiwan ~Leading flash memory manufacturer, Silicon Power today unleashes their new 2.5" SATA solid state drive (SSD) ~ E20, a new prospect in computer storage! The new E20 challenges SSD limitations with uniquely developed technology to boost read speeds up to 250MB/s and write speeds up to 230MB/s, both data transfer rates surpass the major SSD on the market today. In addition, E20 also supports TRIM Command. It is specifically for Windows 7 users, allowing for swift tens of seconds OS startup time and instant application and software use. For users using other OS, E20 provides Garbage Collection Technology. It enhances SSD's already strong performances and prevents poor computer responses from long hours of continuous use. It is the ingredient to achieving twice the result with half the effort!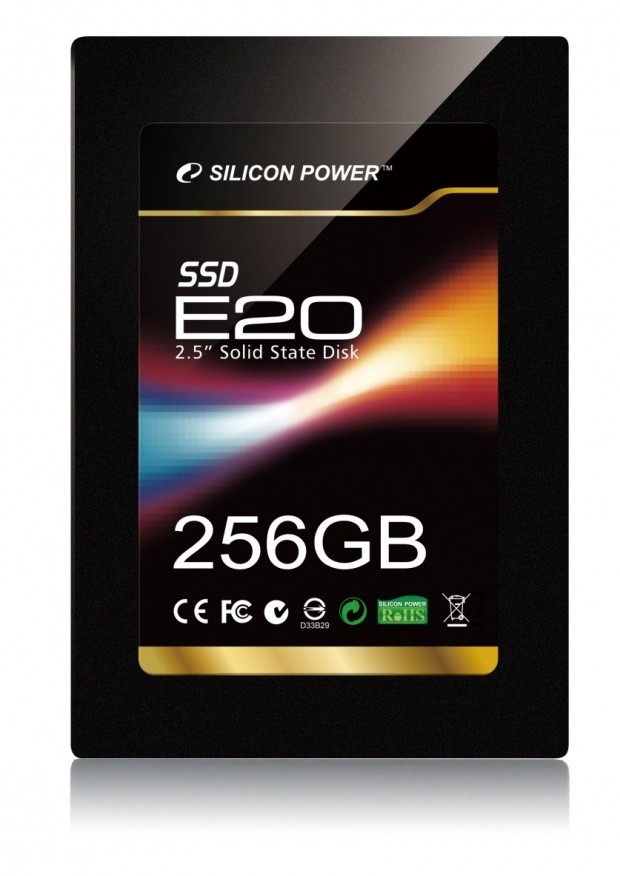 Silicon Power's brand new SSD E20 proposes effective and practical solutions for most common problems faced by users today:
DDR2 DRAM Cache Memory Implementation
Users are most concerned with lag when using computers as it affects workflow and efficiency. With E20's built-in DDR2 DRAM Cache Memory, even during continuous intensive-write situations, computers shall lag no more! This feature not only enhances SSD's read and write performances, it also extends SSD's lifespan.
Circuit Current Sensor
During read and write, users most dread irregular current supply resulting in data lost or corruption. Silicon Power's E20 has specially added circuit current sensors to detect fluctuating or abnormal current to effectively protect your personal data!
S.M.A.R.T Support
Through Self-Monitoring Analysis and Reporting Technology (S.M.A.R.T.), user can monitor the health of E20.
Meeting various user needs, Silicon Power's 2.5" SATA SSD conforms in standard dimensions, it is easy to install into desktops, laptops or other 2.5 inch hard disk drive compatible devices. Silicon Power insists on producing consistent high quality products. The E20 uses high grade controllers and high quality flash memory modules. Users of E20 will find themselves immersed in the perfection of noiseless operation and ultra high performances of Silicon Power's E20!
Breaking through traditional SSD dull looks, the E20 is coated in gold and bluish-green color coordination resembling the passionate flame and lightening speed! It has a maximum capacity of 256GB which is the perfect choice for people wanting SSD performance and large storage capacity. Silicon Power's E20 SSD is the number one choice when it comes to replacing your traditional hard disk drive!
Features:
-DDR2 DRAM Cache memory implementation to enhance E20's read / write performances and lifespan
-Support TRIM Command to further boost write performance
-Support S.M.A.R.T. to constantly monitor E20's health status
-Conforms to 2.5" SATA interface and hard drive dimensions (SATA SSD)
-Ultra fast transfer rates
-Built-in ECC to guarantee data reliability
-Has "Wear-Leveling" technology to extend its lifespan
-In compliance with strict European RoHS directives, meeting the green environment trend
-Has excellent performance and stability
-Low power consumption
-Noiseless operation, no latency delay and no seek error
-Available capacities: 32GB/64GB/128GB/256GB
-2-year warranty
Specifications
Dimension: 100mm X69.85mm X9.5mm
Weight: 70g
Durability: pull/ plug test ~ at least 10,000 times
Operating voltage: 4.5V~5.5V
Vibration resistance test: 15G peak-to-peak max
Shock resistance test: 1500G Max
Transfer rate: maximum read ~ 250MB/s; maximum write ~ 230MB/s*
Furthermore, through Self-Monitoring Analysis and Reporting Technology (S.M.A.R.T.), user can monitor the health of E20.
*NOTE:
Performances may vary due to platform differences
About Silicon Power
Silicon Power Computer & Communications Inc., founded in 2003 by a group of enthusiastic specialists of flash data storage industry. Well dedicated in brand image and product quality, Silicon Power has been recognized and well accepted by millions of end-users in more than 100 countries, becomes the world's leading manufacturer of flash memory cards, USB flash drives, card readers, DRAM modules, solid state disks, and portable hard drives in less than a decade. Headquartered in Taipei, we continuously established various branches throughout the world including Netherlands, Japan, Russia, Mainland China and other emerging market. With superior quality and innovative design, our products stood out in several competitions and awarded Taiwan Excellence and COMPUTEX Design & Innovation Award in 2009 and 2010. Winning trust of global consumers, Silicon Power holds a record of successive double-digit revenue growth for last seven years. For Silicon Power, the product we introduced is not only a digital storage device but also a real promise to create and preserve your most valuable memory in every moment.
Last updated: Aug 9, 2020 at 12:18 am CDT