Sapphire Introduces Radeon HD 6850 TOXIC Edition Graphics Card
Hot on the heels of the global launch of the new HD 6000 series of graphics cards based on the latest generation of graphics technology from AMD, SAPPHIRE Technology announces its first enhanced product - the HD 6850 TOXIC Edition. The SAPPHIRE HD 6850 TOXIC Edition has the same internal architecture as the standard model, with 960 stream processors and 48 texture processing units, but clock speeds are increased to 820MHz for the core and 1100Mhz (4.4 Gb/sec effective) for the memory giving users a considerable boost in performance. In addition, the efficient SAPPHIRE original cooler ensures that there is a good margin for performance tuning (overclocking) by enthusiast users. A new overclocking tool - TriXX - is available to SAPPHIRE users as a download from the SAPPHIRE Select Club - free for SAPPHIRE enthusiasts to join online.
[img]3[/img]
Unlike the standard model, the SAPPHIRE HD 6850 TOXIC Edition has the more versatile output configuration of two DVI, one HDMI and two mini DisplayPort connectors. Using two of the DVI/HDMI outputs as well as the two DisplayPorts enables this card to support up to four monitors in Eyefinity (SLS) mode. With the release of the DisplayPort v1.2 drivers, it will be also be possible to daisy chain additional DisplayPort v1.2 monitors from each DisplayPort output.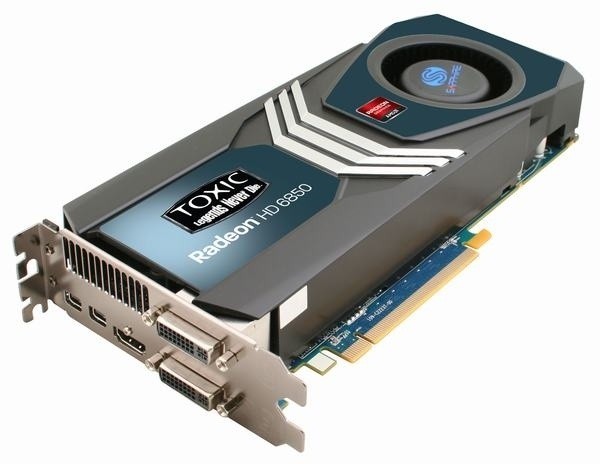 In the HD 6850 TOXIC Edition the third generation UVD (Unified Video Decoder) supports MVC (Multi-view Video Coding) for the smooth decoding of Blu-Ray 3D with reduced CPU load as well as other file formats. Dolby TrueHD and DTS-HD Master Audio are supported, and HDMI capability has also been upgraded to HDMI 1.4a. This now provides deep colour, enhanced high resolution output for Digital Theatre applications and 3D stereoscopic support as well as 7.1 high bit-rate audio.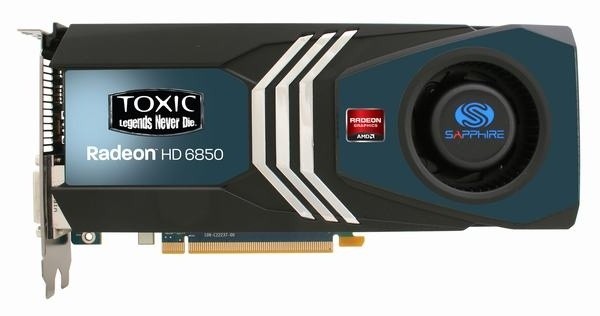 The multiple stream processors of the HD 6800 series can be used to accelerate other applications such as video transcoding. The latest generation of web browsers can be GPU accelerated, and this is also supported for enhanced productivity in Microsoft Office 2010.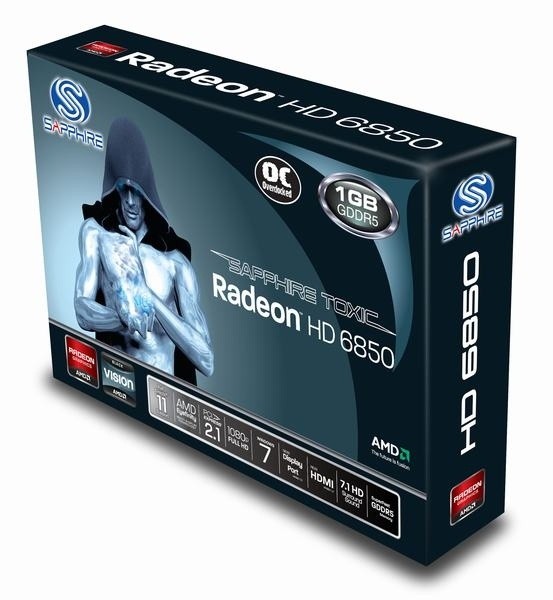 The SAPPHIRE HD 6800 series features the second generation of graphics technology from AMD designed to support all the features of Microsoft DirectX 11 and DirectCompute 11. The new GPU's are built in AMD's 40nm process to deliver high performance with low power consumption.
Advanced hardware features include an enhanced Tessellation unit, dedicated HDR Texture compression, multi-threaded communication with system CPU cores, embedded support for many of the DirectCompute 11 instructions, 3D stereoscopic support, HDMI 1.4a and DisplayPort 1.2.
The SAPPHIRE HD 6800 series is supported by AMD's DirectX 11 WHQL certified graphics driver which delivers support for all of the key DirectX 11 features required for enhanced gaming experiences as well as GPU acceleration of supported applications.
For more information, visit the
product page
.
Last updated: Apr 7, 2020 at 12:03 pm CDT