Sparkle Announces Calibre X580 Graphics Card
SPARKLE Computer Co., Ltd., the professional VGA card manufacturer and supplier, today proudly introduced the Calibre X580 graphics card , delivering intense performance and the broadest set of features for gamers who demand the best.
With the excellent cooling solution from Accelero Xtreme, the Calibre X580 Graphics Card brings ultimate DX11 performance with OC function. This offers opportunities for enthusiasts and anyone intent on more hardcore applications to tap their full, powerful potential. Compared to reference GeForce GTX 580 graphics cards on market, the the Calibre X580 Graphics Card is overclocked out of box, it boosts the core, shader and memory clocks significantly to 810MHz, 1620MHz and 2016MHz, bringing ultimate performance in the latest DX11 games including Dirt 2, Stalker:OCP, Alien VS. Predator, Metro 2033 and so on.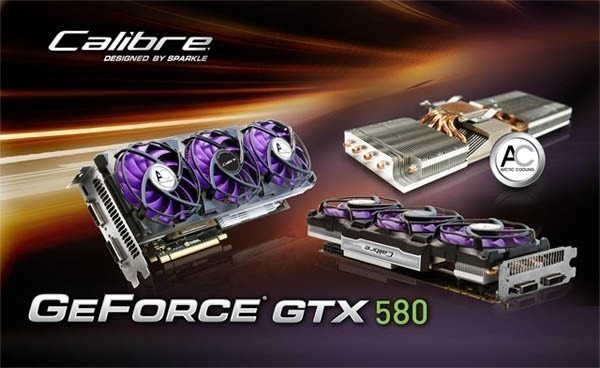 Accelero Xtreme Cooling Solution
Using the Accelero Xtreme cooling solution from Arctic Cooling, the Calibre X580 Graphics Card provides ultimate cooling weapon for hardcore gamers. The Accelero Xtreme features 5 heatpipes, 107 fins and 3 PWM fans. The radical optimized air flow design is targeting to cool effectively up to 240 Watt heat dissipation. The Accelero Xtreme can dramatically cool the temperature of the GTX 580 GPU at least 15ºC lower than the stock cooler. Together with the integrated memory and voltage regulator cooling, the Accelero Xtreme not only enhances the overclocking potential but also extends the card's service life. The three PWM fans from Accelero Xtreme bring maximum air flow but operate extremely silence, thanks to the low noise impellor design and the patented fan holder which eliminates the humming noise. The unnoticeable operation of Accelero Xtreme brings you the unparallel non-disturbed gaming experience ever before.
[img]2[/img]
32x Anti-aliasing technology
The Calibre X580 Graphics Card implements a brand new 32x anti-aliasing mode for higher levels of image quality. And the GeForce GTX 580's enhanced compression engine maintains incredible performance with anti-aliasing and resolution cranked up, providing both high frame rates and top notch image quality.
1536MB GDDR5 Video Memory
Latest DX11 games and 3D applications, such as Lost Planet2, Mafia II and 3DMark 11, insanely use as large as possible number of bump texture, transparent texture to describe faces of characters and render realistic gaming scenes, so they put rigorous demands on the bandwidth and capacities of video memory and demand at least 1GB video memory. Compared with high-end graphics cards on market with 1GB GDDR5 video memory, the Calibre X580 Graphics Card comes with incredible large 1536MB high speed GDDR5 video memory, meeting the rigorous demands from current DX11 games.
Ray Tracing Brings Futuristic Graphics
Prepare yourself for the future of gaming. The Calibre X580 Graphics Card powers interactive raytracing, bringing spectacular, photo-realistic renderings to your screen for the first time. Go ahead, spoil your eyes.. By using the power of the GF110 GPUs, the Calibre X580 Graphics Card supports recursion in hardware, enabling efficient ray tracing and a host of other graphics algorithms.It excels not just at standard ray tracing, but also at advanced global illumination algorithms such as path tracing.
Tessellation Power brings Brings Incredibly Detailed Visuals
While tessellation has mostly been used in films. With the introduction of DirectX 11 and NVIDIA's GF110, developers will be able to harness these powerful techniques for gaming applications. The Calibre X580 Graphics Card was designed from the ground up to deliver the industry's most potent tessellation performance, which is the key component of Microsoft's DirectX 11 development platform for PC games. Tessellation allows game developers to take advantage of the GeForce GTX 580 GPU's ability to increase the geometric complexity of models and characters to enables incredibly detailed game characters and terrain with blazing performance in latest DX11 titles, such as Lost Planet 2, Metro 2033 and so on.
Advanced DX11 Rendering Architecture
The Calibre X580 Graphics Card brings a host of the next generation of gaming calculation - GF110 never before offered for the PC -- including tessellation, DirectCompute and all other DirectX 11 hardware features. GF110 architecture is specifically designed to support next generation gaming effects such as raytracing, order-independent transparency, and fluid simulations. By using GF110 architecture, the Calibre X580 Graphics Card gets a tremendous boost in DX11 game performance and image quality, and brings film-like game characters and objects to users. GF110 architecture also enhances PhysX simulations with tremendous speed upgrade. In addition, GPU computing now can be put in practice in latest DX11 games for improve DX11 gaming efficiency.
[img]3[/img]
Last updated: Apr 7, 2020 at 12:03 pm CDT