Gigabyte Announces M6900 and M6980 Macro Gaming Mice
GIGABYTE is pleased to announce the arrival of M6980 Macro Gaming Mouse and M6900 Precision Gaming Mouse. Coinciding with the recent release of Aivia K8100 Gaming Keyboard, GIGABYTE has been sweeping the world with gaming sensation. With streamline-shaped ergonomic design, both M6980 and M6900 gaming mice are made for gamers at a competitive price.
Streamline-shaped GIGABYTE M6980 Macro Gaming Mouse is a seven-button ergonomic laser mouse supported by GIGABYTE's GHOST macro engine. Equipped with 8KB onboard memory, GHOST macro engine allows for up to 3 portable onboard profile settings. The mouse also features up to 7080 gaming grade fps, on-the-fly DPI switching, 4-way scrolling, and rubberized coating surface. Not only are the 7 buttons customizable, the LED lighting system also flickers to display "breathing effect" as an indicator for DPI and profiles. Designed with 2000dpi laser sensor, 1000rps report rate and 20G acceleration, the sensitive M6980 Macro Gaming Mouse offers gamers precision and accuracy during engaged gaming activity.
[img]3[/img]
Product Features
• 2000DPI laser gaming sensor
• GHOST Macro Engine with 8KB onboard memory
• Gaming-grade tracking up to 7080FPS
• On-the-fly DPI Switching
• 7 customizable buttons; 3 profile settings
• LED lighting system as DPI indicator
• Customizable color lighting via GHOST Engine as profile indicator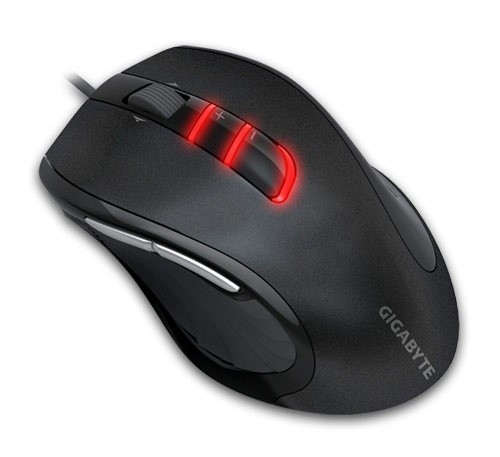 GHOST Macro Editing Engine
M6980 Macro Gaming Mouse comes with GIGABYTE's GHOST Macro Engine. It is an incredible macro editing software for the memorized macros to be carried around even if the mouse is connected to a different computer. 8KB onboard memory enables up to 3 programmable profile settings. GHOST Macro Engine software first debuted with M8000X Extreme Macro Gaming Mouse, continuing the engine's critically acclaimed easy-to-use drag-and-drop operating system, M6980 Macro Gaming Mouse also allows for DPI switching, tilt-wheel speed adjustment, and customizable color hues as profile indicators. Through GHOST Macro Engine, users are able to customize M6980 Macro Gaming Mouse to fulfill their needs.
M6900 Precision Gaming Mouse
Sharing the same exterior look with M6980, streamline-shaped ergonomic GIGABYTE M6900 Precision Gaming Mouse is a five-button gaming grade optical mouse. 30G acceleration ensures no signal is missed during rapid movement. Equipped with 3200dpi optical sensor, "+/-" on-the-fly DPI switching, 5 programmable buttons and 2-way tilt-wheel, M6900 Precision Gaming Mouse is especially designed to satisfy FPS gamers.
Product Features
• 3200DPI Pro-optical gaming sensor
• Gaming-grade 30G acceleration
• On-the-fly DPI switching
• 5 customized buttons and 4-way tilt-wheel functionality
• Software user interface features easy drag-down menu and adjustable resolution
For more information, refer to product pages of
M6900
, and
M6980
.
Last updated: Apr 7, 2020 at 12:03 pm CDT