Galaxy Xtreme Tuner HD Apps on iphone available and free download
Galaxy Microsystems, a leading manufacturer and worldwide supplier of NVIDIA based graphics solutions, announced today the first Graphics Card Utility on iTunes! With Galaxy Xtreme Tuner HD. you can overclock and monitor your graphics card on your iPhone / iPod. Get access to a wide range of graphics card parameters on iPhone in real time, such as GPU temperature, fan speed, core frequency and memory frequency etc. Even better, you can adjust those parameters right on your iPhone, in real time!
Features:
- Real time Graphics Card monitoring: GPU Temperature, Fan speed, GPU core clock, GPU Shader clock, Memory clock
- Real time Graphics Card overclocking and adjustment: Fan speed (Auto / Manual), GPU core clock, GPU Shader clock, Memory clock. Independent 2D / 3D speed mode (requires graphics card with 2D / 3D mode, e.g. GeForce GTS 450)
- Uses TCP/IP for easy connection. Advanced technique to minimize network overhead and delay
- Supports both internet / intranet networks: you can monitor your graphics card at anywhere!


- Compatible with iPhone, iPod touch, and iPad. Requires iPhone OS 3.0 or later
- PC with compatible NVIDIA Graphics Card and Xtreme Tuner HD iPhone edition http://www.galaxytech.com/en/xtremeTuner.aspx?class=8

(Note: For intranet connection, please make sure the remote computer is assessable by iPhone, i.e. they are on the same subnet. For internet connection, Xtreme Tuner HD uses TCP/IP port 34000 for connections, please make sure the port forwarding function on your router / firewall are set accordingly).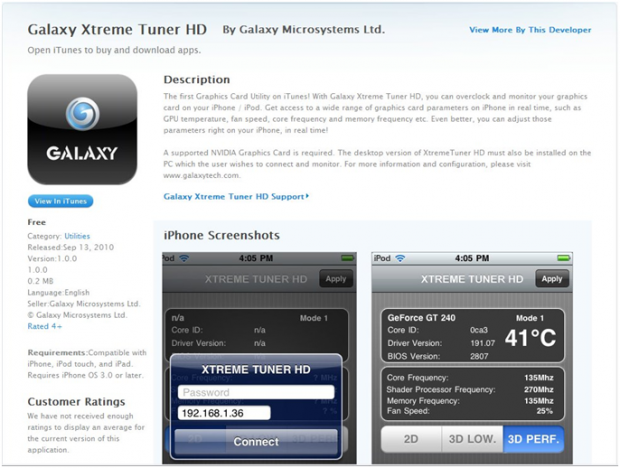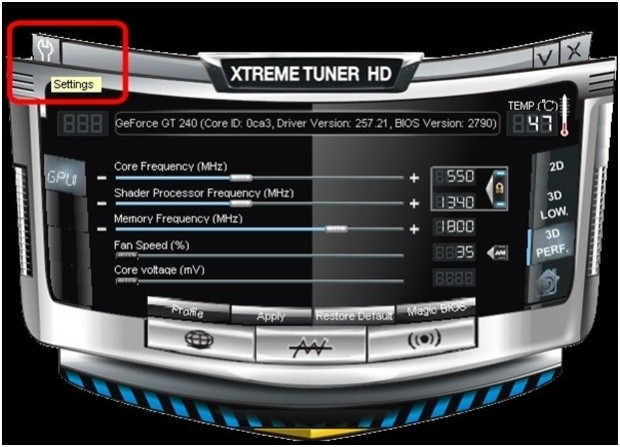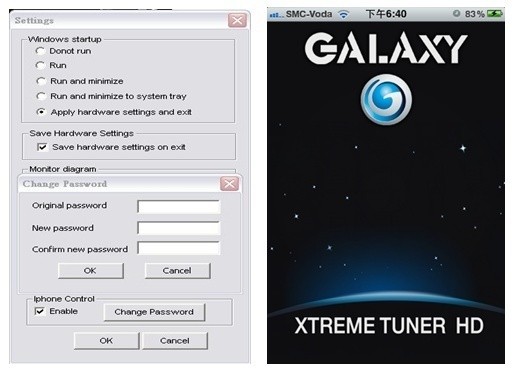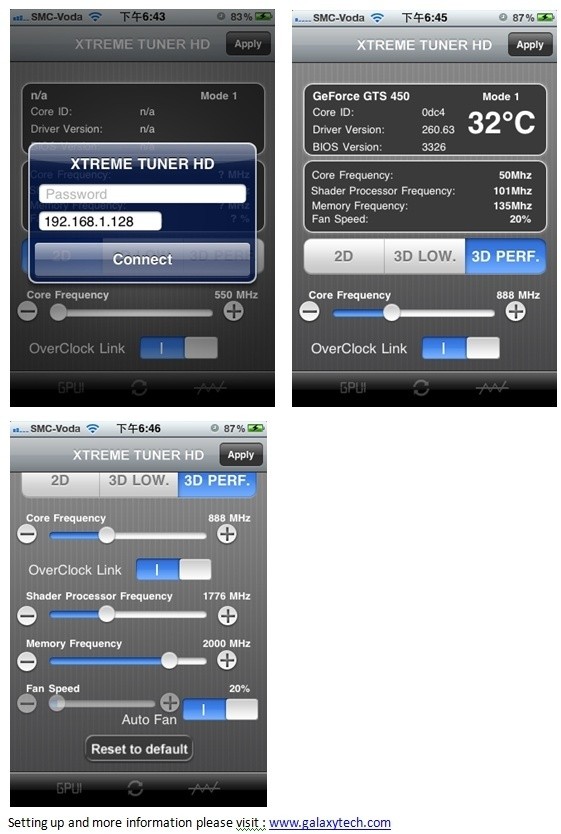 Last updated: Apr 7, 2020 at 12:02 pm CDT