MSI IPC Attends Equipmag 2010 and Enada Roma 2010
Taipei, Taiwan - Micro-Star international (MSI) Industrial Platform Computing (IPC) has announced that they will participate in two exhibitions, Equipmag2010 in France and Enada Rome 2010 in Italy, to unveil a serious of the latest industrial products that offers integrated system and customized service.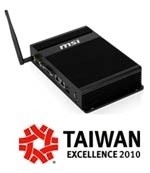 Equipmag 2010
Equipmag 2010, September 21.-23., is the global solutions dedicated to point-of-sale, retail and distribution for a unique relation between shops and consumers. MSI IPC will introduce the ultra-mini low power system, MS-9A19, for retail sales in this show.
MS-9A19 embedded with Intel® Atom™ N270 Processor, Intel® 945GSE+ICH7M chipset and a DDR2 400/533 SO-DIMM (up to 2GB). With Intel® Atom™ low power solution and fanless design, MS-9A19 consumes ultra-low power when operating. MSI IPC unveils new fanless 3.5" SBC MS-9A19 with high capability thought its mini-size limitation, including a dual display with DVI and VGA interface, dual Giga LAN, 4 USB 2.0 ports, 4 powered COM ports, and made it support hardware video decoder for MPEG4. With such high flexibility, MS-9A19 is ideal for application in point of sale, digital signage, gaming, industrial control and car electronic.

Visit MSI IPC at Hall:7.1, Booth No.: A30
For more information about this event please visit: http://www.equipmag.com/
Enada Rome 2010
ENADA ROME 2010, October 6.-8., is an international amusement and gaming show. It acts the exhibition leader in Italy and in Europe and placing itself among the appointments not-to-be missed in the sector. MSI IPC will unveil the latest WindBOX III for ultra graphic performance in this show.
WindBOX ? features great 3D graphics performance for a high definition up to 1080P. It supports directX10, shader model 4.0 and Intel® clear video technology. MSI enhances I/O connectivity covers multiple video output within HDMI and DVI-I interface in dual independent display. For the internet demand, WindBOX ? comes with a module that has a built-in WiFi 802.11b/g/n and blue-tooth module. With such solid capability, the MSI WindBOX ? is revolutionizing the traditional imagination of an Intel® Core™ 2 Duo for fanless system.

Meet MSI IPC at Hall: 2, Booth No: 067.
For more information about this event please visit: http://en.enada.it/
With over twenty years of experience in mainboard manufacturing, MSI IPC offers customers products that are stable and of high quality. Welcome visit MSI flagship pavilion at Equipmag 2010 and ENADA Rome 2010 and experience for yourself the many advanced technologies and products on display.
Last updated: Apr 7, 2020 at 12:02 pm CDT