SILICON POWER Releases SDHC Class10 32GB Memory Card
Enjoy instant HD recording life!
August 25, 2010, Taipei, Taiwan ~ World's leading flash memory manufacturer Silicon Power today (Aug. 25) announce their 32GB Class10 SDHC card. It is the largest capacity according to SD3.0 specifications set by the SD Association. The card is rated Class10 featuring minimum read / write speeds of 10MB/sec which brings absolutely the best out of your digital handheld devices! Whether you are a photography enthusiast using a HD camcorder to capture your everyday amazing life or a professional photographer constantly shooting with continuous burst mode, Silicon Power's 32GB Class10 SDHC card ensures you a smooth recording experience!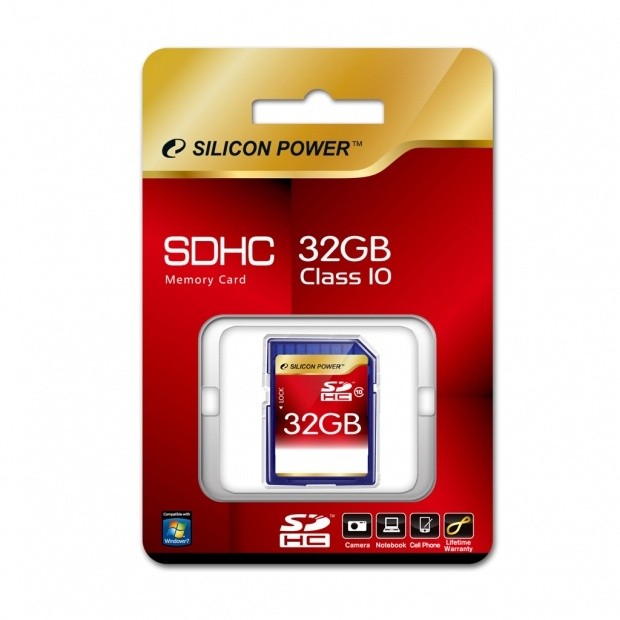 With the prevalence of high definition DV and camera, high speed / capacity flash memory cards are no longer the sole domain of professionals. The miniaturization of digital devices implies that CF cards must give way to smaller storage options. Silicon Power's 32GB Class10 SDHC card features 10MB/sec transfer speed (1.6x the speed of Class6 SDHC cards) with the size of a post stamp. The 32GB capacity can store more than 10 thousands photos and records over 12hrs of video with 6Mbps (1440*1080) resolution. Users need not to worry about insufficient storage space or slow transfer speed. Silicon Power 32GB Class10 SDHC card can let you get the most out of your HD cameras and camcorders and fully enjoy your photography or video recording experiences.
Silicon Power's Class10 SDHC card is in compliance with SD3.0 specifications set by the SD Association. It features superb compatibility with cameras, card readers and many other SD-compliant devices available in the market. All Silicon Power flash memory cards come with lifetime warranty. Silicon Power's 32GB Class10 SDHC card is available in 4GB/8GB/16GB/32GB capacities for photographers and enthusiasts alike to choose from and take advantage of your HD digital handheld devices.
About Silicon Power
Silicon Power Computer & Communications Inc., founded in 2003 by a group of enthusiastic specialists of flash data storage industry. Well dedicated in brand image and product quality, Silicon Power has been recognized and well accepted by millions of end-users in more than 100 countries, becomes the world's leading manufacturer of flash memory cards, USB flash drives, card readers, DRAM modules, solid state disks, and portable hard drives in less than a decade. Headquartered in Taipei, we continuously established various branches throughout the world including Netherlands, Japan, Russia, Mainland China and other emerging market. With superior quality and innovative design, our products stood out in several competitions and awarded Taiwan Excellence and COMPUTEX Design & Innovation Award in 2009 and 2010. Winning trust of global consumers, Silicon Power holds a record of successive double-digit revenue growth for last seven years. For Silicon Power, the product we introduced is not only a digital storage device but also a real promise to create and preserve your most valuable memory in every moment.
Last updated: Aug 9, 2020 at 12:18 am CDT