VIA Nano E-Series Processor Powers COM Express Module
VIA Nano E-Series Processor Powers COM Express™ Module
VIA expands COM Express module range with the VIA COME8X80, brings optimized 64-bit performance to COM Express with the VIA Nano E-Series processor
Taipei, Taiwan, 4 August, 2010 - VIA Technologies, Inc, a leading innovator and developer of embedded silicon and platform technologies, today announced the addition of the VIA COME8X80 module to its COM Express™ portfolio; the world's first COM Express type product to take advantage of the high performance, 64-bit VIA Nano E-Series processor.
"The VIA COME8X80 module harnesses the power of VIA Nano platform to offer a uniquely integrated and performance-optimized COM Express product," said Daniel Wu, Vice President, VIA Embedded Platform Division, VIA Technologies, Inc. "The VIA COME8X80 also demonstrates our long-term commitment to bringing our leading processor technologies to the COM Express form factor."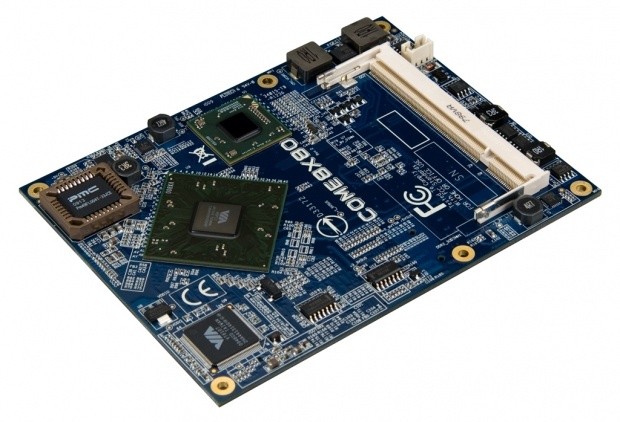 The VIA COME8X80 is targeted at IPC and larger OEM customers in a range of embedded segments including gaming, healthcare and industrial automation. Customers can also take advantage of a specially developed mutli-I/O baseboard for evaluation purposes, as well as VIA's technical assistance in developing custom baseboard designs.
VIA COME8X80: Optimized Performance and Assured Longevity
The VIA COME8X80 is available with a choice of either 1.3+GHz or 800MHz VIA Nano E-Series processors, combining native 64-bit and virtualization support with a high-performance superscalar architecture in a uniquely low power thermal envelope.
The VIA COME8X80 also integrates the unified VIA VX800 media system processor, bringing VIA Chrome9 integrated graphics, support for VGA and dual channel LVDS displays, video acceleration for MPEG-2, MPEG-4, WMV9 and VC1 video formats, plus a VMR capable HD video processor. All VIA components have a guaranteed longevity of seven years.
Product Highlights:
- High performance, 64-bit VIA Nano E-Series processor
- 18/24-bit dual channel LVDS plus VGA support
- 3 PCI, and one x4 plus two x1 PCIe slots
- Up to 2GB of DDR2 SO-DIMM memory
- 10/100Mbps Fast Ethernet
- Up to six USB 2.0 ports
- Up to two SATA devices plus 1 IDE
The VIA COME8X80 is available to OEM and ODM customers now. For more details including a technical data sheet, please go to:
http://www.via.com.tw/en/products/embedded/ProductDetail.jsp?productLine=1&id=1271&tabs=1
An image kit related to this product announcement is available here:
http://www.viagallery.com/index.php?option=com_flickr4j&Task=sets&Set=72157624643775464&Page=1
About the COM Express Form Factor
Measuring 95mm x 125 mm, COM Express is an industry standard embedded form factor developed by the PICMG (PCI Industrial Computer Manufacturers Group) to provide greater connectivity and data transfer bandwidth than the original COM (Computer-on-Module) standard. The COM Express specification integrates core CPU, chipset and memory on the module, providing support for extensive connectivity options, including USB, audio, video, and Ethernet, through board-to-board connectors to an I/O baseboard.
VIA also offers the VIA C7 / VIA Eden based COME7N80 COM Express module. For more details please visit:
http://www.via.com.tw/en/products/embedded/ProductDetail.jsp?productLine=1&id=1270&tabs=1
VIA Nano E-Series Processors
VIA Nano E-Series processors are aimed specifically at the needs of the broader embedded industry, bringing technologies that will help revitalize embedded device design and power the next wave of embedded design innovation. Built on the successful 64-bit, superscalar architecture that powers the VIA Nano 3000 Series processor range, VIA Nano E-Series processors include extended longevity support of up to seven years and offer the most complete, low power microprocessor design in the industry today.
For further information about the VIA Nano processor family and the VIA Nano E-Series, please go to:
http://www.via.com.tw/en/products/processors/nano/index.jsp#e_series
About VIA Technologies, Inc.
VIA Technologies, Inc is the foremost fabless supplier of power efficient x86 processor platforms that are driving system innovation in the PC, client, ultra mobile and embedded markets. Combining energy-saving processors with digital media chipsets and advanced connectivity, multimedia and networking silicon enables a broad spectrum of computing and communication platforms, including its widely acclaimed ultra compact mainboards. Headquartered in Taipei, Taiwan, VIA's global network links the high tech centers of the US, Europe and Asia, and its customer base includes the world's top OEMs and system integrators. www.via.com.tw
Last updated: Apr 7, 2020 at 12:02 pm CDT
PRICING: You can find products similar to this one for sale below.

United States: Find other tech and computer products like this over at Amazon.com

United Kingdom: Find other tech and computer products like this over at Amazon.co.uk

Australia: Find other tech and computer products like this over at Amazon.com.au

Canada: Find other tech and computer products like this over at Amazon.ca

Deutschland: Finde andere Technik- und Computerprodukte wie dieses auf Amazon.de
Related Tags