Ultimate Gaming NBs-MSI GX660/GX660R
Raises Bar for Multimedia Performance
The MSI GX660 features TDE technology and superior Dynaudio sound. It also supports dual hard disk architecture; doubling capacity and performance (GX660R comes with RAID 0 architecture). Powerful performance and multimedia capabilities designed to overwhelm your senses.
Taipei-MSI's unparalleled team of designers has once again done its magic, creating the GX660 and GX660R, the latest G series laptop computers destined to cause serious salivation among gamers. Under the hood, both are fitted with top end ATi Mobility Radeon HD 5870 discrete graphics card (with 1GB GDDR5 VRAM) and the ultimate in sound from Dynaudio. The GX660R also comes with RAID 0 architecture, doubling capacity to 1TB, while doubling read speed. The powerful performance and unmatched multimedia specs will knock your socks off.
MSI Marketing Director Sam Chern adds that MSI's GX660 not only comes with an advanced discrete graphics card and Dynaudio sound, it also boasts Intel's most powerful Core i7 processor and MSI's own TDE technology to throttle up system performance with just one touch. These NBs mark the start of a new era in gaming excitement. MSI also incorporated its exclusive, user friendly Cooler Boost technology to boost fan RPMs at the touch of a finger for better heat dissipation, while MSI's ECO technology provides you with a powerful, silent, and extended computing experience.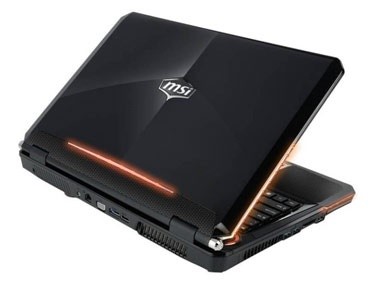 Technology offers new powerful, quiet experience
TDE technology boosts performance by 83%: MSI's exclusive TDE (Turbo Drive Engine) technology revs up processor performance with just one touch of the luminescent Turbo hotkey located above the keyboard, increasing system speed by 83%, while keeping your system from bogging down when you're using load-intensive applications. This highly responsive computer has got your back when you're surrounded by hordes of angry orcs or careening through the universe at light speed.
Cooler Boost technology: In addition to the instant turbo boost courtesy of the TDE technology, the GX660 has another cool feature-MSI's own Cooler Boost technology. Just a touch of the luminescent hotkey located above the keyboard kicks in the powerful cooling action.Allowing this NB to stay cool as a cucumber even when it has to work for extended periods in high temperatures.
Zounds! What sounds!
A match made in sound heaven: World leader in computer technology MSI and world leader in sound Dynaudio got together and it was a match made in heaven. The resulting GX660 gives you unprecedented high fidelity.
Perfect position: To build a laptop with superb sound, you need to be meticulous about every detail. Speaker locations and sound field design have to be calculated with precision. Vast amounts of study and countless calculations were carried out on the GX660 to determine the ideal locations to install speakers to obtain obstruction-free sound transmission.
Optimal speaker units, sound card circuit: MSI and Dynaudio have designed high quality speaker units with almost no coloration as well as an optimal sound card circuit based on speaker and system configuration. Over 1200 hours went into testing and tweaking each frequency to obtain ideal tone and balance for crisp, clean sound at all frequency levels.
Advanced specs for instant power boost
ATi Mobility Radeon HD 5870 discrete graphics card: The MSI GX660 features the most advanced ATi Mobility Radeon HD 5870 discrete graphics card (w/ 1GB GDDR5 VRAM) for powerful graphics processing. It also supports DirectX 11 for smooth, clear, true-to-life 3D HD graphics to maximize your interactive gaming experience.
Large capacity RAID 0 architecture: The GX660R supports two disk architecture, doubling memory storage and increasing read speed by 70% instantly.
Three DDR3 memory slots: To provide gamers powerful performance, the GX660 comes with three DDR3 slots to allow up to 12GB of extra memory, giving this notebook server-class computing power.
USB3.0 slots: The MSI GX660 also comes equipped with USB3.0 slots which can transfer data at 5GB a second-more than ten times faster than conventional USB2.0 slots, and which provides 80% more power to recharge handheld devices. Now data transferring and battery recharging is much faster.
Awesome presence
Cool exterior: Following in the footsteps of other MSI G series NB computers, the GX660 is really cool looking. The blazing white MSI logo on the cover is set in the middle of a raised black diamond trident below a smoldering red slash. Hip yet low key-that's the GT660. The rhombic pattern on the wrist areas and high tech brush finish on the touchpad add class and texture. The body is sheathed in MSI's exclusive glossy color film print to protect the GX660 from scratching and wear, while further enhancing its awesome presence.
Light and sound show technology: The MSI GX660 has another great feature-a one-of-a-kind LED light show, highlighting LED lights around the NB's edges. So whether you're listening to music or engrossed in an exciting, fast paced game, you can flick on the MSI LED light show hotkey with the touch of a finger. Lights embedded on either side of the notebook and in front of the keyboard will pulsate automatically to sounds emitted by your laptop, kicking the thrill level of your GX660 up a few notches.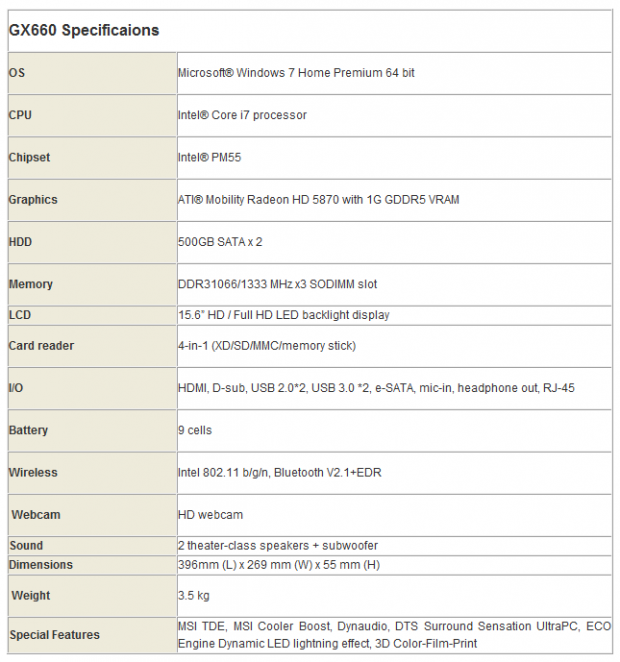 Last updated: Apr 7, 2020 at 12:02 pm CDT