Thecus® Launches CU30N USB 3.0 Host Bus Adapter
PCIe add on card delivers next-generation USB 3.0 connectivity
06/30/2010 - With transfer speeds of up to 5 Gbps, USB 3.0 marks a new standard in high-speed connectivity. Today, storage innovator Thecus® Technology is pleased to announce a new product in its ever-expanding lineup of products for the digital lifestyle - the CU30N. Sporting two USB 3.0 ports and full backward compatibility with USB 2.0 and 1.1 standards, the CU30N is the easy way to bring your computer system into the age of USB 3.0.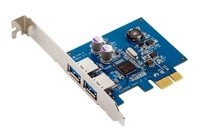 The CU30N is a full height PCIe add on card that is compatible with PCI Express x1, x4, x8 and x16 slots. Installation is extremely easy and no external power source is required to get it up and running. Once installed, the CU30N gives your system two USB 3.0 ports that are ready to connect with all sorts of USB 3.0 devices.
On the hardware front, the CU30N utilizes the NEC µPD720200 Processor - the world's first USB host controller compliant with USB 3.0 and xHCI specifications. With the NEC µPD720200, the CU30N supports four modes of transfer, including Low-speed (1.5Mbps), full-speed (12Mbps), high-speed (480 Mbps), and super-speed (5Gpbs).
The CU30N can also be used to upgrade certain Thecus® NAS units for USB 3.0 connectivity. Currently, the CU30N can be installed in the following models:
- N4200
- N7700 Series
- N8800 Series
The CU30N is fully compatible with PCs using Windows 7/Vista/XP 32/64bit operating systems.
"USB 3.0 is certainly the upcoming future connectivity standard, and with the CU30N, users can leverage this new standard today," said Florence Shih, Thecus® Technology General Manager. "Combining the CU30N with our D0204 is a great way to experience the future of storage."
For more information on the Thecus CU30N, check out:
http://www.thecus.com/products_over.php?cid=54&pid=252&set_language=english
About Thecus®
Thecus® Technology Corp. specializes in IP Storage Server solutions, including Network Attached Storage (NAS) , DAS, External Storage and Wireless Media NAS (Bank ) products. The company was established in 2004 with the mission to make technology as transparent and easy-to-use as possible, and to make products that are not only the best on the market, but are accessible to experts and novices alike. With a best-in-class R&D team highly experienced in storage hardware and Linux software and with a keen customer focus, Thecus® stays close to the market to develop high-quality products to fulfill the storage Server needs of today's world.
Last updated: Apr 7, 2020 at 12:02 pm CDT