CyberPower Offers "Total Immersion" With New 3D Vision Surround Gaming PCs
BALDWIN PARK, CA (June 29, 2010) -- CyberPower www.cyberpowerpc.com today announced a new series of 3D desktop gaming PCs based on the NVIDIA 3D Vision Surround technology to provide the most immersive 3D gaming experience imaginable across three high-resolution displays.
With 3D Vision Surround technology CyberPower customers will be able to achieve the ultimate inside the game feeling by expanding their gaming real estate across three 1080-pixel displays in full 3D. CyberPower will offer 3D Vision Surround in several models of its Gamer Xtreme and Gamer Ultra desktop PCs.
This new technology literally gives you eyes behind your head by expanding your peripheral view of in-game action. With three monitors and NVIDIA GeForce GTX series GPUs pumping out realistic graphics you can: see enemies sooner and react quicker in first-person shooter games; get a complete view of the battlefield in real-time strategy games; or race your cars even faster because you will feel like you are in the driver's seat.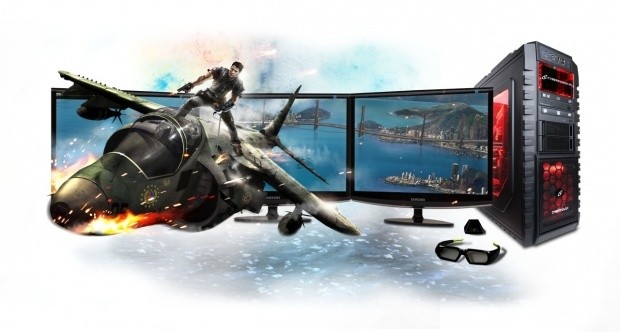 CyberPower customers can begin customizing a 3D-ready PC or a complete 3D Vision Surround system with 3D monitors and glasses. Gamer Xtreme and Gamer Ultra 3D Vision Surround PCs can be optionally equipped with powerful Intel Core i3, i5, or i7 processors or AMD's six core Phenom for smooth system performance. NVIDIA GeForce GTX 400 GPUs deliver the graphics horsepower to run your games in 3D stereo, across three displays, at HD resolutions up to 5760x1080.
CyberPower's 3D Vision Surround-based gaming PCs are cooled by its new Xtreme Hydro LiquidCooling solution featuring a 360mm radiator and can be easily factory overclocked. CyberPower 3D Vision Surround systems are also SATA-III and USB 3.0 ready to boost speeds and customized with a number of hard drives, SSD, Blu-Ray devices to enhance your 3D entertainment. High performance memory upgrades, and other peripheral components options are also available at the company website.
All systems are pre-loaded with Microsoft Windows 7 64-bit Operating System to enhance your gaming and multimedia experience. All CyberPower computer systems come with a 3-year limited warranty and free lifetime phone support.
About CyberPower Inc.
CyberPower Inc. www.cyberpowerpc.com was founded in 1998 and has emerged as one of the leading custom computer system manufacturers. Headquartered in Baldwin Park in Southern California, CyberPower manufactures and distributes a complete line of custom built Gaming Desktops, Gaming notebooks and high performance workstations to meet the unique needs of gamers, businesses, government agencies, educational institutions and other end-users. For more information contact: Sales (800) 707-0393; Email cyberpower@cyberpowerpc.com.
Last updated: Apr 7, 2020 at 12:02 pm CDT