Thermaltake Introducing First USB 3.0 SuperSpeed Docking Station: BlacX 5G
Supports all 2.5" & 3.5" HDDs, Hot-Swap Capable and Backward Compatible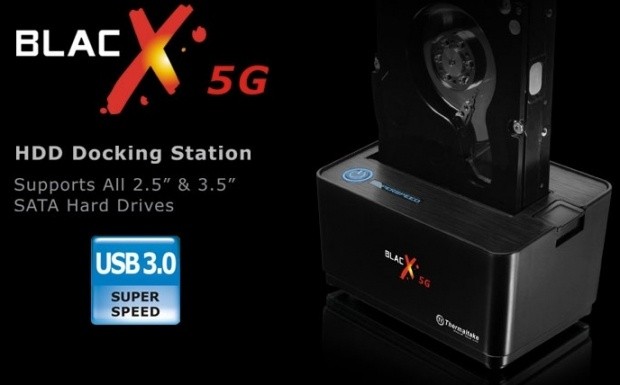 Thermaltake, leading DIY chassis and storage enclosure brand, introduces the newest series of USB 3.0 SuperSpeed docking stations for all 2.5" and 3.5" HDDs, making it more convenient and easy to transfer large documents, pictures or movies between hard drives and computers. With support for hard drives of up to 2 TB capacity the Thermaltake BlacX 5G offers utmost storage convenience and flexibility for people on the move and those with huge data archives. Backward compatibility with USB 2.0 and USB 1.1 increase usage scenarios to even migrate data from older systems and make them available on the latest USB 3.0 SuperSpeed devices. The easy plug & play installation warrants for operation with Windows systems as well as Mac OS, while the premium shielded data cable does not only guarantee increased data safety but also boosts transfer rates up to 5.0 Gbps with USB 3.0 compatible devices.
The compact BlacX 5G (ST0019) sports dimensions of barely 73 (H) x 136 (W) x 88 (D) mm making it easy to place anywhere near or on your computer. It is already bundled with USB 3.0 SuperSpeed data transfer cable and a power cord for immediate use.
The BlacX 5G is available for an MSRP of US$ 49.99
For more information got to:
http://www.thermaltake.com/product_info.aspx?PARENT_CID=C_00001634&id=C_00001635&name=BlacX+5G&ov=n&ovid=&parent_cp
About Thermaltake
Thermaltake Incorporation, based in Taipei, Taiwan is the global leader Thermal Solution and Thermal Management for PC & Industrial Market. Its engineering staffs master in Airflow Analysis, Material Conductivity and Heat Dissipation Efficiency. Thermaltake offers a wide range of products and services, providing effective and cost-conscious cooling devices. The Company has more than 1,000 employees worldwide supporting customers from its headquarters in Taipei, Taiwan, as well as from offices in China, Europe and United States Continent.
Last updated: Apr 7, 2020 at 12:02 pm CDT