Kingston Digital Announces USB Security Partnership with BlockMaster
Relationship Strengthens Corporate Flash Media Security and Provides Greater Availability of Secure USB Drives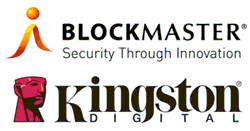 Fountain Valley, CA -- June 22, 2010 -- Kingston Digital, Inc., the Flash memory affiliate of Kingston Technology Company, Inc., the independent world leader in memory products, today announced that it will partner with security company BlockMaster and provide greater availability of centrally managed USB drives, which makes it easier to protect information on-the-move. The partnership further strengthens both companies' positions in the secure USB Flash drive market.
"Kingston has been looking at partnering with a firm that specializes in USB management software as our customers have expressed interest in secure USB management solutions for some time," said John Terpening, business manager, secure USB products, Kingston®. "After looking into several companies in that market, Kingston concluded that BlockMaster would be an optimal choice. We are confident that the partnership will facilitate the sharing and development of the necessary technology to provide USB products with advanced secure management to our corporate customers."
BlockMaster® is well known for its USB security solutions, including the centralized USB management software, SafeConsole®, which offers organizations the ability to remotely manage USB drives by resetting passwords, configuring password policy and activating audit for compliance procedures. With this partnership, Kingston will be offering its customers a centrally manageable version of its DataTraveler Vault - Privacy Edition utilizing BlockMaster's technology to provide complete control over USB drives.
"BlockMaster has been considering various strategies to extend the reach for our SafeConsole product in all markets and concluded, like Kingston, that partnering would be an effective approach," said Daniel Östner, CEO, BlockMaster. "Kingston was on top of our list with their strong global presence. We are confident that the joint offering will bring great value and impact to the marketplace as it will make managed secure USB drives available to a greater number of organizations. It will also usher in a new level of awareness of USB security, which is critical as workforces become more mobile and transport more corporate information outside the protection of the corporate network."
Future plans include Kingston rolling out a version of its DataTraveler Vault - Privacy Edition that requires management by BlockMaster's SafeConsole server software to activate the drive. This product will be able to address the strictest security requirements of the market, ensuring that the drive will not work unless managed. The launch of this product is scheduled for Q3, 2010.
The partnership does not affect current available BlockMaster product offerings. As the partnership develops, BlockMaster will remain focused on the development and distribution of their SafeStick® technology and the management platform SafeConsole; and Kingston will continue to focus on their core competency in this area, the manufacturing and distribution of secure USB drives.
For more information visit www.blockmastersecurity.com or www.kingston.com.
About BlockMaster
BlockMaster provides complete control of portable data. Easy to deploy, its unique SafeConsole® allows administrators to track, manage and enforce acceptable use policy for every single secure USB drive, anywhere in the world. SafeStick® enabled devices encrypts and fully password protects all stored data. The solution is available world-wide and trusted to serve the versatile security needs of enterprise and government customers. For more information please visit: www.blockmastersecurity.com
About Kingston Digital, Inc.
Kingston Digital, Inc. ("KDI") is the Flash memory affiliate of Kingston Technology Company, Inc., the world's largest independent manufacturer of memory products. Established in 2008, KDI is headquartered in Fountain Valley, California, USA. For more information, please visit www.kingston.com
Last updated: Apr 7, 2020 at 12:02 pm CDT