Iomega Shows Some Skin with Exciting New Portable Hard Drives
Iomega, an EMC company and a global leader in data protection, today announced the launch of the exciting new line of Iomega Skin branded Hard Drives, three different 500 GB portable hard drives that pop with unique designs and colors that scream, "Who says portable storage has to be boring?"
In conjunction with the popular Skin Industries, one of the leading alternative "Sports Fashion" brands in America today, Iomega's new Skin Hard Drives feature three compact personal storage models with custom Skin-branded graphics that stand out in a burst of hip culture compared to anything else in the hard drive market today.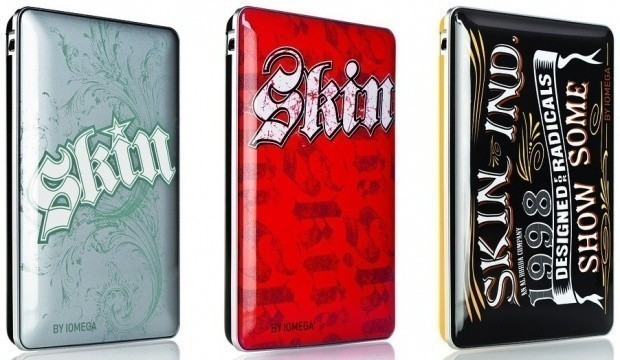 "The new Iomega Skin Drives exude an alternative personality with eye-catching Skin Industries graphics that demand the attention of anyone who doesn't accept the status quo, who zigs when others zag, especially when it comes to the look and design of their digital devices," said Jonathan Huberman, President of Iomega and the Consumer and Small Business Products Division of EMC. "Iomega's new Skin Drives deliver that kind of excitement in a lightweight, compact design with the quality features people expect from Iomega, including industry-leading ruggedness to protect your data and a top-tier software suite bundled free of charge with every Skin Hard Drive. That's an unbeatable personal storage combination for tech-savvy students and young professionals alike."
Iomega Skin Hard Drives
There are three different models in the new Iomega Skin Hard Drive line. All three models are USB 2.0-powered 500GB portable hard drives.
The "Radical" Skin Hard Drive model has a retro Skin-branded printed logo design on a black top with a vibrant yellow base, creating a look that stands apart from any other portable hard drive.
The "Red Hot" Skin Hard Drive model features a "Skin" Swipe logo printing on a red top with a black base, creating a definition of hip and hot for today's young iconoclastic computer user.
The "Knock Out" Skin Hard Drive model has a dark, mysterious aura with a "Skin" Gothic logo design on a silver top with a black base. One look at this portable hard drive beauty and envious friends and co-workers could be down for the count.
Al Borda, CEO of Skin Industries, said, "We continue to build on the lifestyle tradition of Skin Industries. As the CEO, I like to think ahead and focus on the future in everything we do for the company. With the release of the exciting new Skin hard drives and joining with Iomega, this is another step forward for Skin to become more than just a clothing company."
The new Iomega Skin Hard Drives will be featured in a July window display at J&R Music and Computer World's flagship store on Park Row in New York City.
"Young people today are looking for something different in everything they buy and use," said Rachelle Friedman, President and Co-CEO, J&R Music and Computer World, downtown New York City. "At J&R, we're always looking for unique and exciting products for our customers. Iomega's new Skin portable hard drives not only have personality and style compared to other hard drives in the market today, they also deliver on the functionality that's required of a quality portable hard drive - plenty of space for music, photos and videos, as well as rugged, dependable and easy-to-use. Put it all together and the new Iomega Skin Drives are a great new addition to J&R's computer peripheral offerings."
Self-Powered Drives with Plenty of Room for Lots of Multimedia Files
All three of the new Skin Hard Drives are perfect for slipping into a laptop bag or pocket to take anywhere your laptop goes. Best of all, the USB interface on the Skin Hard Drives require no external power supply. Just connect the included USB 2.0 cable to your Skin Hard Drive and your laptop, netbook or desktop and you are ready to store and share photos, music, videos and more.
To appreciate how much data can be stored on a new 500GB Iomega Skin Hard Drive, users have enough capacity to hold up to 200,000 photos, over 125,000 songs or more than 190 hours of video.
As Rugged as You Wanna Be!
All three of the new Skin Hard Drives feature Iomega's standard Drop Guard protection, which helps guard the drive from accidental drops of up to 51 inches on to industrial carpet - or 40% better than the industry average.
Iomega Protection Suite Software Included Free With New Skin Drives
Included free of charge with all three of Iomega's new Skin Hard Drives is the Iomega Protection Suite, a one-stop portfolio of backup and anti-virus software giving users added protection for their photos, videos, music and other files.
Pricing, Availability and Warranty
The new Iomega Skin Hard Drives are available today in the U.S. at select retailers and etailers. All three Skin Hard Drive models retail for $119.99 each. (Pricing is U.S. suggested retail.) Iomega's new Skin Hard Drives also will be available next month in select European markets.
Last updated: Apr 7, 2020 at 12:02 pm CDT