iSkin Introduces Premium Line of Protective iPad Cases
Bringing form, functional design and style to Apple iPad with Microban® protection, exclusive to iSkin.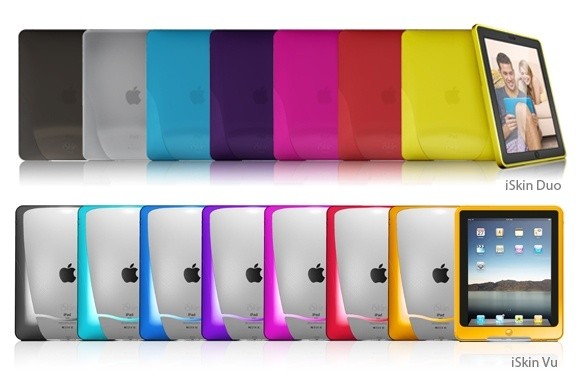 TORONTO, Canada- June 17, 2010 - iSkin Inc., a leader in premium mobile accessories, announces today the release of its protective covers for the Apple iPad - the iSkin Duo and the iSkin Vu.
"We're proud of our reputation for delivering unique and beautiful products," said Andrew Ackloo, President and CEO of iSkin. "The iPad's size presented us with some unique challenges, so the engineering on both the Duo and Vu was refined and tweaked multiple times to provide our customers with what they expect from us - the best possible fit, functionality and design. The results are protectors that allow themselves to integrate naturally on the iPad."
The iSkin Duo is a low-profile, dock friendly way to guard and enhance the Apple iPad. It is designed specifically for those seeking complete protection for their iPad at home, work or school environments. Available in a variety of two-tone color options, the Duo's vibrant body color is fused with a front-facing black screen frame surfaced with an embossed designer pattern. It is also equipped with side grips for better handling, an earphone port cover and fully protected volume, home and sleep buttons.
As the market pioneer in delivering enhanced silicone protection for digital devices, iSkin created the Duo for iPad from premium silicone that is both hypoallergenic and free of chemicals like bisphenol-A, phthalates, latex and PVC, making it a safe option for those with immune sensitivities and small children. The silicone has been treated with a low-dust and low-lint finish that helps to resist the natural tendencies of silicone to attract small particles.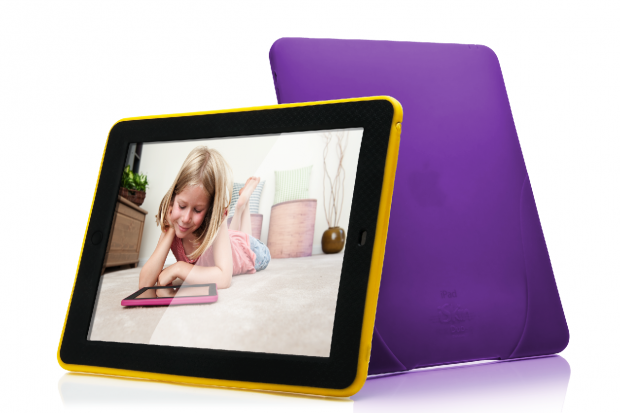 In addition, the Duo is embedded with Microban®* antimicrobial protection, exclusive to iSkin, that which works continuously to inhibit the growth of bacteria and fungus that cause odor and staining. This silicone protector is an excellent way of protecting the iPad against impact, moisture, dirt, sweat and grease and can be easily removed and cleaned. If required, the Duo can be sterilized with hot water without losing its impeccable fit and shape.
The iSkin Vu is designed for those who seek an elegant way to personalize their iPad through color and design, without sacrificing function and protection. The Vu features a hybrid design that elegantly incisions next-generation, environmentally friendly soft plastic with a beautifully patterned hard plastic shield. Together, they combine for a truly beautiful look that fully encapsulates and protects the entire iPad against impact, scratches and other hazards.
The Vu features a unique and cleverly designed rear-bottom hatch that can be easily removed to allow the iPad to dock with the Apple iPad Keyboard or Standard Dock without ever having to remove the product. The hatch also includes a charging cable opening with an integrated protective cover that seals and protects from dust, dirt or other impurities. Other advancements include recessed volume and power button coverage, which reduces accidental presses while handling and rotating the iPad, an integrated earphone port cover, and home button protection. A raised screen border is designed to protect the screen when the iPad is placed face-down on any surface.
The Duo retails for $49.99 USD and is available in seven bold color options: Soleil (Yellow), Persia (Purple), Night Hawk (Brown), Sky (Blue), Glam (Pink), Diablo (Red) and Arctic (Clear). The Vu retails for $64.99 USD and is available in seven vibrant colors: Cosmo (Pink), Breeze (Aqua Blue), Reflex (Blue), Baron (Red), Sunset (Orange), Vive (Purple) and Puma (Black). Available now at www.iSkin.com/iPad and at retail stores in the coming weeks.
About iSkin Inc.
iSkin Inc. designs and delivers an inspired line of accessories, enhancements and solutions for the thriving Digital Lifestyle marketplace. iSkin has earned the reputation of being one of the most trusted brands in the world by being a company that focuses on total in-house, top to bottom product development with unique designs, technologies and innovations.
Last updated: Apr 7, 2020 at 12:02 pm CDT