Acer Announces Touch LCD T231H
Touch screen computing experience has just got better. Acer brought the ease of use of touch technology to LCD displays with the T230H model. Now the company takes a step further with the all-new T231H LCD, combining the immediacy of touch with an advanced ergonomic design that ensures maximum comfort even during sustained use.
The reason of the success of touch screen technology is easy to understand: it's through touch that we start to interact and discover the world we live in. This is why one of the most common reactions when we see an object is the desire to touch it. Touch is natural and immediate: users do not have to know how to use a computer, and even neophytes can make their choices simply touching the monitor.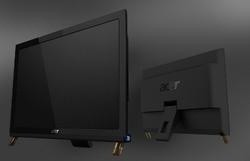 The Acer T231H display is ready to let you take advantage of the touch capabilities. It responds to the tap of your fingers that becomes your mouse, so you can interact with your computer in the most intuitive way possible.
After connecting your Acer Touch Monitor T231H to your notebook or desktop PC, it only takes a few steps to set up the touch-screen functions, unlocking a new way of interacting with your PC. The new advanced ergonomic design allow the working angle to be adjusted from 5° to 60° to ensure the maximum comfort especially during sustained use, whether viewing or engaging in touch operations. You can easily adjust the monitor angle using just with one hand.
Once you have found the best working angle, using your fingers you can tap on the screen to open documents or navigate web sites. You can scroll through web pages, documents, playlists, or photo albums; you can flip through web pages and photos or use two fingers to rotate, expand or reduce them to the size you want; you can also take notes directly on the screen of your display.
But experiencing the wonders of touch screen technology is not all you get with the Acer T231H display. The 58 cm (23 inch) panel with Full HD 1920x1080 resolution enables jaw-dropping cinematic views of the latest high definition content and is just right for advanced Full HD gaming, multimedia and productivity applications. Because of the 16:9 aspect ratio it portrays the perfect fit to watch every bit of a movie with no black stripes, permitting to reproduce images without distortion from incompatible aspect ratios.
The T231H LCD monitor delivers flawless moving images through a rapid 2ms response time, plus an improved gray-to-gray response time with OD (overdrive) technology enhances the moving-picture viewing experience. An 80,000:1 dynamic contrast ratio, optimized by Acer Adaptive Contrast Management, renders amazing pictures by analyzing and adjusting images frame by frame, optimizing contrast through enhancement of detail and gradation in bright or dim scenes.
Digital input maximizes the connection quality between LCD monitors and other digital sources including PC graphic cards. The Acer T231H display is equipped with one DVI and one HDMI port to provide advanced digital connectivity and enable outstanding high-definition viewing and best quality video and audio currently available.
To give users a superior viewing experience, the T231H display takes advantage of the latest display technologies:
• Acer eColor Management technology adapts the performance of the panel to different environments, light conditions and viewing preferences enabling users to fine-tune the display settings by redefining the colour precision according to the work mode: data, media, cinema or images.
• Acer Adaptive Contrast Management (ACM) dynamically adjusts the contrast ratio to achieve ultra-sharp images. Each scene is analysed to fine-tune images frame by frame and enhance colour quality, obtaining a dramatic improvement of gradation and detail, especially in dimmer and brighter scenes. Acer ACM also enables the LCD monitor to use less power and save energy.
• Acer eDisplay Management is a powerful tool enabling advanced colour calibration and display management. Each personalized setting can be stored and quickly recalled for different applications and light conditions.
Last updated: Apr 7, 2020 at 12:02 pm CDT