Toshiba Rolls out Volume Availability of Highest-Capacity SFF Enterprise HDD
Toshiba Storage Device Division (SDD), a division of Toshiba America Information Systems, Inc. and the industry pioneer in small form factor enterprise-class and mobile hard disk drives (HDDs), has begun volume shipment of its MBF family enterprise HDDs. Matching the growing demand for 2.5-inch enterprise-class HDDs, volume availability of the MBF family marks the broad availability of the latest Toshiba series to deliver high capacity, high performance, and power efficiency.
The 2.5-inch HDD form factor continues to gain favor for enterprise-class storage solutions where reliability, high capacity, and performance are required, particularly mid-range volume servers, mainstream storage arrays, blade and rack-mount servers. These benefits, alongside the power consumption and cost efficiencies of 2.5-inch drives, have become even more valuable as organizations pursue storage consolidation strategies. Moving to storage systems that utilize 2.5-inch drives such as the MBF series can reduce data center floor space requirements as well as lower storage infrastructure and management costs.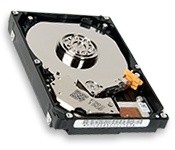 "Toshiba's MBF series enterprise-class drives possess a range of technological advancements that enable us to deliver flexible computing systems targeted to the exacting needs of our customers," said Mike Turricchi, director of product management, NCS Technologies, which designs solutions for the military, government, and commercial market sectors. "MBF series drives not only allow us to engineer systems with greater storage density to support storage consolidation, but the design characteristics of 2.5-inch drives also mean that they operate more efficiently in a broad range of demanding temperature, vibration, shock, and altitude conditions. In addition to storage systems based in branch offices and data centers, our customers rely on these drives for solutions used in field, mobile, aviation, marine, and seismic environments."
Complementing the push toward storage consolidation, many organizations are also moving to deploy applications on virtualized servers as another means to improve the efficiency and availability of IT resources. Compared to 3.5-inch drives, 2.5-inch drives are ideally suited to the requirements of virtualized infrastructures which often entail an increase in needed server storage capacity.
"Nearly all organizations with server infrastructure are exploring or implementing virtualization technologies," said Chuck Orcutt, server product manager for Seneca, a U.S.-based custom system manufacturer and value-added technology distributor. "Virtualized infrastructures draw on consolidated applications and resources to serve multiple users, meaning hard disk reliability and performance is absolutely critical. Toshiba's MBF family not only supports the cost and efficiency mandates of virtualization by reducing the physical footprint, expense, and watts per gigabyte, but also delivers the performance and reliability necessary for most applications."
With a top capacity of 600GB1 - equal to the highest capacity point currently available within the entire 2.5 and 3.5-inch form factor enterprise-class segments - the MBF family meets the exacting standards of the enterprise market with 10,025 RPM spin speed and a 6Gb/s SAS interface. In addition, the MBF series builds upon the inherent lower power consumption design of 2.5-inch HDDs using an enhanced power condition state to reduce drive spin when not in use, thereby lowering power consumption significantly. Certain models of the MBF series also offer an option of drive-based encryption designed to the Trusted Computing Group (TCG) Enterprise Security Subsystem Class specification.
"The need for storage is growing even faster as organizations adopt technology architectures such as virtualization and Toshiba's small form factor enterprise HDDs help them adjust to this new reality," said Joel Hagberg, vice president of enterprise marketing at Toshiba Storage Device Division. "Enabling organizations to migrate from 3.5-inch to 2.5-inch HDDs offers an efficient and effective storage solution that's complementary to other productivity gains."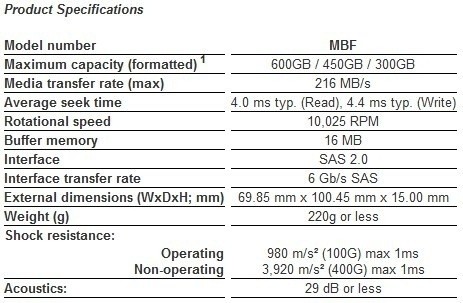 Last updated: Apr 7, 2020 at 12:02 pm CDT