Antec Premiers High Current Pro Power Supply Series
Antec, Inc., the global leader in high-performance computer components and accessories for the gaming, PC upgrade and Do-It-Yourself markets, today announced its newest premium line of consumer power supplies, the High Current Pro series. Available in four 80 PLUS Gold certified models, the High Current Pro series boasts unrivaled server-grade efficiency and reliability for powering the most demanding system builds.
The High Current Pro uses a unique full-bridge phase-shift topology for fast response time, superb efficiency and none of the annoying pitch noise typically found in higher-power PSUs. The HCP-750, HCP-850, HCP-1000 and HCP-1200 with 750 watts, 850 watts, 1000 watts and 1200 watts of Continuous Power, respectively, all achieve the highest 80 PLUS certification level, Gold, delivering their rated Continuous Power with least 87% efficiency at 20%, 50% and 100% loads, even at up to 50?C - a rare distinction in energy efficiency attained by very few other power supplies. In addition, Active Power Factor Correction (Active PFC) on all models, with a power factor above 0.9 helps reduce electrical waste and further increases efficiency.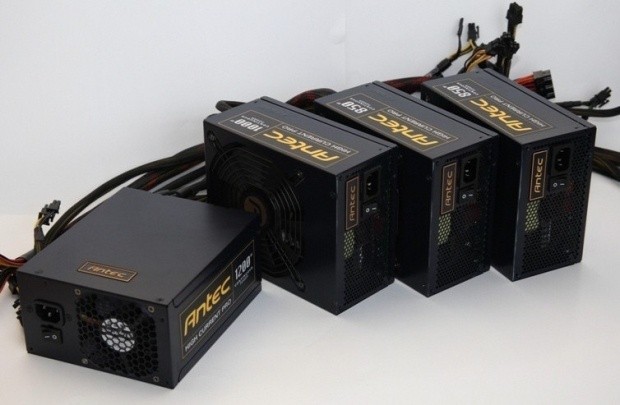 Reliability-boosting PSU features on the High Current Pro include all Japanese-brand capacitors, DC-to-DC voltage regulators, and unique high-amperage High Current outputs that assure graphics card compatibility. Together, these features provide the performance and rock-solid stability required for cutting-edge gaming and professional systems.
"Antec's High Current Pro series is the optimal choice for users seeking a first-class solution to power demanding system builds," said Scott Richards, senior vice president of Antec. "With all four models achieving 80 PLUS Gold certification, providing unequaled efficiency and performance, on all levels, and using top-notch components, the HCP series once again demonstrates Antec's leadership in power supply design and innovation."
The High Current Pro series' high levels of power are delivered over overcurrent-protected +12V rails - four rails on the HCP-750 and HCP-850, five rails on the HCP-1000 and a massive eight rails on the HCP-1200, all with specialized High Current outputs, heavy-gauge 16 AWG high-current lines at the PCI-E sockets and unique 10-pin High Current Hybrid Cable Management connectors to deliver high power along with low power losses to wiring resistance.
Additional features include Pulse Width Modulation (PWM) double-ball bearing fans for operation up to 50 percent quieter than traditional voltage-controlled fans - 135 mm on the HCP-750, HCP-850 and HCP-1000 and a specially configured, noise-optimized rear 80 mm fan configuration on the HCP-1200, Advanced Hybrid Cable Management to reduce cable clutter and improve airflow throughout the chassis, and double layer printed circuit board on all models - with abundant dual double-layer PCBs on the HCP-1200 - allow for heavy-duty components and larger traces that dissipate heat better, improving reliability and extending overall life.
The High Current Pro series includes support for Intel quad core, Core i3, Core i7 and Core i5 CPUs, as well as AMD Phemon II X6 CPUs and quad GPUs. All models are NVIDIA SLI-Ready, (including Triple SLI certification on the HCP-1200 model) and ATI CrossFireX certified.
The entire High Current Pro series will be available through major retailers, e-tailers and distributors in July 2010 and is backed by Antec's AQ5 Antec Quality 5-Year limited warranty on parts and labor.
Last updated: Apr 7, 2020 at 12:02 pm CDT