MSI Announces N465GTX Graphics Card
Capturing everyone's attention, the long-anticipated release of the world's fastest single core GTX 400 Series graphics card was roundly praised by media and customers for its powerful performance. Today, world-renowned mainboard and graphics card brand-manufacturer MSI officially released the third graphics card featuring the GTX 400 GPU, the N465GTX-M2D1G. MSI N465GTX-M2D1G features the latest graphics processor, code-named Fermi by NVIDIA, with 40nm process, 352 CUDA cores and DirectX 11 support. And with 1GB of high speed GDDR5 graphics memory, military class components, and the exclusive voltage adjustment by MSI Afterburner overclocking utility, an extra up to 15% performance can be achieved, offering gamers a smoother and more exquisite visual experience.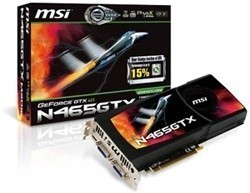 Supports Afterburner's Exclusive voltage adjustment and Burn-In Functions
To achieve optimized performance, the MSI N465GTX-M2D1G graphics card supports MSI's exclusive Afterburner Overclocking Utility. In order to have better performance, the utility features a function of voltage adjustment which has up to 15% more overclocking capability. What's more, the integrated Kombustor burn-in program helps identify optimized overclocking limits. With a few easy to follow steps, users can effortlessly enjoy the satisfaction of performance upgrades.
NVIDIA's Exclusive 3D Vision Surround, CUDA, and PhysX Technologies
The MSI N465GTX-M2D1G features the all-new 40nm process NVIDIA Fermi graphics core, which fully supports NVIDIA's exclusive 3D Vision Surround technology and PhysX special effects engine while completely displaying 3D game special effects with a breathtaking magnificence. Lastly, through the application of CUDA computing technology and software support, CPU computing tasks can be effectively shared, allowing the graphics card to provide a noticeable speed boost during both entertainment and normal operations.
Ultra-Stable Military Class Components
To enhance product stability, MSI's all-new N465GTX-M2D1G graphics card adopts military class components such as Hi-c CAP, SSC (Solid State Choke), and all solid CAPs. This not only greatly enhances its operating stability, but even in high load environments it is still capable of continuously providing extreme stability and longevity while avoiding the high frequency operating noise produced by traditional chokes.
Last updated: Apr 7, 2020 at 12:02 pm CDT