POWERCOLOR NEW TECHNOLOGY REVEAL AT COMPUTEX
New products and technology will be unveiled during Computex
Taipei, Taiwan -May 27, 2010 -- TUL Corporation, a leading manufacturer of AMD graphics cards, will be unveiling the latest new product information and innovative technologies from PowerColor during Computex. This unparalleled product demo show will be located in Nangang Hall 317 from June 1 to June 4. Products and technology that have never been shown before from PowerColor will breathe new life into the graphics industry.
Below is a special media "sneak peek" at what will be revealed, with additional details coming out during the show:
Radeon HD5770 Sniper
The world's first single card solution combining DirectX 11 GPU and NPU which gives birth to PowerColor HD5770 Sniper edition. Featuring Advanced Game Detect technology, the card can classify the right network traffic and separate the game data for priority treatment, enabling a faster and more fluid gaming experience.
Radeon HD5770 Evolution
The world's first cross-border graphics solution containing the onboard Hydra Engine, HD5770 evolution edition enables the combination of any GPU from both parties without any extra connector, delivering a faster than one graphics performance with 2 or 3 SLI/CFX GPU support.
Radeon HD5770 Single Slot Edition
The HD5770 single slot edition fulfills the desire of performance and multi-function seekers when space is a premium. The slim HD5770 can maximize your rig's performance in a single slot design, providing the possibility for gamers to upgrade their rig and deliver an out-of-box gaming performance.
Radeon HD5770/HD5750 Low Profile Edition
HD5770/HD5750 low profile edition meets the demand for slim case users who are looking for a superior gaming experience. The HD5770/HD5750 single slot solution can maximize your rig's performance with limited space, enabling the best gaming experience ever show in a slim system.
Vortex Technology
PowerColor's unique Vortex Technology provides a distinct, flexible cooling solution for performance graphics cards. Featuring high flexibility, gamers can adjust the cooling fan's altitude and maximize the efficiency of air convection by increasing the space between fan and heat resource. Users can also decelerate fan speed to lower noise level by reducing back pressure.
Pay a visit to PowerColor's show room and get to know more details about these new technologies at Computex 2010.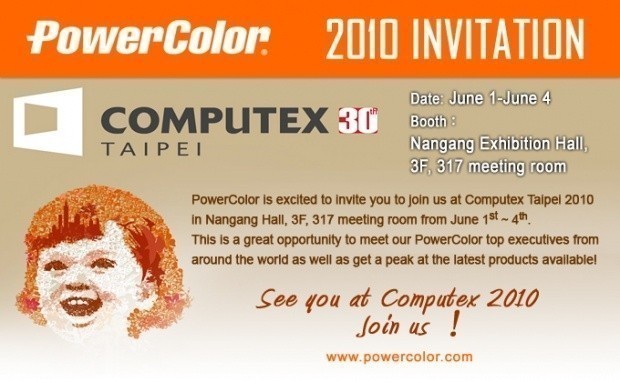 About TUL Corporation
TUL is a leading supplier of AMD graphics cards under the PowerColor brand. We offer award-winning products based on our technology leading components, quality design and superb engineering. TUL employs more than 150 talents worldwide, with offices in China, Europe, Russia and USA to support over 300 channel partners and distributors in 50 plus countries. For further information, visit: http://www.tul.com.tw/global/
Last updated: Apr 7, 2020 at 12:02 pm CDT