Kanguru Solutions Releases Kanguru Defender V2 Encrypted Flash Drive
Kanguru Solutions today announced its latest security product, the Kanguru Defender V2, an encrypted, secure flash drive designed for commercial use. The Kanguru Defender V2 is the latest in the Defender line of encrypted flash drives, following the FIPS 140-2 Certified Kanguru Defender Elite model targeted at government and enterprise use. The Defender V2 offers security features including:
• FIPS 197 Certified, 256-bit AES Hardware Based Encryption
• Limited Password Attempts
• Master Password Support
• Restricted IP Range/Domain Support
• Anti-Virus/Malware Protection
• No Administrative Rights Required for Use
"Our goal with the Defender V2 is to provide a highly secure flash drive for organizations that need top notch security features, but may not require some of the government/enterprise features such as FIPS 140-2 Certification and tamper resistant design." said Don Brown, CEO of Kanguru Solutions. "By retaining the core security features, but removing some of the higher end enterprise components, we are able to produce a highly secure device that hits a very attractive price point."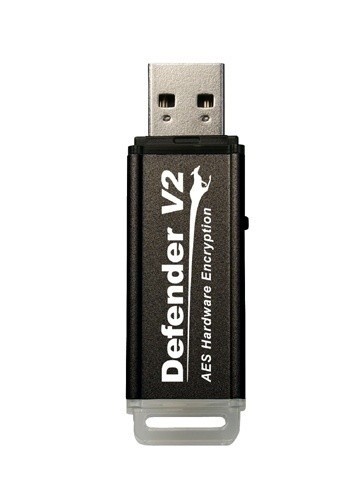 In addition to its onboard security, the Kanguru Defender V2 can also be remotely managed with Kanguru Remote Management Console (KRMC), allowing an organization to delete lost or stolen drives, manage passwords, and ensure compliance with organizational security policies.
The Kanguru Defender V2 also addresses common industry standards and regulations such as Sarbanes Oxley and HIPAA. Many states are also introducing strong data breach laws which the Kanguru Defender V2 with KRMC would specifically address.
"Kanguru is pleased to offer an evaluation program on the Kanguru Defender V2, Defender Elite and KRMC." said Nate Cote, VP of product management. "This allows companies to test our products security features and review how well they address their organizational security needs. We're confident that our features, performance, and price point will impress even the toughest CIOs, CFOs, and CISOs."
Capacities for the Kanguru Defender V2 start at 1GB and go up to 128GB. KRMC is available in a self hosted Enterprise Edition or a hosted Cloud Edition.
Last updated: Apr 7, 2020 at 12:02 pm CDT