Transcend Introduces New White JetFlash Retractable USB Flash Drives
Transcend Information, Inc., a worldwide leader in storage and multimedia products, is pleased to introduce the newest member of its JetFlash family- the JetFlash 530 retractable USB flash drive. With its bright white case, multiple color and capacity options, and a capless retractable design that protects the drive and its contents, the stylish yet tough JetFlash 530 is a durable and convenient tool for storing, transferring, and sharing multimedia and more.
Thanks to its use of ultrasonic welding technology, the sleek and stylish JetFlash 530 USB flash drive is also rugged enough to withstand a few bumps and falls. Created specifically for users with active lifestyles, the JetFlash 530 comes in five lively bright colors that match its adorable gloss-white case: orange, red, blue, green and purple. The drive also sports an LED indicator light that blinks during file transfer and features simple Plug and Play operation, allowing users to easily store and share their files. With its refined design and large storage capacity (up to 32GB), the JetFlash 530 is a USB flash drive that users will never get tired of using.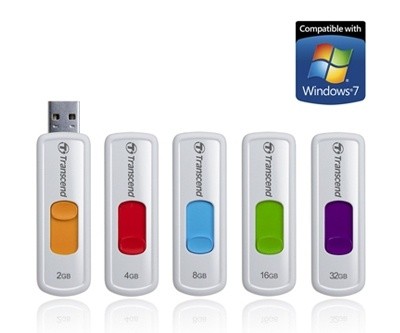 In addition to its appealing exterior and high-capacity storage capability, the JetFlash 530 features a handy push-out USB connector. With a simple flick of the thumb, users can effortlessly extend and retract the connector for easy one-handed operation. The 530's retractable design not only keeps dust and debris out of the drive, but also ensures there is no cap to misplace or lose. For further peace of mind, the retraction mechanism inside the JetFlash 530 is specially engineered to ensure its USB connector will never become loose, fall out, or accidentally slip back into the drive when plugging it into a computer.
As with other JetFlash drives, the JetFlash 530 USB flash drive is backed up by Transcend's internationally-recognized limited lifetime warranty. For added value, users of the JetFlash 530 can download and install Transcend's useful JetFlash Elite data management tools to enhance mobile productivity. The JetFlash 530 is now offered in five capacities: 2GB, 4GB, 8GB, 16GB and 32GB.
Last updated: Apr 7, 2020 at 12:01 pm CDT