-- GIGABYTE Motherboard's #1 Biggest Fan Contest --
-- Facebook Competition Giving Away 10 Motherboards and a Trip to Taipei for GO OC 2010 --
Taipei, Taiwan, May 17, 2010 - GIGABYTE TECHNOLOGY CO,. Ltd, a leading manufacturer of motherboards, graphics cards and computing hardware solutions is excited to announce their GIGABYTE Motherboards #1 Biggest Fan contest on Facebook in appreciation to all GIGABYE motherboard fans worldwide.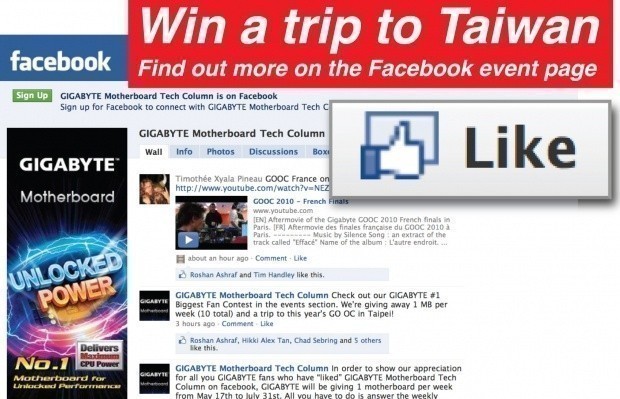 10 Weekly USB 3.0 Motherboard Prize Giveaways
GIGABYTE will give away 1 motherboard per week from May 17th to July 31st. All you have to do is visit the GIGABYTE Motherboard Tech Column on Facebook
www.facebook.com/GIGABYTEmotherboards
and answer the weekly question in the discussion section and you will be automatically entered to win that week's motherboard (winners will be randomly selected every week from those who answered that week's question). We are giving away a total of 10 motherboards, so make sure to enter every week and invite your friends and family to "like" GIGABYTE Motherboard Tech Column as well.
Total of 10 Motherboards to be Given Away
1 GA-890GPA-UD3H
1 GA-890FXA-UD5
2 GA-P55A-UD7
2 GA-H55N-USB3
1 GA-X58A-UD3R
1 GA-X58A-UD5
1 GA-X58A-UD7
1 GA-X58A-UD9
Win a Trip to Taipei
But that's not all. We are also looking for GIGABYTE motherboard's #1 fan on facebook. From May 17 to July 31, show us you are our biggest fan by:
• Writing a comment on our main page.
• Answering the weekly questions.
• Adding a photo or video (can be you, you and your system, etc.).
• Anything else you can think of that will get our GIGABYTE judges to name you GIGABTYE Motherboard's #1 Biggest Fan.
Be creative and have fun. The more you show us, the better your chances!
In August, GIGABYTE will announce on facebook who we think proved to be our biggest fan (voted by GIGABYTE staff). The winner will receive a golden ticket to Taipei ,Taiwan at the end of September to watch this year's GO OC (GIGABYTE Open Overclocking Championship). The prize package will include airfare to Taipei, 4 days and 3 nights accommodation, meals, ticket to the event and sightseeing along with the overclockers.
To learn more about the contest and to enter, please visit GIGABYTE Motherboard Tech Column on Facebook:
www.facebook.com/GIGABYTEmotherboards
.
Event Page:
http://www.facebook.com/topic.php?topic=16232&uid=209090107119#!/event.php?eid=122646264430633&ref=mf
Weekly Discussion Section:
http://www.facebook.com/GIGABYTEmotherboards?v=app_2373072738#!/board.php?uid=209090107119
About GIGABYTE Upgrade Your Life
GIGABYTE, headquartered in Taipei, Taiwan, is known as a global leading brand in the IT industry, with employees and business channels in almost every country. Founded in 1986, GIGABYTE started as a research and development team and has since taken the lead in the world's motherboard market. On top of motherboards and graphics accelerators, GIGABYTE further expanded its product portfolio to include notebook and desktop PCs, digital home entertainment appliances, networking servers, communications, mobile and handheld devices, servicing every facet of people's lives at home or business. Everyday GIGABYTE aims to "Upgrade Your Life" with the most innovative designs and impeccable quality and services. Visit www.gigabyte.com.tw for more information.
Last updated: Apr 7, 2020 at 12:01 pm CDT