-- GIGABYTE Unlocks Monster Performance with Latest UD9 Motherboard --
-- Redefining the X58 Platform with 24 Phase Unlocked Power and 4-Way Graphics Support -
Taipei, Taiwan, May 12, 2010 - GIGABYTE TECHNOLOGY Co., Ltd, a leading manufacturer of motherboards, graphics cards and computing hardware solutions is proud to unleash their latest monster performance
GA-X58A-UD9 motherboard
, featuring a revolutionary new 24 phase Unlocked Power design, 4-way graphics support including NVIDIA® SLI™ and ATI CrossFireX™, as well as a host of unique GIGABYTE features such as 333 Onboard Acceleration and On/Off Charge.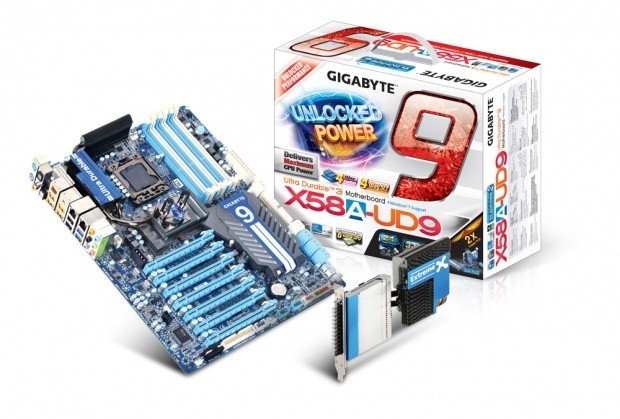 "GIGABYTE set out to completely redefine what is possible performance and feature-wise on the X58 platform, and the GA-X58A-UD9 truly delivers on both fronts," commented Tim Handley, Deputy Director of Motherboard Marketing at GIGABYTE Technology Co. Ltd. "Providing the industry's highest caliber CPU power delivery with our unique 24 phase Unlocked Power design and including all of the features which set GIGABYTE motherboards apart from the competition, the GIGABYTE GA-X58A-UD9 fits into a whole new first class category all its own."
GIGABYTE Unlocked Power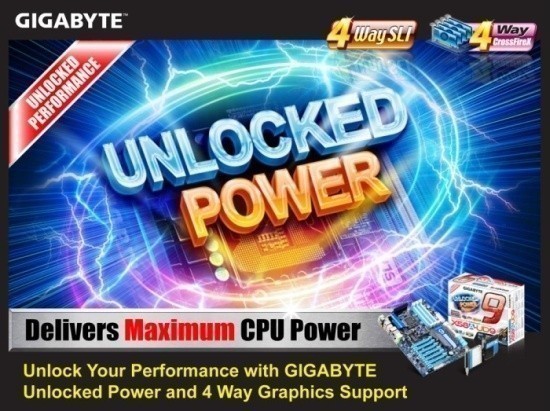 Power is the key to unlocking "True" performance, and nowhere is this more evident than with the unique power delivery system specially designed and engineered for the GIGABYTE GA-X58A-UD9. Featuring the proprietary GIGABYTE Unlocked Power technology with all new 24 phase design, the GIGABYTE GA-X58A-UD9 provides maximum power delivery for Intel's latest 1366 socket CPUs including the new Intel® Core™ i7-980X Extreme Edition (6 core) CPUs as well as upcoming extreme performance CPUs from Intel, ensuring utmost system stability and overclockability.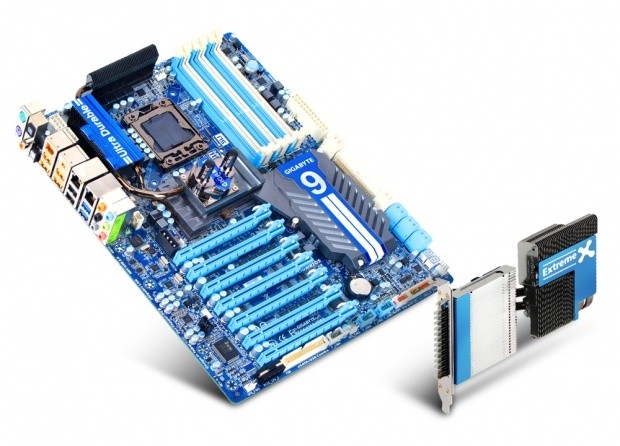 Innovative Dual Power Switching Design
GIGABYTE Unlocked Power also delivers better durability and longer component lifespan due to the industry's first Dual Power Switching design. When Dual Power Switching is activated, 2 sets of 12 power phases operate in tandem, automatically turning on one set of 12 phases and powering down the other 12, allowing the non active set to rest. By sharing the power workload between 2 sets of power phases, GIGABYTE Dual Power Switching effectively doubles the lifespan of the power phases. Additionally, GIGABYTE Unlocked Power features built-in Auto Failure Protection, so if one power phase is damaged or fails, the motherboard will automatically disable its group of 12 phases, allowing it to still operate using the other set of twelve, unlike a traditional motherboard which would be unable to boot.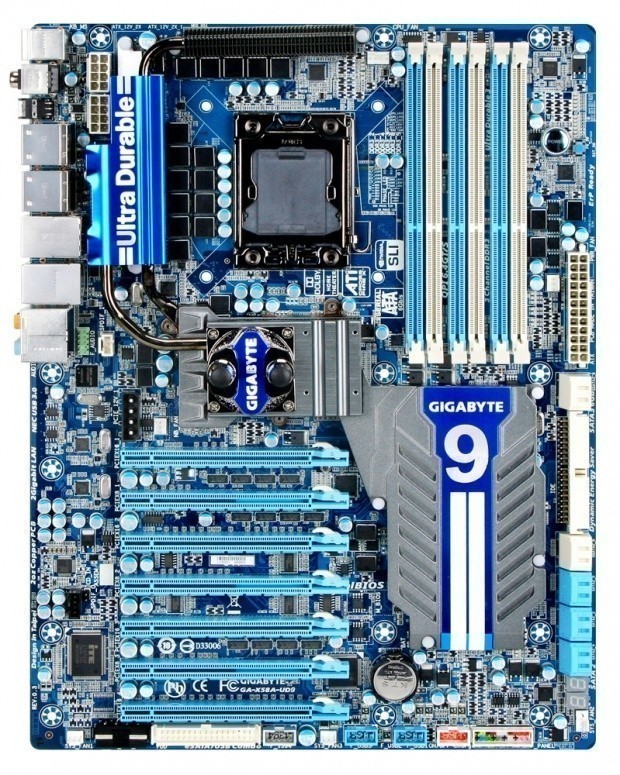 Maximum CPU Power Delivery
When CPU loading requires more than 12 phases to be active, GIGABYTE Dual Power Switching temporarily suspends, and the full 24 power phases are automatically unlocked, allowing for maximum power delivery. For overclockers and power users, this means the full 24 power phases can be activated to deliver the highest amount of CPU power currently available on any desktop motherboard.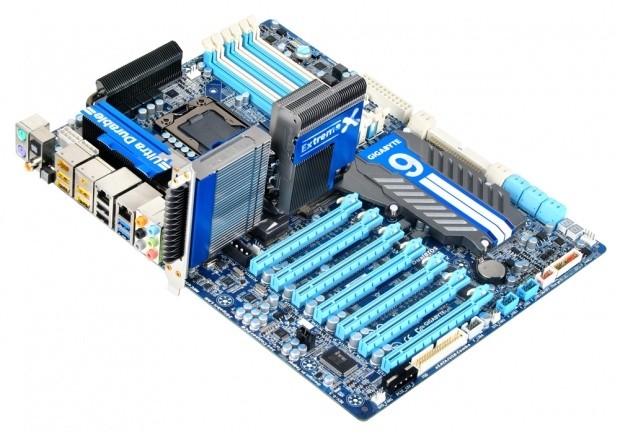 4-Way Graphics Support and GIGABYTE 333 Onboard Acceleration
Based on Intel's highest end X58 chipset, the GIGABYTE GA-X58A-UD9 offers a wide range of premium features tailor-made for PC enthusiasts who believe more is never enough. For those wanting to build the ultimate graphics monster machine, the GIGABYTE GA-X58A-UD9 delivers with support for 4-way PCI Express 2.0 graphics (x16) for both ATI CrossFireX™ and NVIDIA® SLI™ technologies. The GA-X58A-UD9 also provides the latest in data transfer and storage capabilities with support for GIGABYTE 333 Onboard Acceleration technologies including SuperSpeed USB 3.0, SATA 6Gbps support, including RAID 0 support for up to 4 times faster data transfer than the previous generation SATA II and GIGABYTE 3X USB power.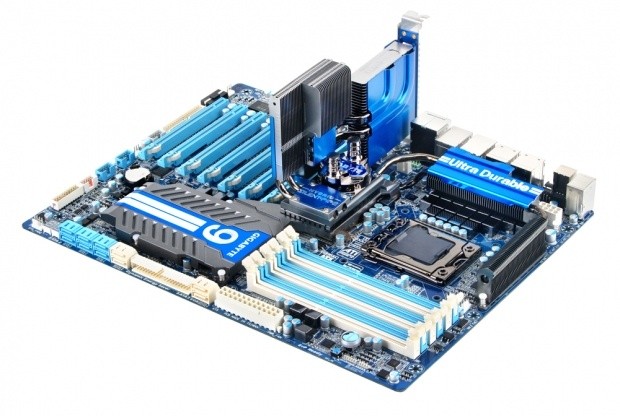 Unique GIGABYTE Technologies
GIGABYTE GA-X58A-UD9 motherboards also leverage the success of GIGABYTE's uniquely developed technologies including the GIGABYTE Ultra Durable™ 3 design, which features 2x the amount of copper of a traditional PCB design, as well as the innovative Smart6™ PC management tools, On/Off Charge with 3x USB Power for quick anytime iPhone and iPad charging, Dynamic Energy Saver™ 2 power saving utilities, and DualBIOS™ technologies. Of course overclocking is where the GA-X58A-UD9 truly shines, with features designed for and by world-class overclockers including overvoltage controller ICs, real-time onboard Debug and System Alert LEDs and enough overclocking BIOS settings to push your hardware to its limits.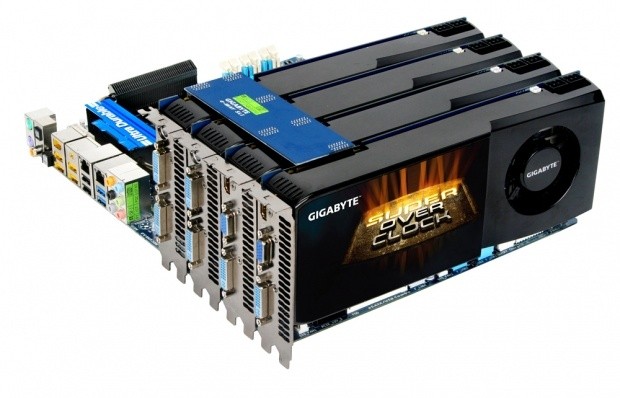 To learn more about the GIGABYTE GA-X58A-UD9 motherboard, please visit the GIGABYTE website at: http://ud9.gigabyte.com.tw and
http://www.gigabyte.com.tw/Products/Motherboard/Products_OverView.aspx?ProductID=3434
About GIGABYTE Upgrade Your Life
GIGABYTE, headquartered in Taipei, Taiwan, is known as a global leading brand in the IT industry, with employees and business channels in almost every country. Founded in 1986, GIGABYTE started as a research and development team and has since taken the lead in the world's motherboard market. On top of motherboards and graphics accelerators, GIGABYTE further expanded its product portfolio to include notebook and desktop PCs, digital home entertainment appliances, networking servers, communications, mobile and handheld devices, servicing every facet of people's lives at home or business. Everyday GIGABYTE aims to "Upgrade Your Life" with the most innovative designs and impeccable quality and services. Visit www.gigabyte.com.tw for more information.
Last updated: Apr 7, 2020 at 12:01 pm CDT