MSI Struts its Stuff at Computex 2010
WiMAX Laptops in a Variety of Sizes Sold Worldwide
Global leader in notebook computers MSI will be displaying its latest WiMAX supporting notebooks in the WiMAX pavilion at Taipei's upcoming Computex 2010. The new models will include the X-Slim X350, the most ultra slim laptop ever, the X420, which incorporates a high-end discrete graphics card, and the stylish Wind U135, U140 netbook.
Taipei-The application portion of WiMAX, the high speed wireless telecommunications technology developed jointly by major firms around the world, is gradually taking shape and a number of telecommunications firms around the world are already offering the service. MSI has been actively involved in the research and development of WiMAX technology from the very beginning. Not only is MSI a member of the International WiMAX Forum, it was the first company in the world to develop a WiMAX netbook-the Wind U120. It recently introduced the X-Slim X350, a WiMAX-supporting laptop equipped with the latest Intel CULV platform and boasting exceptionally long battery life. Light and highly mobile, the X350 is less than one inch thin and tips the scales at a mere 1.5kg, offering consumers superior performance and speed in a small package.
Driven to innovate, MSI is actively participating in the development and production of WiMAX notebooks and currently has several brand new models from 10" to 15.6" in size. These include the X350-an energy saving, ultra slim laptop that uses the Intel CULV platform. It has long supported WiMAX is available in several countries around the world. MSI will be showing several all new WiMAX supporting laptops, including the U135, U140 in MSI's Wind series of netbooks, the 13.4" X350, and the 14" X420 of the X-Slim series in the WiMAX pavilion at Taipei's Computex starting June 1. Experience the speed, the power, the extended battery life, and the convenience of cruising the Internet on the go.
MSI Marketing Director Sam Chern explains that MSI notebooks presently on the market that already support WiMAX include a wide selection of notebooks in variety of sizes, such as the highly mobile 10" Wind U135, U140 netbook, the ultra slim and power saving 13.4" X-Slim X350, as well as the featherweight 14" X-Slim X420. Of these, the U135 was the first Intel Pine Trail-equipped netbook to receive official WiMAX certification. This wide array of quality laptops is designed to satisfy the needs of all WiMAX users using the Internet at home or on the go.
For the latest info on MSI's WiMAX products, check out MSI products located in booth A414a, Exhibition Hall 1, Taipei World Trade Center during Computex 2010 from 1-5 June to experience the perfect marriage of mobile computing technology and WiMAX high speed wireless-the future is here.
Exhibition information
Date: 1-5 June
Location: Taipei World Trade Center, Hall 1
MSI Booth: A414a
Product Information: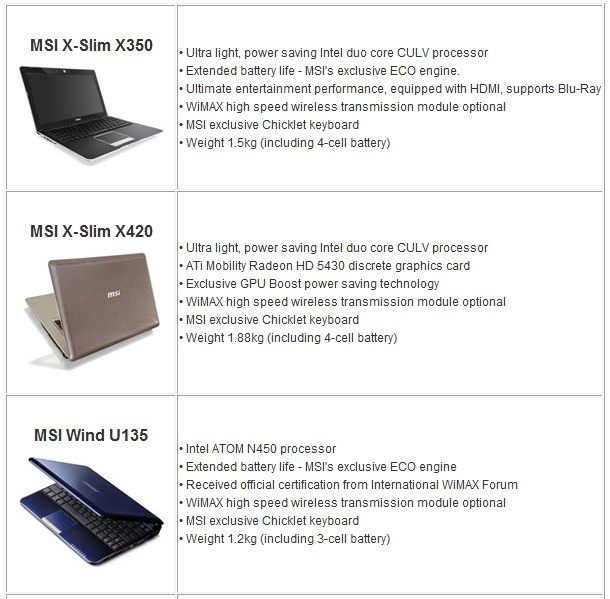 Last updated: Apr 7, 2020 at 12:01 pm CDT