Gainward Launches GeForce GTX 470 GOOD Edition Graphics Card
A "GOOD" news announced by Gainward, a leading brand in enthusiastic graphics cards, keeps its glorious traditions, redefines performance by release of Gainward Optimized Own Design (GOOD). Gainward races against competitions and develops the market first own designed GeForce GTX 470 "GOOD" Edition with "Gamer's Spirit" in mind. The card received optimized circuit layout on a longer PCB (10.5 inches to NVIDIA reference 9.5 inches), which enables better overclockability owing to plentiful PWM power modules with rugged solid-state components on better ground, also allows to accommodate larger heat-pipes cooler with dual 8 cm double bearing fans, which improved thermal characteristics and significantly reduced noise at full load. Even better, the card is geared with "QuattroPorts" integrated 4 ports in 1 including DisplayPort, HDMI 1.3a (upgradeable to HDMI 1.4 support for 3D format with upcoming NVIDIA 3DTV Play) & Dual DVIs, fulfill universal connectivity for diverse displays.
Gainward GeForce GTX 470 GOOD Edition features 1280MB GDDR5 memory clocked at 1674MHz (Bandwidth 133.92 GB/sec), core clock is set at standard 607MHz. Although clockrate is rather modest by default, better cooling and optimized circuit have left lots of headroom for overclocking by Gainward award winning graphics tuning utility - Expertool, which activates clockrate settings and fan control with user-friendly interface and fail-safe clock-down override. Even the first-timers can exercise overclocking with peace of mind.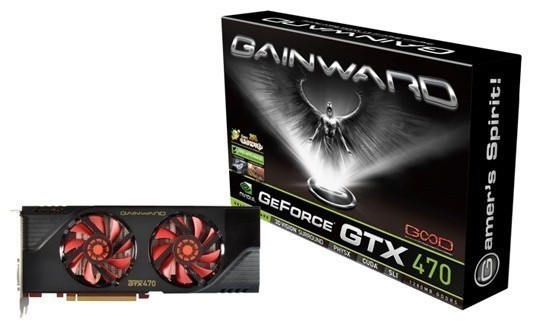 Gainward GeForce GTX 470 GOOD Edition supports all NVIDIA state-of-the-art graphics technologies, designs in complete adoption of all Microsoft DirectX 11 hardware features from ground up, delivers stunning realism with tessellation and ray-tracing, fully utilized its parallel computing power of 448 CUDA cores distributed in 14 tessellation units, implemented 32x anti-aliasing mode for the highest level of image quality and real time PhysX. What any hardcore gamers cannot live without it is 3D Vision Surround in SLI configuration. Words are not enough. Immerse yourself in front of three full HD monitors. You will enjoy shooting enemies, at the same time, busying dodging from debris throwing at you. See it, Play it, Love it!
Gainward dedicates in graphics industry and stands strong for more than 2 decades counts on innovative R&D and highest quality control standards down to components level. Gainward won gamers' thumb-up with signature designs listed below:
Gainward Grand-Prix Heatpipes Hybrid Cooler with 2GR8 Fans, 2 COOL! 3 Way SLI fully supported
Gainward Grand-Prix Heat-Pipes Hybrid Cooler, was designed in 6 mm copper-water heat-pipes on a copper base conducting heats away from GPU at highest efficiency, then dissipating onto aluminum heatsinks, which are forced ventilated with Great 8 cm double-ball-bearings Twin Fans (2GR8). Achieve highest efficiency cooling performance up to 10°C lower at power saving mode, 12°C lower at full load with respect to reference GTX 470, run at 6dB quieter, mere one fourth (1/4) of loudness than reference GTX 470 at full load (measuring distance at 30 cm, ambient noise at 33dB). Gainward award winning Grand-Prix cooler, 2GR8, 2COOL! Another important feature's worth mentioning is Gainward GeForce GTX 470 GOOD edition is a strict 2-slot design for full compliance of 3 Way SLI to differentiate from others who work in 2.2 even 2.5 slot, which may run into mechanical interference or overheating due to poor ventilation.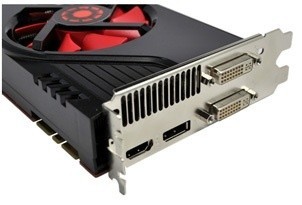 Rugged Cap, Full Solid-State OS-CON capacitors
Gainward designs in only with the highest quality components to ensure excellent stability at extreme conditions, no one piece of Gainward GTX 470 was shipped without surviving from critical burn-in tests. High quality low-ESR solid-state OS-CON capacitors are used to improve overclockability and robustness even at critical environments.
QuattroPorts, 4-ports-in-1 Universal HD connectivity
Gainward generously provide 4 Full HD ports (DisplayPort, HDMI & Dual Dual-Link DVIs) in one, fulfills universal connectivity to diverse displays. Dual View is supported with ease without bothering connector conversion. Got a 30" monitor looking for 2560 x 1600 extreme HD resolution.
Best C/P DX11 High-end Cards of All
Gainward has done the homework raced against its big brother GeForce GTX 480 and its rival Radeon 5870 & 5850. The result is rather exciting. Without a doubt, GTX 480 pulled the highest score above all, while GTX 470 outperforms 5870 up to 15%, and whopping 37% faster than 5850 at normal settings.
Last updated: Apr 7, 2020 at 12:01 pm CDT