MSI North America Announces GE600
Stylish new gaming notebook sports durable scratch resistant design and features DirectX 11 Graphics and Intel Core i5 Processor

CITY OF INDUSTRY, CA - April 28, 2010 - MSI Computer Corp., a leading manufacturer of computer hardware products and solutions, is proud to announce the availability of the stylish new GE600 gaming notebook. Weighing in at just 5.9 lbs, the GE600 is MSI's lightest 16-inch gaming notebook to date, but still packs quite a punch with Intel's powerful new Core i5 processor and ATI Radeon 5730 graphics card - all for under $900.
The GE600's new ATI Radeon HD5730 GPU supports DirectX 11 graphics, making the notebook compatible with the rapidly approaching next generation of games and 3D graphics. Its new Core i5 processor improves battery life by as much a 15% and Intel's new Turbo Boost technology can increase overall performance by 30%.
"The new GE600 is a powerful mobile gaming station that delivers everything a gamer needs to emerge from battle victorious in a lightweight affordable package," said Andy Tung, Vice President of Sales, MSI North America.
The notebook's handsome new design features a durable scratch resistant chassis, glossy black exterior and a sand accented interior with illuminated touch sensitive hotkeys. The GE600's raised chiclet keyboard and wide touchpad increase both accuracy and comfort while typing or gaming.
The newest edition to the G-Series family of gaming notebooks also ships with a 16-inch LCD screen with 1366×768 resolution, 4GB of DDR3 memory, a 320GB hard drive 7200rpm, a 6-cell battery, Bluetooth connectivity and Microsoft's Windows 7 Home Premium 64 bit.
The GE600 costs just $899.99 and is available now at Newegg.
FULL SPECS BELOW
For images or additional information please contact MSI Notebook media representative Mark Olson at 305-576-1171 x17 or markolson@maxborgesagency.com.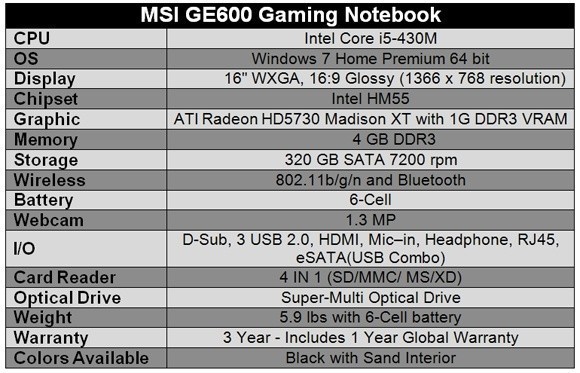 About MSI Notebook
Based in City of Industry California, MSI Notebook manufactures and sells a wide array of mobile computing products that includes Gaming Notebooks, the X-Slim line of ultraportables, the Classic Series Notebooks and MSI's award winning line of Wind Netbooks. Each product line is designed with the latest technology to meet a specific set of needs for the various classifications of mobile users. To learn more about MSI Notebook's complete offering please visit www.msimobile.com.
Last updated: Apr 7, 2020 at 12:01 pm CDT