Lian Li's PC-T60 & PC-T7 Test Benches
perfect for a pit stop
27 April 2010, Keelung, Taiwan - Following the successful launch of PC-T1 Spider Edition, Lian Li Industrial Co. Ltd. today launches two additional PITSTOP test benches - the PC-T60 and PC-T7. Ideal for DIY users with taste and space-concern, the PC-T60 ATX/Mini-ATX Test Bench and PC-T7 Mini-ITX Test Bench are hand built with top quality, simple and innovative design...all developed from Lian Li's proven 20 years of industry experience. Just like the series name "pit stop" from Formula 1, these test benches are self-explanatory enough for users to quickly refuel, repair, get geared up and back on the racing track within no time.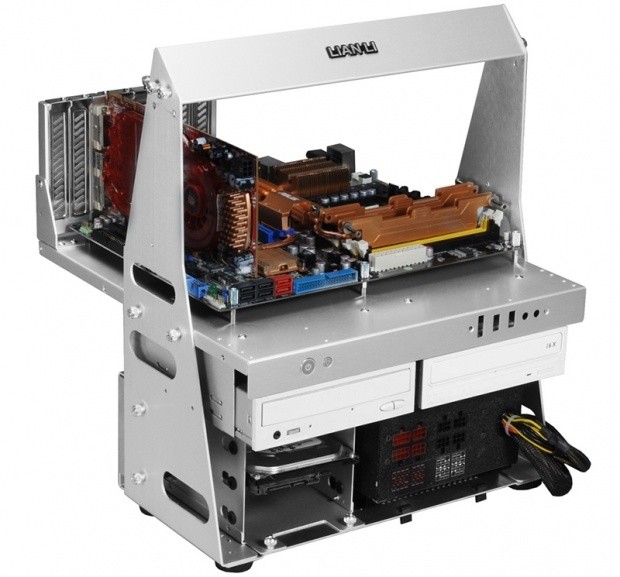 General Features>

PITSTOP PC-T60 and PC-T7 are test benches for standard ATX/Mini-ATX and Mini-ITX motherboards, respectively. At 351mm x 330mm x 400mm (W.H.D.) and 1.8kg, the PC-T60 series is slightly bigger and heavier than the PC-T7 at 231mm x 210mm x 395mm (W.H.D.) and 1.0kg. For future upgradability and services, both the PC-T60 and PC-T7 are designed to use standard PC components: standard 5.25" optical drives, standard 3.5" hard drives, standard ATX PS/2 power supply units. The handle design also makes these added PITSTOP test benches most convenient to take away. Both series are available in red, black and silver colors.

Fast Access to all Components

First in the industry, the PITSTOP PC-T60 and PC-T7 are designed for easy and fast access to all components, including power supply units, with enough space for cable management.

Detailed Construction

To secure heavy graphic cards mounted, both models are equipped with PCI card holders. For the PC-T60 series, there are two additional aluminum handles for installation of two extra 2.5" HDD drives. For heavy duty cases like the PC-T60 and PC-T7, Lian Li's quality aluminum construction with smooth and rounded edges demonstrate an exceptional value during the fast handling at the pit-stop.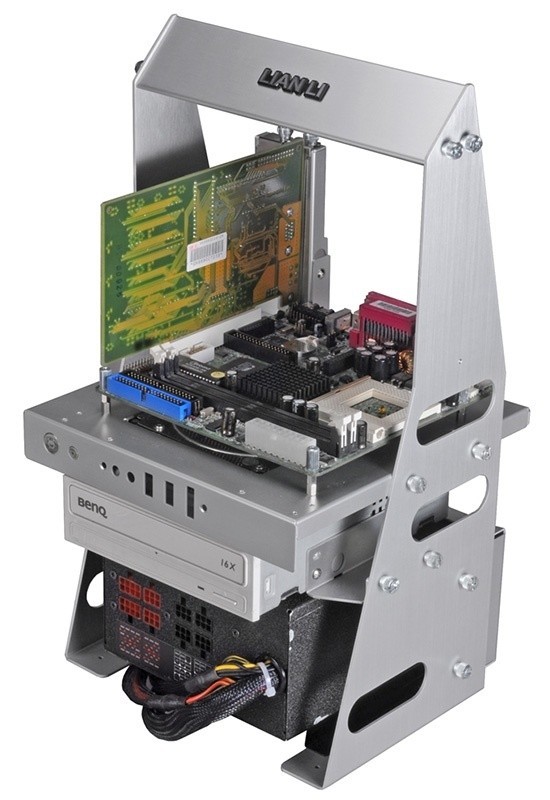 Optional Accessories

The T60-1 and T7-1 are optional fan cooler racks that work perfectly for the PC-T60 and PC-T7 cases, respectively. They can be easily installed on the motherboard tray, allowing dual 120/140mm fans attached for additional air-flow. All motherboard trays are laser pre-cut for optional installation of USB and multimedia port connector cables.

For more details on features and extras availabilities of PITSTOP PC-T60 ATX/Mini-ATX Test Bench and PC-T7 Min-ITX Test Bench, please go to Lian Li's website: www.lian-li.com.

Highlights for PITSTOP PC-T60 & PC-T7

• Supports ATX/Mini-ATX (PC-T60) and Mini-ITX (PC-T7) motherboards
• Quick and easy access to all components with the open design
• Standard 3.5" hard drives: three (PC-T60) and one (PC-T7)
• Additional handles for two 2.5" hard drives for the PC-T60
• Card holders for eight PCI (PC-T60) and two PCI (PC-T7) cards
• Laser pre-cut for USB 3.0 multi-media I/O ports
• Availability: Arriving at local distributors end of May
• MSRP for PC-T60: US$95+local VAT for A/B (silver/black), and US$119 for R (red)
• MSRP for PC-T7: US$69.99+local VAT for A/B (silver/black), and US$79.99 for R (red)


About Lian Li

Lian Li Industrial Co. Ltd is an Aluminum Chassis and Chassis peripheral manufacturer and provider of industrial wholesale as well as OEM & ODM services for the PC industry as required. With over 20 years of service excellence, ISO 9001 certification and a team of professional staff willing to do the utmost to deliver durable, superior quality products, all backed by a *2 year guarantee; your satisfaction is guaranteed.(*conditions apply)

Last updated: Apr 7, 2020 at 12:01 pm CDT