Sapphire Launches Radeon HD 5970 4GB TOXIC Graphics Card
Leading graphics supplier, SAPPHIRE Technology, has begun sampling the world's fastest graphics card, the SAPPHIRE HD 5970 4G TOXIC Edition. Previewed at CeBit 2010, the SAPPHIRE HD 5970 4G TOXIC Edition has 4GB of fifth generation GDDR5 memory, a total of 3200 stream processors and 160 texture units and runs with world leading clock speeds of 900MHz core and 1200MHz for memory (4.8GHz effective). This is significantly faster than the standard model, and makes the SAPPHIRE HD 5970 4GB TOXIC Edition not only the fastest card in its class, but the fastest in the world.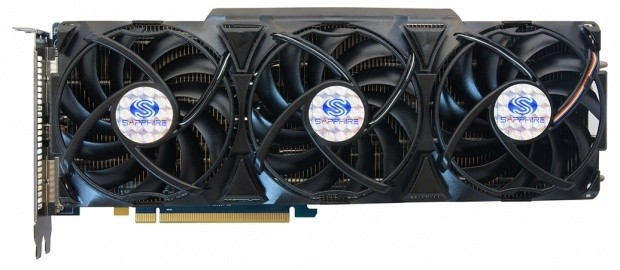 With twice the computing power of the highly acclaimed SAPPHIRE HD 5870 Series, this new HD 5970 model shares all the exciting features of the HD 5000 family - including support for the DirectCompute 11 instruction set of Microsoft DirectX 11, hardware tessellation and multi threaded communication with the system CPU. It also enables the acceleration of applications supported by ATI Stream, and the ability to display across three monitors simultaneously with ATI Eyefinity. All of this comes with a modest active power consumption and ATI Powerplay Dynamic Power Management to achieve super-low power consumption in 2D and idle modes.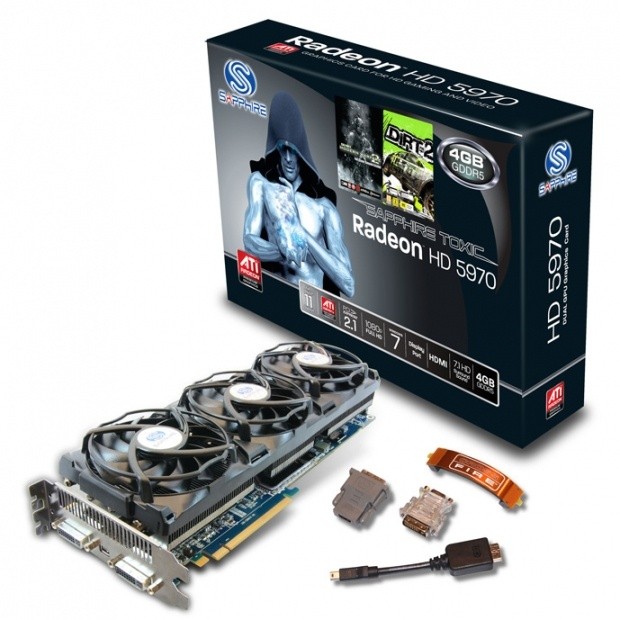 The card is cooled by a customised solution from Arctic Cooling with nickel plated heatpipes and fins, featuring three low-noise dual ball bearing fans and developed specially to mate with the SAPPHIRE original design pcb. This efficient solution also provides scope for further performance tuning.
All of the SAPPHIRE HD 5000 series cards have an on board hardware UVD (Unified Video decoder) considerably reducing CPU load and delivering smooth decoding of Blu-ray and HD DVD content for both VC-1 and H.264 codecs, as well as Mpeg files. In the SAPPHIRE HD 5000 series the UVD has been enhanced to be able simultaneously to decode two 1080p HD video streams and to be able to display HD video in high quality with Windows Aero mode enabled. HDMI capability has also been upgraded to HDMI 1.3a with Dolby TrueHD and DTS-HD Master Audio support.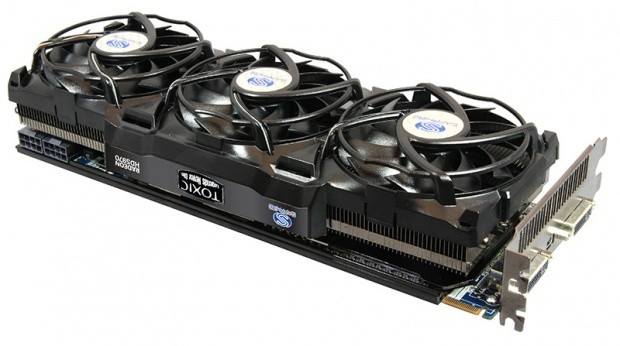 The SAPPHIRE HD 5000 series is supported by AMD's DirectX 11 WHQL certified graphics driver for Windows 7 and Vista which delivers support for all of the key DirectX 11 level features required for new gaming experiences and acceleration of next generation high performance applications.
Last updated: Apr 7, 2020 at 12:01 pm CDT