ASUS Introduces Designo Series LED Monitors
Style and Performance in an Environmentally Friendly Package
Sydney, Australia, 24 March 2010 - ASUS unveiled brand new additions to its Designo Series range, the MS238 and MS228 LED monitors. These eco-friendly, ultra-slim monitors feature 16.5mm profiles and 21.5" to 23.6" displays that deliver uncompromised performance and mind-blowing visuals. The cutting-edge MS Series LED monitors deliver a benchmark 10,000,000:1 contrast ratio for more lifelike images. Retaining the binary state-inspired concept that incorporates the numbers 1 and 0 into an ultra-slim design, these LED monitors come with a glittering sapphire blue rear bezel. They also retain the original's iconic Ergo-Fit Technology spherical ring stand that lets users adjust the monitor's tilt angle with just one finger. Each of these mercury-free LED monitors reduce energy consumption by up to 45%*, and lowers annual CO2 emissions by 23.6kg.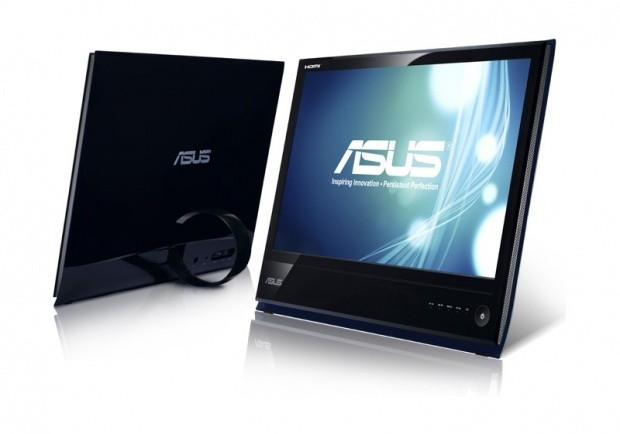 To See is to Believe
Users will be treated to true-to-life visuals thanks to the exclusive ASUS Smart Contrast Ratio (ASCR) Technology, which enables the Designo MS Series LED monitors to deliver an industry contrast ratio benchmark of 10,000,000:1. LED-backlit panels provide flicker-free images, minimising eye fatigue even after prolonged use. Full HD (1920x1080) and HDMI compatibility allows for high definition video playback while a 2ms (GTG) response time delivers crisp and sharp video. ASUS Splendid™ Video Intelligence Technology optimises colour fidelity with five pre-set modes (gaming, theatre, night view, scenery and standard), fulfilling users' visual needs with a touch of a button
To Feel an Eco-chic Visual Artpiece
The Designo MS Series LED monitors feature a sleek, ultra-slim 16.5mm form factor that saves users desk space, spelling the end of cluttered and cramped workstations. They also brighten up the drab image of monitors with colours that set them apart from other offerings on the market today. The MS Series front fascia comes with a high gloss piano-black finish and is partnered by a wave-contoured rear bezel finished in glittering sapphire blue. The exquisitely designed ring stand with ASUS-exclusive Ergo-Fit Technology allows for easy tilt angle adjustments with just one finger, ensuring that the monitor is always in a comfortable viewing position. The MS Series stands at a height equal to that of a notebook and is ideal for those looking for a larger display to supplement their notebook.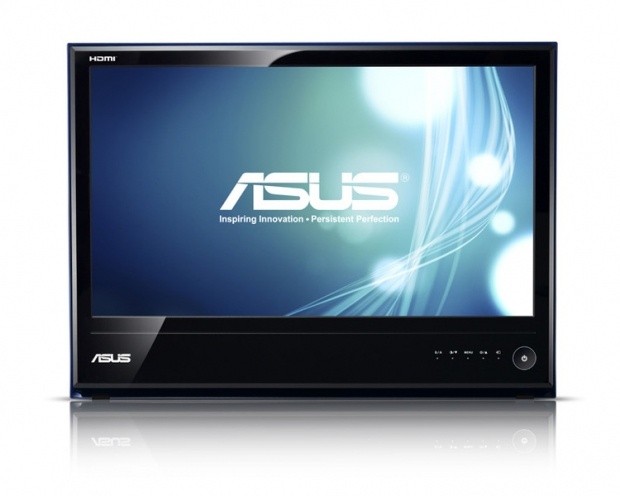 To Care with Green in Mind
In keeping with ASUS's green initiatives, the Designo Series LED monitors have done away with the use of bulbs, replacing them with eco-friendly, mercury-free LED backlit panels. These LED monitors reduce energy consumption levels by 45%, saving 37.2kWh of electricity and reducing annual CO2 emissions by 23.6kg.
Worry-Free Service
ASUS in Australia and New Zealand provides a 3 year pick up and return warranty, plus a 30 Days zero bright dot guarantee. Available now from Synnex, Altech and Ingram Micro.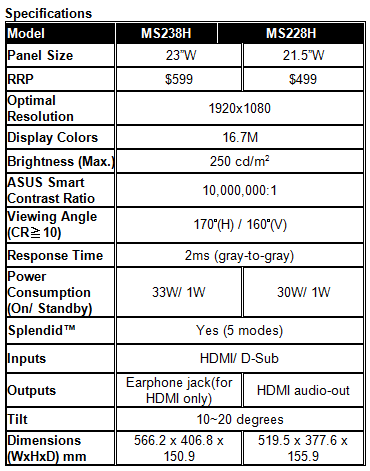 Disclaimers
System information (calculations based on MS238H)
- Resolution 1920 ?1080 = 2.07 megapixels
- Viewable screen size (inches):23, Viewable width (inches):20.05, Viewable height (inches):11.28
- Power measured:active: 22W; sleep: 0.68W; off: 0.58W
ErP working document requirement Tier 1: active 28 x 2.07 = 57.96 W; sleep: 2W; off: 1W
Energy star on mode requirement: active: 9 x 2.07+0.05 x 20.05 x 11.28+3 = 32.96 W; sleep: 2W; off: 1W
About ASUS
ASUS is a leading company in the new digital era, with a broad product portfolio that includes notebooks, netbooks, motherboards, graphics cards, displays, desktop PCs, servers, wireless solutions, mobile phones and networking devices. Driven by innovation and committed to quality, ASUS designs and manufactures products that perfectly meet the needs of today's home and office users. ASUS won 3,268 awards in 2009, and is widely credited with revolutionizing the PC industry with the Eee PC™. With a global staff of more than 10,000 and a world-class R&D design team, the company's revenue for 2009 was US$7.5 billion. ASUS ranks among BusinessWeek's InfoTech 100, and has been on the listing for 12 consecutive years.
Last updated: Apr 7, 2020 at 12:01 pm CDT