IN WIN - The Fleet of Power Leaves the Harbor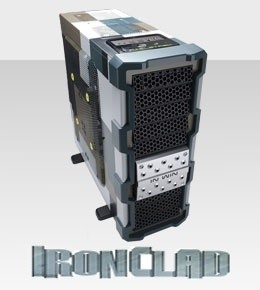 The bottle has been broken; the IRONCLAD launches towards the battlefield. The pride of every fleet, with its steel-like vessel design; the new full-tower chassis from the In Win's army provides users with tank-like strength yet finest user's flexibility. Dark metallic paint gives the Ironclad not only intimidating look but also protects this vessel against humidity and corrosion. Ironclad is built to accommodate wide range of motherboards from Micro ATX to extended ATX. And as just as a true warship, the Ironclad is not impressing just with its size but also with the great features it offers:
• 8 tool-free I/O expansion slots
• Bottom mount power supply with air filter for easy maintenance
• New added 2.5" SSD/HDD supporting tray
• Cable management hole ready to minimize the cable clutter
Big in Size Inside-Out.
Enormous interior space and metallic sturdy structure provides complete protection for the components. High-efficiency thermal solution is supported by three 12cm fans and a large 22cm ultra-silent LED fan. Also, up to ten 12cm fans capacity as well as giant mesh will push air throughout the interior, serving as cooling components and delivering an excellent thermal solution. Advanced Noise Insulation Design using sound absorption materials minimizes any noise emitted from internal system and fans. Patented Shock-Free Railing System provides protection and easy installation for 3.5" and 5.25" drive bays. With Advanced Customization and Expandability Options, IRONCLAD includes a 5.25" to 3.5" convertible cage and an astonishing total of 11 drive bays with five 5.25" and six 3.5" drive bays - perfect for those looking to max up the possibilities. To top it up, the IRONCLAD also features 8 I/O expansion slots with an additional 2.5" supporting tray, perfect for any PC enthusiast. Easy-to-Access Top Port Interface gives a quick access to USB, eSATA, IEEE 1394 and other audio. Rotatable Stand stabilizes the case itself and eases the store for every user.
Extreme capacity and expandability are crucial elements for most of the pro-players in their battles. Sail out on the warship that provides you with everything you need. Leave the harbor with Ironclad. The battle awaits for you out there!
Last updated: Apr 7, 2020 at 12:01 pm CDT