ASUS Introduces P7F7-E SuperComputer Motherboard with Next-Gen Connectivity Features
ASUS today announced the launch of the new ASUS P7F7-E WS SuperComputer motherboard which maximizes transmission speeds by integrating the industry's latest I/O technologies such as USB 3.0, SATA 6G storage interface, and IEEE 1394b FireWire standard. Additionally, the ASUS P7F7-E WS SuperComputer is equipped with the LGA1156 socket and the latest Intel 3450 chipset with onboard graphics. For extreme gaming enjoyment, up to four ATI CrossFireX cards or 3-way/2-way NVIDIA SLI cards can be accommodated to generate smoother and sharper visuals. It also leverages NVIDIA CUDA parallel computing architecture to support up to four NVIDIA Tesla cards with Clarkdale Processors for intensive high-performance computing.
The ASUS P7F7-E WS SuperComputer is the best choice for providing comprehensive I/O support. It includes USB 3.0 ports-the latest connectivity standard with 4.8Gb/s speeds-to support next-generation components and peripherals. USB 3.0 transfers data ten times faster and is backward compatible with USB 2.0 components. Additionally, the ASUS P7F7-E WS SuperComputer includes Serial ATA (SATA) 6Gb/s storage interfaces for 6.0Gbps data throughput, thus enhancing scalability, accelerating data retrieval, and doubling the bandwidth of current bus systems. To support FireWire-enabled digital video recorders and computers, the ASUS P7F7-E WS SuperComputer also includes two IEEE 1394b ports supporting up to 800 Mb/s speeds-doubling the previous IEEE 1394a speeds.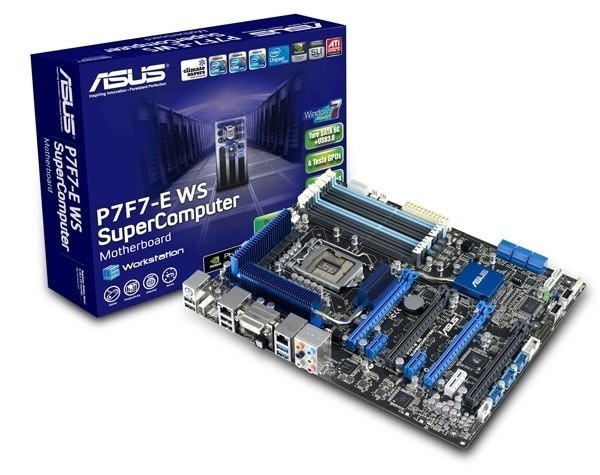 Massive Computing Power up to 4 Teraflops with CUDA Parallel Processing
A powerful and efficient platform, the ASUS P7F7-E WS SuperComputer supports high-performance computing for life sciences research, engineering and financial modeling with its NVIDIA CUDA parallel computing architecture. By accommodating up to four NVIDIA Tesla cards with built-in Clarkdale processors, the ASUS P7F7-E WS SuperComputer generates up to 4 Teraflops of processing power from a total of 960 CUDA parallel processing cores.
Stunning Graphics with Multi-GPUs Powered by SLI or CrossFireX Technology
The ASUS P7F7-E WS SuperComputer provides incredible graphics flexibility and enhanced scalability from a single motherboard by supporting either 3-way/2-way SLI or 4-way CrossFireX technology. Users can install up to three SLI-capable GeForce graphics cards at x16, x8, and x8 connection speeds, or two graphics cards at true x16 connection speeds.
Six Embedded Memory Slots for Flexible Memory Options
Embedded with six memory slots, the ASUS P7F7-E WS SuperComputer can accommodate up to 16GB of DDR3 memory. The flexible options include installing four 4GB modules or two 4GB modules and two 2GB modules. As the price of a 2GB module is 15% less than a 4GB module, the ASUS P7F7-E WS SuperComputer gives users the flexibility to acquire the most RAM at the lowest cost.
GPU Boost Delivers Free iGPU Upgrade
GPU Boost overclocks the integrated GPU in real time for the best graphics performance. The user-friendly UI supports direct frequency and voltage adjustments. Its ability to deliver multiple overclocking profiles also provides rapid and stable system-level upgrades within the OS environment.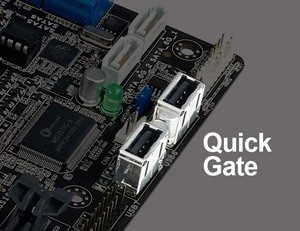 Easy Connection of USB-based Devices with Quick Gate
Users can directly connect USB-based devices via the on-board Quick Gate interface-without an extension cable. This reinforces the connection link and prevents partial transmissions and loss of data.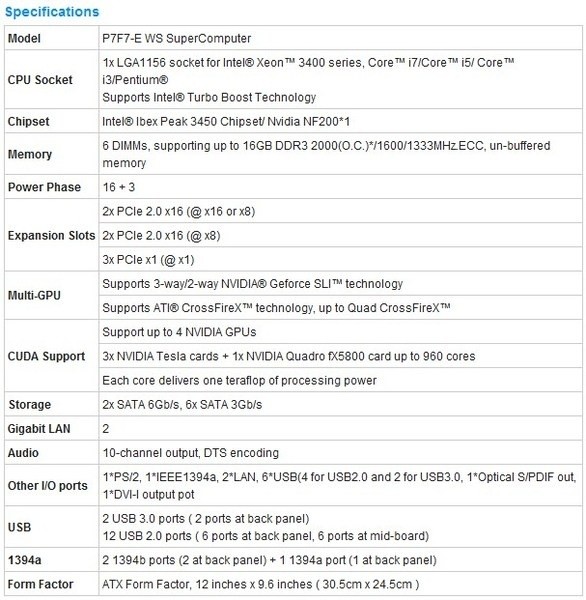 Last updated: Apr 7, 2020 at 12:01 pm CDT