An in-depth look at MSI R5870 Lightning
Mar 3, 2010 2:46 AM CST
An in-depth look at MSI R5870 Lightning
Crafting a High-Performance Graphics Card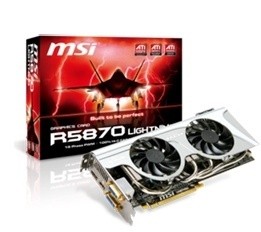 Taipei-Taiwan-CeBIT, the upcoming global computer tradeshow, will run from March 2 to March 6 in Hannover, Germany. A number of innovative technologies and new products from MSI, the world-renowned graphics card and mainboard manufacturer, will be on display at the show. In the area of graphics display cards, following the company's great success with its Lightning series at last year's show, on offer this year is a brand new evolution of the product line, represented by the R5870 Lightning. This new product not only inherits the same high performance of its predecessors but also adopts a number of unprecedented initiatives in graphics display technology. It is a marvel of craftsmanship that has been engineered exclusively for overclocking.
The Ultimate Power Supply
In terms of the power supply subsystem, which the overclockers are most concerned about, the new R5870 Lightning has improved on the 10-phase design of the previous model to include an upgraded 15-phase power design. It has strengthened PWM for not only GPU but memory. Meanwhile, compared with ordinary products, the input power supply of the new R5870 Lightning has adopted a dual 8-PIN configuration, which allows a maximum of 375W of input power to boost its overclocking potential.
In addition, in order to provide a steadier power supply, a dedicated power supply layer LPL (Lightning Power Layer) has been introduced to allow the exclusive power transmission channels of GPU and memory. This not only increases electrical stability but also reduces interference in the power supply process, as well as lowering the PCB's operating temperature, an outstanding design that serves multiple purposes.

Best-quality, Military Class Component
With respect to system components, which are essential to power users, the new model is not only in full compliance with MSI's highest quality military class specifications ( Solid CAP [solid-state capacitors] & SSC [Solid State Choke] inductor design), but it also utilizes Hi-c CAP tantalum capacitors in the major PWM design. This provides longer life as well as ultra-low operating temperatures, and is an indispensable component in a high-end graphics card.
The R5870 Lightning uses the advanced capacitor design of Proadizer in addition to its military class components. This allows sufficient power supply to the GPU as well as reduced ESR interference and transmission response time, thus greatly enhancing the overclocking capability of the unit.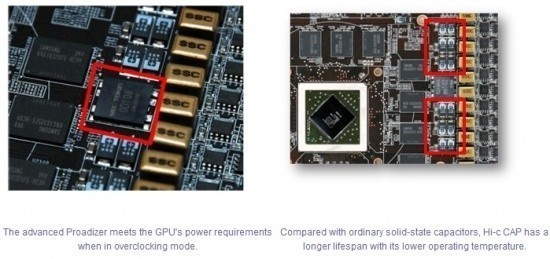 In the area of cooling, the R5870 Lightning continues to adopt the highly acclaimed Twin Forzr II heat-sink, which uses two 8-cm fans and four heat pipes to reduce overall temperature of the graphics adaptor by 12 degrees. This not only helps to prolong the graphics card's life but also enhances its overclocking performance.
The R5870 Lightning also supports Afterburner, MSI's exclusive full-functional overclocking software, which is not only capable of adjusting the GPU and memory's clock speed and the GPU's voltage, but is also equipped with the built-in Kombustor's burn-in function so there is no need to look for additional software.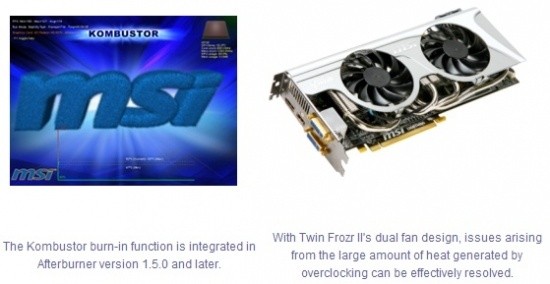 Ingenious Auxiliary Functionality
What's more, the R5870 Lightning is equipped with many exclusive and thoughtful designs, such as APS (Active Phase Switching) technology, capable of switching the power supply state based on the graphics card's current load. This not only helps to reduce energy waste but also effectively lowers the operating temperature and extends the product's lifespan. There is also a V-check Point voltage detection mechanism. With a multimeter connected, users can immediately learn power supply status of the GPU and memory, and there is no need to make any hardware modding to the graphics card. This is a great design for the overclocker who enjoys challenging the extreme overclocking.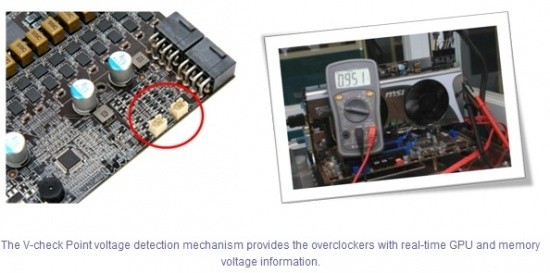 Last updated: Apr 7, 2020 at 12:01 pm CDT
PRICING: You can find products similar to this one for sale below.

United States: Find other tech and computer products like this over at Amazon.com

United Kingdom: Find other tech and computer products like this over at Amazon.co.uk

Australia: Find other tech and computer products like this over at Amazon.com.au

Canada: Find other tech and computer products like this over at Amazon.ca

Deutschland: Finde andere Technik- und Computerprodukte wie dieses auf Amazon.de
Related Tags