Your Best Choice for Effective Video & Game Entertainment - MSI GE600
MSI announced its latest 16" gaming notebook computer GE600. This model adopts the latest Intel Core i5 processor supplied with built-in ATI Radeon HD5730 discrete graphics card as well as a Sub-woofer. Equipped with the brand-new modeling and equipments, it provides a full-range entertainment of video/audio and game efficiency.
(Taipei) MSI launched the latest 16" entertainment model GE600 for its G series notebooks. This new model uses Intel Core i5 processor with built-in ATI Radeon HD5730 discrete graphics card (including 1GB DDR3 VRAM) and SRS Premium Sound™ audio. Moreover, bearing the 720p HD webcam also takes the lead in the industry. The high-end video/audio equipment provides you with the experience of all-round multimedia entertainments.
Sam Chern, MSI Notebook Marketing Director, stated that to satisfy customer needs, MSI 16" entertainment model - GE600 - was developed to introduce the most advanced software/hardware devices characterized by all-new exterior design, HD webcam, sub-woofer and leading SRS Premium Sound™ audio, all of which enables customers to enter a new era of mobile video/audio enjoyment experiences.
Innovative Modeling Featuring Low-profile Nobility
Low-profile Luxury Style with Mixed Black and Gold: The new GE600 is clad with MSI exclusive Color Film Print. Its cover is coated in black and the palm rest area in unique gold. The gradient from deep black to light gold is perfectly mixed under MSI's detail-focused exquisite craftsmanship to present GE600's low-keyed luxury and nobleness.
High-tech Luminescent Touch-sensitive Hotkey Set:GE600 specially has a unique luminescent touch-sensitive hotkey set placed on top of the keyboard to include well-ordered hotkeys for multimedia, exclusive GPU Boost, Cinema Pro, etc, which are further framed by modern silver borders and sided by two metallic-toned high-fidelity speakers, so as to highlight its fashion of nobility.
Premium Model of High Specification and Entertainment Efficiency
ATI Radeon HD5730 Discrete Graphics Card (with built-in 1GB DDR3 VRAM): To attain the best video/audio performance for consumers, GE600 is embedded with ATI Radeon HD5730 discrete graphics card including 1GB DDR3 display memory to increase the display efficiency and reduce power consumption. The supported DirectX 11 can offer the most superior 3D graphic effect to achieve the best vivid and smooth 3D visual experiences in any game for the players.
Advanced 2010 Intel® Core™ Processor: MSI GE600 introduces Intel Core i5 processor with lower power consumption and higher performance, which utilizes Intel's Turbo Boost and Hyper-Threading technologies to dynamically adjust the processor efficiency and handle more data at the same time. The system performance is thus boosted substantially as a whole!
Sub-Woofer and SRS Premium Sound™ Audio: In addition to carrying two cinema speakers, GE600 is equipped with an extra sub-woofer on the bottom, as well as SRS Premium Sound™ high-quality audio and 7.1 channel output, to present the ultimate auditory effect!
Flexible Adjustment of Efficiency to Maximize Battery Life
Exclusive ECO Engine Power Saving Technology: The MSI exclusive ECO Engine Power Saving Technology provided in GE600 allows you, in merely one touch, to toggle among five system scenario modes, Word Processing, Video Game, Film, Presentation and Turbo Battery bearing the longest life, to adjust the system for appropriate efficiency. MSI exclusive Cinema Pro Technology: GE600's high-end hardware specification can not only support the smooth operation in computer games, but also provide the perfect cinematic experience! By pressing the Cinema Pro key, MSI exclusive Cinema Pro technology switches the system to cinema mode, in which the screen displays with more details and colors. Moreover, you will be immersed immediately in the video and audio effects enhanced by SRS Premium Sound™ audio and the sub-woofer.
Exclusive GPU Boost Technology: Applying MSI exclusive GPU Boost technology, GE600 helps you obtain the perfect balance between video/audio efficiency and battery life! When executing applications requiring high efficiency of image processing, pressing the GPU Boost key enables the high-effective discrete graphics mode to provide ultimate video/audio performance. If the long battery life is in need, pressing the Battery icon key immediately disables the discrete graphics card and switches the system to the integrated chip display mode for extended battery life.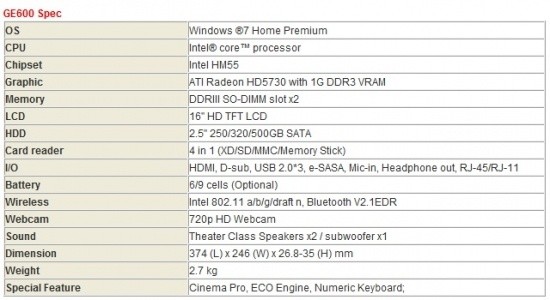 Last updated: Apr 7, 2020 at 12:01 pm CDT