Silicon Power Announces the New Helios 101 Series USB Flash Drives
Available in Apple Green and Ocean Blue, the Choice for the Fashion Conscious
February 9, 2010, Taipei, Taiwan ~ Flash memory module leader, Silicon Power today (Feb. 9) announces their brand new Helios 101 series USB flash drive. Available in apple green and ocean blue, the new Helios 101 series utilizes natural colors on polished aluminum casing that is sandblasted for the ultimate shine. This combination gives the Helios 101 an extraterrestrial aura feel only seen in the movies! Silicon Power's Helios 101 strives for a futuristic, fashionable, simple and finger-print proof design. It is thin, light and suited for the fashion conscious user!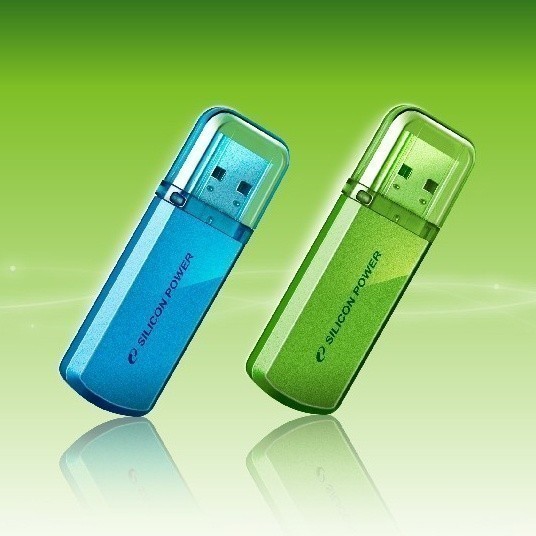 Distinguishing itself from Silicon Power's four other product lines: Touch, LuxMini, Ultima and Unique series. The aim of the Helios series is to complement the existing product lines so Silicon Power can offer users a complete range of USB flash drives. Whether you are in the market to buy a USB flash drive for speed, looks, practicality or the ultimate flagship model, Silicon Power's got it all!
In addition to the vibrant apple green and ocean blue colors of Helios 101, they also come with dongle holes so they can be hung as accessories or key-chains. Featuring plug and play compatibility, it is the perfect Netbook user companion! To suit individual needs, Silicon Power's Helios is available in 2GB, 4GB, 8GB, 16GB and 32GB capacities for users to choose from.
Silicon Power USB flash drives are tested and certified to be compatible with Microsoft Windows 7. They are also in compliance with European's RoHS Directives and come with Lifetime warranties to give users an extra peace of mind when storing their data and favorite memories!
Product features:
- Matte aluminum surface
- Futuristic look and finger-proof qualities
- Plug & play compatible, extra power not required
- In compliance with RoHS Directives (green product)
- SP Widget ~ featuring backup and safety features (free download)
- Lifetime warranty
Product specifications:
- Dimension: 55.5 x 19.0 x 7.1 mm +/-0.3mm
- Weight: 10 grams
- Interface: USB2.0 (backward compatible with USB 1.1)
- Durability: Connector mating / un-mating test (at least 10,000 times)
- Operating system: Windows 7, Windows Vista, WinXP, Win2000, Mac OS 9.0 & higher, Linux 2.4.0
- Operating temperature: 0°C ~ 70°C
- Storage temperature: -40°C ~ 85°C
- Capacity: 2GB, 4GB, 8GB, 16GB, 32GB
- Color: Apple green / ocean blue
About Silicon Power
Silicon Power Computer & Communications Inc., founded by a group of specialists with more than 20 years experience in the field of international trading, global marketing, technical know-how of flash data storage products, is the world's leading manufacturer of flash memory cards, USB flash drives, DRAMS, and card readers. We are also the initiator to offer Lifetime Warranty service both for the Flash Memory Card series and USB Flash Drive products. At the heart of Silicon Power, it exists a strong atmosphere of "Sharing, Caring, and of being Trustworthy." These are our finest commitments at the core. Recognized and supported in over 90 countries, Silicon Power provides fast, international lifetime service and superior products. Silicon Power makes a remarkable and successful achievement in the global community. The company is headquartered in Taipei and has established branches worldwide including the Netherlands and Japan.
Last updated: Aug 9, 2020 at 12:18 am CDT