High-performance and scalability from Synology with DS1010+
The DS1010+ means business, up to 20TB storage and over 115MB/s in RAID 5
Milton Keynes, UK -January 26, 2010- Synology® UK, leaders in open source network attached storage solutions announced today their most powerful NAS unit yet. Aimed at the SMB and enthusiast market, the DiskStation DS1010+ delivers superb performance, reliability, security, scalability and all the features required for modern day business needs.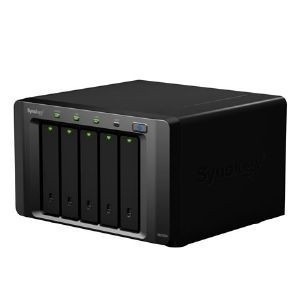 "The DS1010+ is a complete out-of-the-box business solution for all networking and internet requirements, including web server, ftp access, email hosting, backup, file and printer sharing, IP Camera based surveillance and much more" explained Victor Chiang, Sales & Marketing Director, Synology UK. "All features can be very easily configured in minutes through Synology's intuitive Disk Station Manager 2.2 web interface".
As with all Synology Disk Stations, the DS1010+ is designed to be highly energy efficient consuming just 68 watts under normal operation. The unit also capable of wake on LAN/WAN, scheduled power off and hard drive hibernation to ensure maximum power saving while the Disk Station is not in use. "Reducing carbon footprint is an extremely important part of business" continued Chiang. "For many businesses the performance of the DS1010+ is more than enough to replace an expensive-to-run PC based server but at a fraction of the power consumption".
Supporting up to 5 hard drives internally and a further 5 with the optional Synology DX510 expansion module allows the DS1010+ to be configured up to 20TB of storage. In a RAID 5 configuration, the unit delivers an average 115+ MB/sec read and 109+ MB/sec write in a windows environment over 2x Gigabit network ports. All drives are also hot swappable in case of failure or replacement.
The DS1010+ will also support Synology Hybrid RAID (SHD) technology with the update of Disk Station Manager version 2.3 allowing the use of different capacity drives and a more simplified RAID configuration and setup. The unit is powered by a 1.67GHz floating point processor, 2 Gigabit LAN ports, 4 USB ports, and 1GB DDRII RAM on a 64bit memory bus. A 2GB memory upgrade is also available for more demanding users.
Availability
The DS1010+ is available immediately from CCL online.
http://www.cclonline.com/product-info.asp?product_id=43481
Synology at a Glance
Founded in 2000, Synology is a young and energetic company dedicated to developing high-performance, reliable, versatile, and environmentally-friendly Network Attached Storage (NAS) products. Our goal is to deliver user-friendly solutions and solid customer service to satisfy the needs of businesses, home offices, individual users and families.
Last updated: Apr 7, 2020 at 12:01 pm CDT