-- GIGABYTE Motherboards Win 4 In-a-Row F1 OC #1 Titles --
-- Setting New SuperPi 8M World Record on AMD Platform by Team Australia --
Taipei, Taiwan, January 18, 2010 - GIGABYTE TECHNOLOGY Co., Ltd, a leading manufacturer of motherboards, graphics cards and other computing hardware solutions proudly announce Team Australia using a GIGABYTE GA-790FXTA-UD5 motherboard set a new Super Pi 8M world record for the AMD platform, giving them the number one spot for the last challenge in this season's F1 OC, making this the 4th month in a row a GIGABYTE motherboard was used to win the challenge.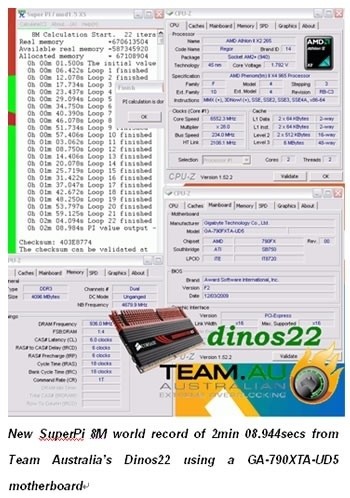 The highest Super Pi 8M score on the AMD platform for the December, 2009
F1 OC Highest FSB Challenge
was achieved by Dinos22 from Team Australia using a GIGABYTE GA-790FXTA-UD5 motherboard and AMD Phenom II X4 965 BE processor. The result resets the SuperPi 8M world record to an amazing 2 min 08.984 secs, leaving his rival behind with a 5 secs lead - a massive achievement that highlights Team Australia's skill and prowess as an international overclocking competitor and further cements GIGABYTE's motherboard performance leadership.
"We are delighted that GIGABYTE motherboards have won four F1 OC events in a row, especially considering each round featured a completely different overclocking challenge including SuperPi 32M on the Intel P55 platform, the highest FSB, 3DMark 06 on integrated graphics and SuperPi 8M on any AMD platform," commented Tim Handley, Deputy Director of Motherboard Marketing at GIGABYTE Technology Co. Ltd. "This unequalled track record in the first season of F1 OC proves that there is no substitute for innovation leadership combined with good quality design and manufacturing when it comes to high-end motherboards. We congratulate Team Australia for their achievement and look forward to more record-breaking wins in the coming months from overclockers around the world."
"We were particularly impressed with Gigabyte during F1OC," commented Nick Ross, Editor, The Overclocker and Chairman of www.f1oc.org. "In supporting some of the best overclockers in the world, the company managed to break some major world records throughout the five rounds of competition. It's no understatement to say that Gigabyte has further cemented its place on the top step of the overclocking world with F1OC - everyone has been impressed with the company's achievements - which can only result in an increased ROI."
The F1 OC competition is held by TheOverclocker.com and brings together the world's top overclockers representing 13 different countries. December's event ran from December 1st to 31st', 2009, where participants had to submit their Super Pi 8M scores via an emailed CPU-Z submission. A powerful and stable motherboard is key to any successful SuperPi 8M overclock, and participants were allowed to use any hardware configuration. Remarkably, four of the top six results this month came from GIGABYTE motherboards, with Team Australia's score coming out on top.
The GIGABYTE GA-790FXTA-UD5 features support for USB 3.0, GIGABYTE 3x USB Power Boost and Serial-ATA Revision 3.0 (6Gbps). Built with top-notch high performance engineering, the GA-790FXTA-UD5 features the highest quality 8+2 CPU VRM power phase design, able to handle the power demands from 140W CPUs with ease, truly epitomizing everything a highest performance, highest feature set motherboard is all about.
SuperPi has been one of the most commonly used overclocking benchmarks because it is the most direct way to test CPU and Memory performance. It requires outstanding tweaking skills to balance high CPU and Memory frequencies, while finding the best memory latency, all while maintaining temperatures of -100°C on the CPU and -50°C on the North Bridge.
More information about F1 OC and Team Australia's victory is available from the official F1 OC website:
http://f1oc.org/latest-results/
More information about GIGABYTE motherboards is available from:
http://www.gigabyte.com.tw/Products/Motherboard/Default.aspx
Last updated: Apr 7, 2020 at 12:00 pm CDT