MSI Officially Launches R5670-PMD1 Graphics Card
World renowned manufacturer of graphic card and mainboard, MSI releases R5670-PMD1G graphics card today to fulfill mainstream players' thirst for performance. With ATi RadeonTM HD 5670 standard technical specifications, including DirectX 11 and ATi Eyefinity technology, MSI R5670-PMD1G adopts unique designs, like GPU voltage adjustment, next-generation DisplayPort output and military class components. Hence, MSI R5670-PMD1G can fine-tune its performance and have better extensibility so that it is mainstream players' best choice for high C/P value.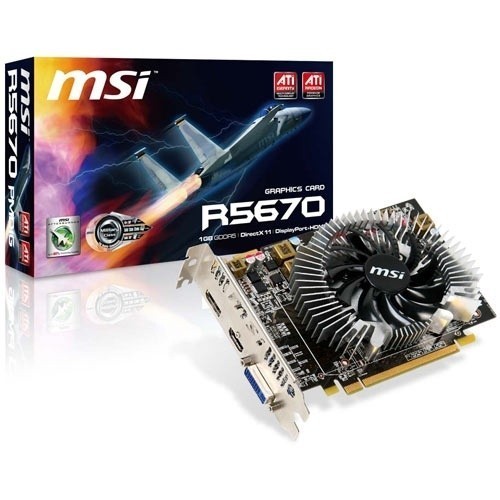 Adopting brand-new 40nm processed ATI Radeon HD5670 GPU, MSI R5670-PMD1G graphics card is equipped with 1GB GDDR5 high speed memories and reach excellent balance between performance and power consumption. Furthermore, through MSI exclusive Afterburner overclocking utility, it can not only adjust the clock of GPU and memory, but also tune the GPU voltage to release the potential performance of graphic card as easy as anything.
Military Class components raise stability further up
To reinforce product quality, MSI R5670-PMD1G introduces Military Class components, such as Hi-c CAP, Tantalum capacitor, for the power supply toward GPU, which ensures GPU's power stability under overclocking or full-load condition. With All Solid Capacitor and All Solid-State Choke, they extend the lifespan of graphics card and avoid the high frequency noise generating from choke vibration under high loading and raise the stability further up.
Next-generation display Interface - DisplayPort completely supports multi-screen display
About the extensibility of connectors, in addition to popular HDMI and DVI, MSI R5670-PMD1G supports DisplayPort, the next generation video interface, for full ATi Eyefinity technology support. Combining wide screens with the advanced technology, gamers can expand visual real estate across up to 3 displays and get a truly immersive gaming experience.
Featuring as GPU voltage adjustment, Military Class components and DisplayPort support, MSI R5670-PMD1G is better than any other equivalent products that are available in the market and definitely the best choice of mainstream graphics cards.
Last updated: Apr 7, 2020 at 12:00 pm CDT