HIS Announces Radeon HD 5670 IceQ 1 GB / 512 MB
Today HIS unleashed the revolutionary new HIS Radeon HD 5670 IceQ 1GB/5121MB GDDR5, featuring the award-winning IceQ cooling technology. With full DirectX 11 support you can enjoy eye-popping visuals, astonishing realism and fast frame rates. It has the power and premium features you need for fully immersive gameplay while consumes less than 75 Watts under full load, eliminating the need for an external power connection for easy installation.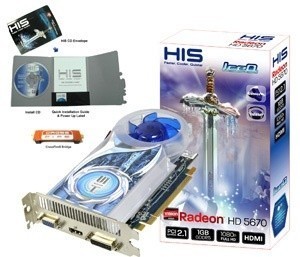 HIS IceQ technology is endorsed as the most efficient cooling technology among the current mainstream graphic cards' series. It can actively draw the air inside your PC case to cool down the card, and blows amounts of hot air out of your case, dramatically decreasing the GPU temperature. HIS IceQ is also UV sensitive, enhancing the gamers' UV light case.
Last updated: Apr 7, 2020 at 12:00 pm CDT