Verbatim Unveils MyMedia Server, Home Network Storage Solution
Verbatim Americas LLC, the information storage pioneer and computer peripherals leader, introduces MyMedia Server, a home network storage solution designed to efficiently help consumers consolidate, preserve and share all their content on one dependable, high-performance device. Whether seamlessly transferring documents directly onto the server or uploading vacation photos from a remote location, Verbatim's MyMedia Server brings file storage and media sharing to the next level. MyMedia Server will be on display during CES at Booth #36523 in South Hall 4 of the Las Vegas Convention Center, January 7-10, 2010.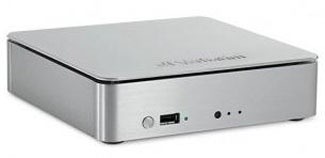 "Many homes today have more than one computer, creating the need for consumers to share or access their digital content from either the comfort of a living room or sitting in cafe or classroom." said Ron Hanafin, Verbatim Product Manager. "With a user interface and design that creates a more enjoyable experience, MyMedia Server is straightforward for anyone to set up and start saving their important data quickly and easily. From here it only takes a couple of clicks to easily access files, listen to music, or share photos with friends and family."
MyMedia Server stands apart from other consumer network storage products with both hardware and software features that meet users' needs in several key areas:
• Anytime, Anywhere Access - Remotely access MyMedia Server to view photos, play music, download or upload files from any internet-connected computer.
• Content Sharing - Seamlessly upload and share photo albums directly to social networking sites such as Facebook and Flickr. MyMedia Server also allows users to create albums and automatically email links to family and friends who can view or download photos directly over any internet enabled computer
• Store and Save - Using the unique Easy Transfer button, consumers can upload content directly to the server from any portable hard drive, flash drive or single slot card reader connected to the front USB port. MyMedia Server also supports Apple Time Machine for Mac users or Windows Backup allowing users to backup content located on a networked computer.
• Multimedia Streaming - Easily stream music on the server to iTunes users on any computer, Mac or Windows, connected to the home network. The MyMedia Server also can be used to display photos or play music on a flat screen TV through DLNA enabled devices such as Digital Media Players, Playstation 3 or XBox360
• User Interface - The simplest and most user-friendly system available, providing a flawless experience in retrieving, storing and sharing files.
• Home Appeal - Stylish aluminum casing and high-end processor with a quiet, fanless design, ideal for home use. The device also includes an eSata port, two USB ports and Gigabit Ethernet port.
Pricing And Availabililty
MyMedia Server 1TB is expected to be available through US retail and distribution channels in March 2010 with an SRP of $229.99 (U.S.). Additional features including remote access through web enabled smartphones such as iPhone or Blackberry are available through a premium subscription plan.
Last updated: Apr 7, 2020 at 12:00 pm CDT