LaCie Introduces LaCinema Mini HD
LaCie today unveiled LaCinema Mini HD, the all-in-one WiFi High Definition media center. Its amazingly small and stylish design packs a big punch, bringing your HD movies, photos and music collections to your widescreen TV in full 1080p resolution.
LaCinema Mini HD bridges the gap between the computer and entertainment worlds in full HD quality. Featuring built-in high-speed 802.11n WiFi, LaCinema Mini HD brings a DLNA media player and server to your home without wires.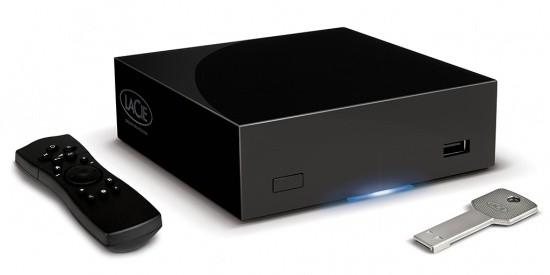 Transferring content to the LaCinema Mini HD is easy through the bus-powered USB connection for maximum transfer speeds, or by connecting the drive to a home network. Users can conveniently load files wirelessly from their computer or via the Ethernet connection.
"The new LaCinema Mini HD offers a full-featured media center by combining high storage capacity, compact design, and seamless store-and-play functionality," commented Salem Tirane, Digital Home Product Manager. "Users will benefit from large HD video format compatibility and the convenience of built-in wireless N streaming."
Playing movies is as simple as connecting the included HDMI video cable and selecting the wireless network. The drive is instantly ready to play content stored on its internal hard disk, attached USB drive or networked PC, Mac, or NAS (network-attached storage).
LaCinema Mini renders full HD 1080p movies in uncompromising quality on TVs and makes any movie, photo or music file accessible at your fingertips. Thanks to an extensive list of supported codecs, LaCinema Mini HD permits seamless playback of MKV, AVC, DivX and many more files on TVs. It is even possible to display album cover art and to create music-accompanied slideshows.
Encased in the latest minimalist design from Neil Poulton, LaCinema Mini HD is a fusion of art, simplicity and technology that can fits perfectly into any TV setup. Since it is also easy to carry, LaCinema Mini HD is ready to play back entire digital libraries anywhere, whether at a friend's house or at a holiday party.
Availability
LaCinema Mini HD is available in Europe in Europe and will be available worldwide later this year through the LaCie Online Store, LaCie Reseller+, and LaCie Corner, starting at the suggested retail price of $299.99.
Last updated: Apr 7, 2020 at 12:00 pm CDT