KINGMAX Introduces 32GB SDHC Waterproof Class 10 Media
KINGMAX, leading memory product manufacturer, recently announced the 32GB Class 10 SDHC memory card featuring fast writing, large capacity and waterproof features. With a writing speed of over 20MB/sec on a total capacity of 32GB, users can display the full continuous shooting speed of cameras without worrying about insufficient storage space. Also, the IPX8-compliant waterproof performance helps professionals prevent data damage from accidents.
The bustling US MBL World Champion Series has just finished, and there was not an empty seat in any single match of this annual event. When watching these spectacular matches, there is no reason for any spectator to miss any opportunity to shoot the excellent performances of the players. If the memory card does not support fast writing, continuous shooting will be unable to shoot continuously. Therefore, KINGMAX introduces the 32GB Class 10 SDHC memory card. Complying with the Class 10 standard specified by SD Association, this memory card allows users to apply continuous shooting at a faster speed without using a professional SLR camera with its high writing speed at 20MB/sec or faster. Also, it is particularly suitable for the continuous shooting of sports events, pets, children and other fast-moving objects. Even amateurs can capture every moment of a great event.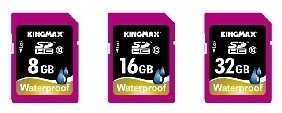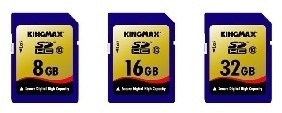 High resolution and high capacity: Stores precious moments anywhere and anytime
At the advent of the broadband era, movie-sharing websites (such as YouTube) and personal blogs are increasingly popular; and together with the popularity of digital cameras, more and more consumers like to share the precious moments in life with friends on the Internet by uploading photos on the web. Whether photos or movies, the demand for high-capacity storage and high-resolution pictures is increasing. The KINGMAX 32GB Class10 SDHC memory card ensures high resolution (AVCHD) and complies with full HD (1920x1080) picture quality. The 32GB super high capacity allows storage of up to 160 minutes of high-definition movies, even up to 2,500 pictures in RAW3 format. This way, consumers will not need to worry about their sweet memories from losing colors due to low resolution and the inconvenience as a result of inadequate storage.
Specification of KINGMAX SDHC /Waterproof SDHC memory card:
• Capacity: 2GB /4GB/ 8GB /16GB/32GB
• Dimension: 32*24*2.1 mm (L*W*H)
• Voltage: 2.7V~3.6V
• Complies with SD 2.0 standard
• 20MB/sec high speed transfer rate
• Endurance: 5,000 times
• Data Retention: 10 years
• Weight: 2g
Features of KINGMAX Waterproof SD memory card:
• KINGMAX patent PIP technology inside, features Waterproof and Dustproof
• Operation temp:-25ºC~85ºC, Storage temp:-40ºC~85ºC
• According to IEC 60529, water-proof certificated (equivalent to JIS Waterproof grade 7 or IPX7)
• Supports Content Protection for Recordable Media (CPRM)
• Built-in Error Correcting Code (ECC) to detect and correct transfer errors
• Green Product: compliance with RoHS, Halogen Free and PFOS / PFOA
• Certificates: CE, FCC, BSMI
Last updated: Apr 7, 2020 at 12:00 pm CDT