The Most Powerful mini HTPC - ASRock ION 330HT series NetTop
December, 14th, 2009, Taipei, Taiwan - ASRock Inc. the leading computing manufacturer of motherboards and nettops proudly releases its 2nd-gen ION 330HT series nettops which are well-featured for all your needs for a mini HTPC usage. Moreover, we are glad to announce that the new ION 330HT series nettops have been bundled with the latest operation system - Windows® 7 Home Premium!
Get Benefits from the bundled OS - Windows® 7 Home Premium
Good news to all ASRock fans! The ASRock 2nd-gen ION 330HT series nettops have bundled the Microsoft latest operating system - Windows® 7 Home Premium which provides you the special benefits and experience you expect. You are now able to enjoy a smart and more convenient operating environment by our flawless nettops.
Must-have mini HTPC - ASRock ION 330HT series nettops
Mini size, exquisite and chic design, together with great applications! We offer you a hottest package for mini HTPC. ASRock ION 330HT series nettops conducted with the low-power Intel® Atom™ 330 Dual Core CPU, fantastic NVIDIA®
ION™ graphics, supporting DirectX 10, Full HD 1080p playback and CUDA applications. Exclusively, the bundled ASRock MCE Remote Controller enables you to project the favorite digital programs more easily. Carried with 7.1 channel audio, DTS Connect sound technology; you are definitely assured to have a top class home theater experience.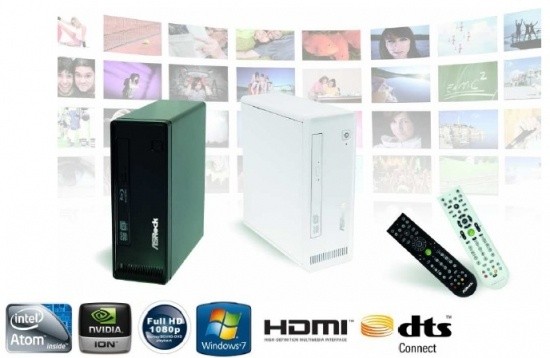 Mini PC Overhaul - ASRock NetTop ION 330 surpassed all performance tests
Nowadays, the most popular computing topic is surely regarding to the mini PC. The small size but the powerful performance is definitely seen as the crucial factor to grab the consumer satisfaction. December, 2009, PC ADV, a Taiwanese magazine, did a performance overhaul between several big firms' mini PC systems to test the computing capabilities. As below table shown, you can clearly see that ASRock ION 330 system got the first place of all systems in terms of the PCMark Vantage and 3DMark 06 tests! With impeccable VGA performance, ASRock nettops enable the system generated clearer images, incredibly suitable for the latest gaming consoles and online games.

The Ultimate Overclocking Performance
The full-specification ION 330HT series nettops bring rich functional utilities as well. Special highlight here is our novel overclocking tool, EZ OC. To get the best OC performance, you may just click the EZ OC function in BIOS, and you are able to set your ideal CPU frequency by tuning the speed from default 1600MHz to max. 2100MHz. Only one click in BIOS, EZ OC helps you to overclocking CPU frequency by an easy-operate fine-tuning interface. Just simply adjusting your EZ OC options and you can easily enjoy the stunning CPU frequency performance.
Overclocking Comparison : ASRock NetTop ION 330 v.s. ACER Aspire Revo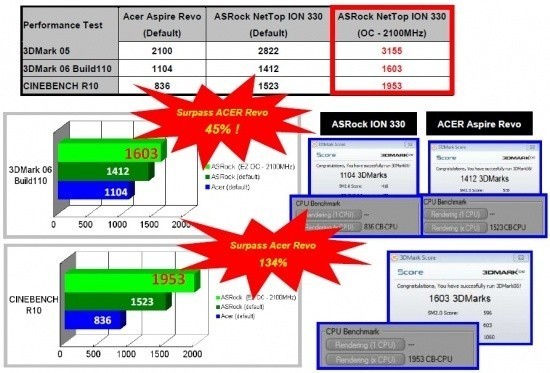 Capable to support RAID 0, 1 by adopting the 2nd 2.5" HDD
Though the nettops are known for the small size among the market, ASRock ION 330HT series nettops were also targeted for providing the larger storage capability. Since today's digital consumers have an insatiable need for storage - no matter it is for images, video, music or other multimedia files. ASRock is always keen on being an industry leader when it comes to fulfilling those consumer needs while leading the market in integrating the latest technologies onto nettop products. ASRock ION 330HT series nettop, the world's first nettop system which is capable to support RAID 0 and 1 by adopting the second 2.5" HDD in its small 2.5-liter system! This is what you can't find elsewhere! With RAID support, you can enjoy a faster transfer speed and never be afraid of the data damage or loss. When used in RAID 0 mode, ASRock ION 330HT series nettops offer even faster data transfer rate of up to extremely 197% compared to IDE mode. When used in RAID 1 mode, the systems duplicate the documents and ensure you the safest working environment.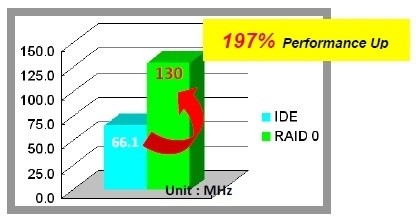 Green computing with ASRock ION 330HT series NetTop
In addition, ASRock NetTop ION 330HT series introduce a well-featured hardware design with eco-friendly components for ensuring lower voltage computing. Recently, ASRock ION 330HT series nettop has achieved EuP (Energy Using Product) 2.0 standard. EuP, stands for Energy Using Product, was a provision regulated by European Union to define the power consumption for the completed system. With the great quantity and the popularly using of the electrical products nowadays and the continuously increasing of the electrical products categories in the following 20 to 30 years, European Union decided to establish an effective strategy to solve the energy consumption problem. That is, according to EuP / EuP2.0, the total AC power of the completed system shall be under 1.00W / 0.5W in off mode condition. By adopting nuvoTon NCT6775F IC, ASRock is hereby proud to announce that we are the world's first nettop manufacturer achieved EuP 2.0 standard.
Compared to ASRock Revo R3600, you can save nearly 60% power consumption by utilizing our nettops. So, what are you waiting for? Quickly join the green computing and you can save most with ASRock ION 330HT series nettops!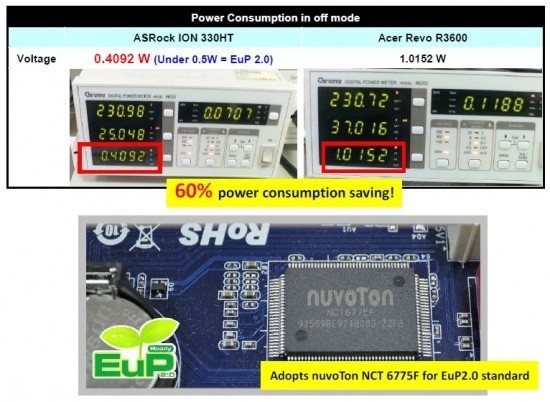 Overall, ASRock 2nd-gen ION 330HT series nettops combined all elements you need for home cinema and can even save as much power bill as possible. With ASRock mini HTPC system, you can easily enjoy a new level of experiencing digital
entertainment.
Available features vary by nettop models. Please visit ASRock ION 330HT webpage to see a completed feature listings.
http://www.asrock.com/news/events/2009ION/index.asp
Last updated: Apr 7, 2020 at 12:00 pm CDT