DFI Lanparty BI P43-T34 Motherboard Unveiled
DFI LANParty today introduces its new motherboard, the Blood Iron BI P43-T34, after the launch of the high-end P55 motherboard. BI P43-T34 makes LANParty Blood Iron series a more complete product line. For those who like LANParty products, it is the best value motherboard.
To provide consumers with better value platform, BI P43-T34 is equipped with exclusive LANParty ABS II, CPU auto upgrade technology. CPU performance can be automatically promoted!! As long as users choose ABS II started while boosting system at the first time, the system's performance can be upgraded immediately. Therefore, users do not have to spend a lot of time and effort to set up for better performance. That is, even with limited budget, consumers still can obtain higher performance easily and fast.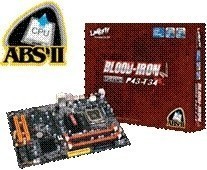 The latest Blood Iron series product, BI P43-T34, also has the most advanced digital power supply design. Different from the low power efficiency of analog design, the power efficiency of digital PWM can reach up to 90%. High power efficiency results in high stability and avoids the damage to components. Hence, the lifespan can be extended. Most importantly, it reduces the waste of power while conversing. Users can save more power and gain benefits from it.
BI P43-T34 adopts Intel P43 express chip and mainstream CPU socket 775, which supports Intel Core 2 Quad and Core 2 Due processors. In addition, it is equipped with 4 memory DIMM slots of DDR3 which will gradually replace DDR2 as mainstream. One PCI-Express x16 slot is available for graphics card. In terms of audio, Realtek ALC885 chip is on board to deliver 7.1 channel HD audio output. According to test, SNR is over 106dB. Superior audio experience can be rendered to users.
BI P43-T34 possesses ABS II, digital PWM, Gigabit LAN, and 7.1 channel audio. Also, 6 SATA II, 1 IDE, and 12 USB2.0 is included to provide a motherboard with adequate expansions for users. The latest BI series motherboard, BI P43-T34, is the best value choice of Intel platform and brings you the most benefits.
DFI Landparty BI P43-T34 Features:
• Intel P43 + ICH10
• Supports Intel Core 2 Duo and Core 2 Quad processors in the LGA 775 package
• Supports Dual CH DDR3 800/1066/1333(O.C.)MHz
• Supports FSB up to 1333MHz
• ABS II,CPU Auto Upgrade Technology
• PCI Express x16 for graphics card
• Gigabit LAN
• Realtek ALC885 7.1 CH HD Audio
Last updated: Apr 7, 2020 at 12:00 pm CDT