Garmin G600 Upgrades Add Synthetic Vision and Autopilot Interface
Thu, Oct 22 2009 3:27 AM CDT
Garmin G600 Upgrades Add Synthetic Vision and Autopilot Interface
OSHKOSH, Wis./July 27, 2009/ BUSINESS WIRE - Garmin International Inc., a unit of Garmin Ltd. (NASDAQ: GRMN), the global leader in satellite navigation, today announced major enhancements to the
G600
, and new standard equipment features include
synthetic vision technology (SVT)
and the new
GAD 43
adapter, providing autopilot attitude reference. The enhanced G600 features were announced at EAA AirVenture in Oshkosh, Wisconsin, July 27-August 2, 2009.
"The G600 has been available for approximately one-year and many customers have started flying with the system and asked that we certify it with SVT," said Gary Kelley, Garmin's vice president of marketing. "With the addition of SVT and the GAD 43, the G600 takes another step forward by giving pilots the benefits of flying with 3D virtual reality and enhanced autopilot reliability."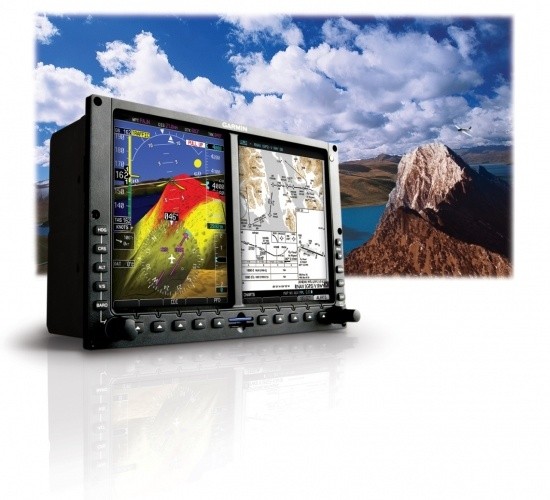 Garmin's SVT has been scaled for the G600 and now comes as a standard feature. It uses sophisticated graphics modeling to create a virtual topographic landscape from the G600's terrain-alerting database. This enables the primary flight display (PFD) to display a clear 3D depiction of ground and water features, airports, obstacles and traffic - all shown in relative proximity to your aircraft. Instead of a flat blue-over-brown flight display, pilots will see an in-depth perspective view of realistic terrain features rising into the sky. Therefore, the avionics panel replicates what pilots would see outside the cockpit on a clear day.
Also now standard on the G600 is Garmin's GAD 43 adapter, an autopilot interface that allows the AHRS to provide attitude information to the autopilot in place of a gyro-mechanical attitude direction indicator (ADI) or remote vertical gyro (VG). The G600 provides course deviation, vertical deviation, heading bug, course pointer and ARINC 429 GPS roll steering information to the autopilot, as appropriate. In addition, if the autopilot does not support ARINC 429 roll steering, the G600 can act like a roll steering converter via the heading input. The GAD 43 can emulate the many existing gyro interfaces and uses far more reliable AHRS data to provide the required attitude, heading, yaw input and baro correction information to the autopilot. This typically allows the system's costly ADI to be replaced on the panel with a far more affordable attitude indicator as the required backup instrumentation.
Other major enhancements to the G600 includes support for the optional Garmin's GWX 68 weather radar system. Active weather depiction and control of the radar array can be done via a dedicated page on the G600's multi-function display (MFD), and allows important tactical information to be in the pilot's primary field of view while freeing up valuable panel space for other avionics.
In the near future, Garmin will make available a TAWS-B compliant terrain awareness system option, which utilizes accurate 3D aircraft position information from the interfaced Garmin WAAS receiver. No additional hardware is required for TAWS-B.
The G600 is a certified avionics system designed specifically for FAR Part 23 Class I, II or III aircraft and is ideal for those wanting to transform their panel from gauges to glass. It shows critical flight data on two six and a half inch diagonal flat-panel displays. These screens are mounted side by side in a single bezel that fits neatly into the "six pack" slot of the instrument panel. The G600's PFD shows attitude, airspeed, climb rate, altitude and course/heading information over a virtual terrain image, and the MFD displays detailed moving-map graphics of the aircraft's current position in relation to ground features, chart data, navaids, flight plan routings and more.
The GAD 43 and SVT are being incorporated into the G600 immediately, and the price will currently remain the same, starting at $29,995. The G600 received an Approved Model List Supplemental Type Certification (AML STC) that allows it to be installed on over 800 different makes and models of normal and utility category aircraft, which typically includes single and twin piston and turbine engine aircraft with a certification weight up to
12,500 lbs.
Between now and December 31, 2009, existing G600 customers can upgrade to SVT at no charge from Garmin (dealer installation costs may apply), and have the exclusive option of purchasing the GAD 43 for $1,495. Customers should contact an authorized Garmin dealer for additional information.
About Garmin International Inc.
Garmin International Inc. is a subsidiary of Garmin Ltd. (Nasdaq: GRMN), the global leader in satellite navigation. Since 1989, this group of companies has designed, manufactured, marketed and sold navigation, communication and information devices and applications - most of which are enabled by GPS technology. Garmin's products serve automotive, mobile, wireless, outdoor recreation, marine, aviation, and OEM applications. Garmin Ltd. is incorporated in the Cayman Islands, and its principal subsidiaries are located in the United States, Taiwan and the United Kingdom. For more information, visit Garmin's virtual pressroom at www.garmin.com/pressroom or contact the Media Relations department at 913-397-8200. Garmin is a registered trademark and GWX and SVT are trademarks of Garmin Ltd. or its subsidiaries.
All other brands, product names, company names, trademarks and service marks are the properties of their respective owners. All rights reserved.
Notice on forward-looking statements:
This release includes forward-looking statements regarding Garmin Ltd. and its business. All statements regarding the company's future product introductions are forward-looking statements. Such statements are based on management's current expectations. The forward-looking events and circumstances discussed in this release may not occur and actual results could differ materially as a result of known and unknown risk factors and uncertainties affecting Garmin, including, but not limited to, the risk factors listed in the Annual Report on Form 10-K for the year ended December 27, 2008, filed by Garmin with the Securities and Exchange Commission (Commission file number 0-31983). A copy of Garmin's Form 10-K can be downloaded at www.garmin.com/aboutGarmin/invRelations/finReports.html. No forward-looking statement can be guaranteed. Forward-looking statements speak only as of the date on which they are made and Garmin undertakes no obligation to publicly update or revise any forward-looking statement, whether as a result of new information, future events, or otherwise.
Last updated: Apr 7, 2020 at 12:00 pm CDT
PRICING: You can find products similar to this one for sale below.

United States: Find other tech and computer products like this over at Amazon.com

United Kingdom: Find other tech and computer products like this over at Amazon.co.uk

Australia: Find other tech and computer products like this over at Amazon.com.au

Canada: Find other tech and computer products like this over at Amazon.ca

Deutschland: Finde andere Technik- und Computerprodukte wie dieses auf Amazon.de
Related Tags