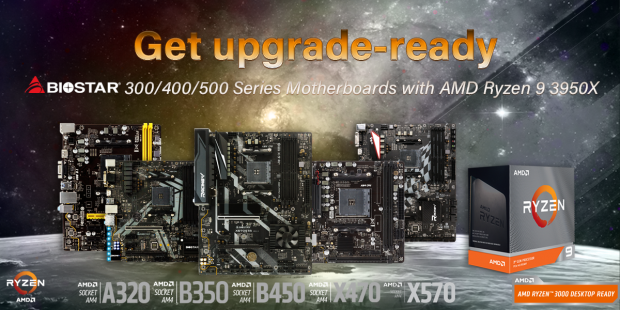 November 5, 2019, Taipei, Taiwan - BIOSTAR, a leading manufacturer of motherboards, graphics cards, and storage devices, is proud to announce it's full support for the newly launched AMD RyzenTM 9 3950X processor. The 3950X, a 16-core, 32-thread desktop CPU running at a 4.7GHz boosted clock, has been highly anticipated and BIOSTAR has been well prepared for it. Supported by BIOSTAR X570, X470, B450, X370, B350, and A320 chipset with AM4 socket motherboards, the monster CPU from AMD brings the latest in PC tech with support for dual-channel DDR4 memory at 4000+MHz and PCIe 4.0, a perfect match for the feature-loaded GEN4 RACING X570 and X470 motherboards from BIOSTAR.
New Firmware to Improve System Boot Time
By updating the supported motherboards with the latest AGESA 1.0.0.4 Patch B BIOS, users can unlock support for the new AMD CPU and its benefits, as well as improved system boot time as tested by our engineers.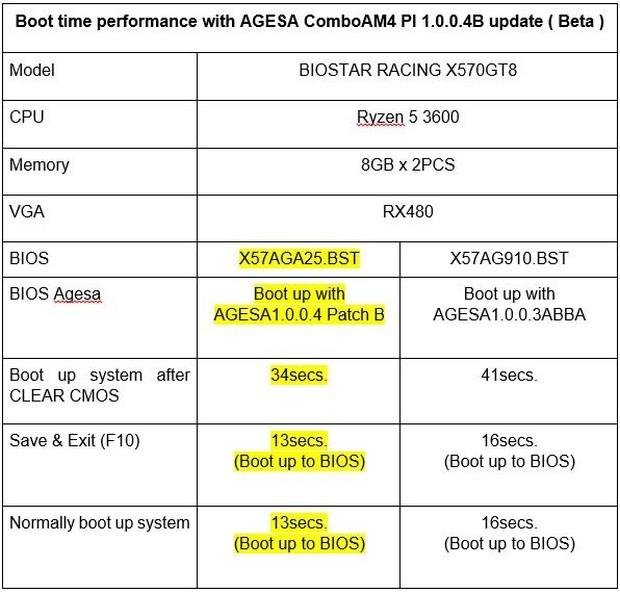 The complete support list for the AMD Ryzen 9 3950X
To update the BIOS of your BIOSTAR AM4 300/400/500 series motherboards to support the AMD Ryzen 9 3950X processor, go to the download page of your motherboard's product page and download the latest BIOS version as listed below.
RACING X570GT8: https://www.biostar.com.tw/app/en/mb/introduction.php?S_ID=952#download
RACING X570GTA: https://www.biostar.com.tw/app/en/mb/introduction.php?S_ID=963#download
RACING X570GT: https://www.biostar.com.tw/app/en/mb/introduction.php?S_ID=957#download
RACING X470GTA: https://www.biostar.com.tw/app/en/mb/introduction.php?S_ID=955#download
RACING X470GTQ: https://www.biostar.com.tw/app/en/mb/introduction.php?S_ID=956#download
RACING X470GT8: https://www.biostar.com.tw/app/en/mb/introduction.php?S_ID=909#download
RACING X470GTN: https://www.biostar.com.tw/app/en/mb/introduction.php?S_ID=910#download
X470NH: https://www.biostar.com.tw/app/en/mb/introduction.php?S_ID=962#download
X470MH: https://www.biostar.com.tw/app/en/mb/introduction.php?S_ID=960#download
RACING X370GT7: https://www.biostar.com.tw/app/en/mb/introduction.php?S_ID=874#download
RACING X370GT5: https://www.biostar.com.tw/app/en/mb/introduction.php?S_ID=873#download
RACING X370GT3: https://www.biostar.com.tw/app/en/mb/introduction.php?S_ID=871#download
RACING X370GTN: https://www.biostar.com.tw/app/en/mb/introduction.php?S_ID=879#download
RACING B450GT3: https://www.biostar.com.tw/app/en/mb/introduction.php?S_ID=926#download
B450MHC: https://www.biostar.com.tw/app/en/mb/introduction.php?S_ID=924#download
B450MH: https://www.biostar.com.tw/app/en/mb/introduction.php?S_ID=925#download
B45M2: https://www.biostar.com.tw/app/en/mb/introduction.php?S_ID=934#download
RACING B350GT5: https://www.biostar.com.tw/app/en/mb/introduction.php?S_ID=872#download
RACING B350GT3: https://www.biostar.com.tw/app/en/mb/introduction.php?S_ID=870#download
RACING B350GTN: https://www.biostar.com.tw/app/en/mb/introduction.php?S_ID=878#download
RACING B350ET2: https://www.biostar.com.tw/app/en/mb/introduction.php?S_ID=869#download
TB350-BTC: https://www.biostar.com.tw/app/en/mb/introduction.php?S_ID=882#download
A320MH: https://www.biostar.com.tw/app/en/mb/introduction.php?S_ID=912#download
A320MY-Q7: https://www.biostar.com.tw/app/en/mb/introduction.php?S_ID=937#download
A320MD PRO: https://www.biostar.com.tw/app/en/mb/introduction.php?S_ID=880#download
A320MH PRO: https://www.biostar.com.tw/app/en/mb/introduction.php?S_ID=881#download
TA320-BTC: https://www.biostar.com.tw/app/en/mb/introduction.php?S_ID=883#download